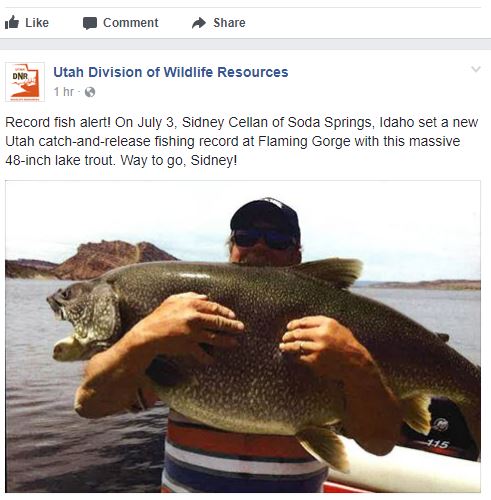 Big Fish!
This from Utah's DWR: On July 3, Sidney Cellan of Soda Springs, Idaho set a new Utah catch-and-release fishing record at Flaming Gorge with this massive 48-inch lake trout. Way to go, Sidney!
Panguitch Lake Fishing Tournament
Tagged fish are being stocked in Panguitch Lake and the tournament will run July 22 - Sept 4. Catch a tagged fish or a big fish to win a prize.
Big Fish!
A new Wyoming state record catfish was caught in Flaming Gorge Reservoir.
Green River High Flows
Flows are going to begin dropping July 5th and will reach a base flow of 2400 July 10th! That info is from Trout Creek Flies Green River guide service.
Panguitch Lake Closed By Wildfire
All roads to the Panguitch Lake area are now closed, per the Garfield County Sheriff's Office. Yankee Meadow Reservoir and Paragonah Reservoir are closed, too. Stay up to date on the fire by visiting https://www.utahfireinfo.gov/.
New Record Wipers From Newcastle
The state wiper record was smashed and then smashed again, with two big fish caught at Newcastle.
Where's that waterfall?
We've been busy posting new content to this website including lots of waterfall photos. The one below is called Bullion Falls. It is located near the town of Marysville in central Utah.