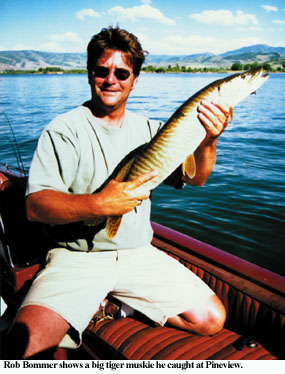 Rob Bommer caught his first fish when he was three-and-a-half years old – a rainbow trout taken from Pineview Reservoir. That was 30+ years ago and he has been fishing the reservoir ever since. He's watched it languish as a trout fishery, then experience rebirth as one of America's great tiger muskie waters.
Now, muskie fishing has become his passion and he fishes the reservoir 3-5 times a week. "I have the greatest wife in the world," he said. He also has children – three girls. Before they came along he was fishing six days a week, and his wife often went with him. A family man now, "I've had to slow down," Rob said.
Rob runs a wholesale auto dealership, selling to many local dealers. The business gives him the resources and flexibility to enjoy this hobby and he has become one of the top muskie fishers in the area.
"Pineview's incredible," he said. "It compares with the best muskie lake anywhere." You can pay a tremendous amount of money to fly into a remote northern lake, but you'll rarely find faster fishing or bigger fish.
This year in particular, fishing has been extremely good – and should continue good through the summer and fall. Fishing slows a bit when the weather turns cold but that's often when some of the bigger fish are caught. Fishermen continue to pursue and catch muskie until ice-up. Occasionally a muskie is caught through the ice, but it's difficult to target them when there is ice on the water.
Special regulations protect the muskie and allow them to grow big. The state catch-and-release record is a 53 1/4-inch fish caught in 1998. "I know two guys who have caught muskie over 50 inches long," Rob said. His biggest to date went 47 inches.
Muskie have been regarded as a difficult fish to catch, but Rob said that is no longer the case at Pineview. "Once you figure out where to find them, they aren't that hard to catch. People call the muskie the fish of a 1000 casts, but that's because they were casting into the wrong spots."
What to Use
On his best day at Pineview, Rob caught 16 muskie. Recently he's been experimenting with different lures and presentations. During one 3 1/2 hour period he caught six fish, two tossing crankbaits, two casting jigs and two trolling.
"Anything that simulates a minnow will catch muskie," he said.
As a general rule, big, flashy lures with lots of action are best. A J-13 broken-back, floating Rapala in rainbow or fire tiger is probably the most popular lure. Big spinnerbaits are also popular.
Where to Fish
Muskie are territorial; they stay within a relatively small area which they patrol. "I caught one 38-incher twice in two days from the same structure."
Muskie hide on the edge of structure where they can ambush prey. Points flanked by weeds or brush are prime locations. Logs or trees that extend into the water are also important.
In the spring, when pan fish spawn in shallow water, muskie can be found nearby, often just a few feet from shore. During the summer and fall muskie are more likely to be found on the open-water side of structure that extends out into the lake.
"I call it the secondary weed line," Rob said. Brush usually grows along the shoreline and into the water. Then there is often brush out in water that is a little deeper. It's the edge of this deeper brush that usually holds fish in the summer, Rob said. "Look for fish in an area that extends for 150 yards on either side of a point," Rob said.
Cast right against the brush, then swim your lure back, angling so it crosses the area where you hope a muskie will be hiding.
Gear
When fishing for muskie, be prepared to battle a heavy fish which has sharp teeth. Fish weighing 20 or more pounds are not unusual. Tiger muskie are strong fighters and so a stout rod and reel are needed. Monofilament line is not recommended. Some people use steel leader, but Rob says that isn't necessary if you use one of the new superlines.
A rod rated for medium or heavy action and loaded with 20-pound Fireline or SpiderWire is a good choice.
Handling Fish
Don't handle the fish! A tiger muskie will gladly take your finger completely off, and he has razor-sharp teeth to make that an easy task. The fish's gill plate is also sharp, and can slice your hand.
"Don't even lift the fish out of the water," Rob advises. "Use a pair of pliers to grasp the hook, then just turn it and the fish will roll free."
Nets are usually not big enough to handle the fish. Nets can also be a problem because the fish and hooks get tangled in the mesh, and that creates a dangerous situation.
If you think you must lift the fish from the water for a photo, carefully grasp it behind the head and in front of the tail. Hold on tight and keep its teeth away from any parts of your body that you value.
Regulations
The limit on tiger muskie is now one fish which must be over 40-inches.
"I wish the size limit was 45-inches," Rob said. "And I wish a special tag was required before you could keep a fish. Money generated by the tag would go back into managing the fishery, and into education."
The great fishing now available at Pineview can only be maintained if anglers release fish caught, and handle the fish properly, Rob said. "I'm tired of seeing dead fish along the shoreline. Most dead fish are the result of mishandling. With more and more people learning to catch the muskie, we've got to cooperate to maintain the fishery."
People desiring a trophy to mount also need to realize a taxidermist will charge $400-$700. Some kill a fish, intending to have it mounted, but chuck it when they find out how much it will cost. The very best thing to do when you catch one of the monster tigers is to get some quick photos and then let it go. After all, Pineview's tigers are indeed a rare commodity, priceless in the eyes of many tiger-addicts.
Get out and chase down some tigers but when you catch one, treat it with respect, handle it with care and release it so it can grow up and eat small water skiers.