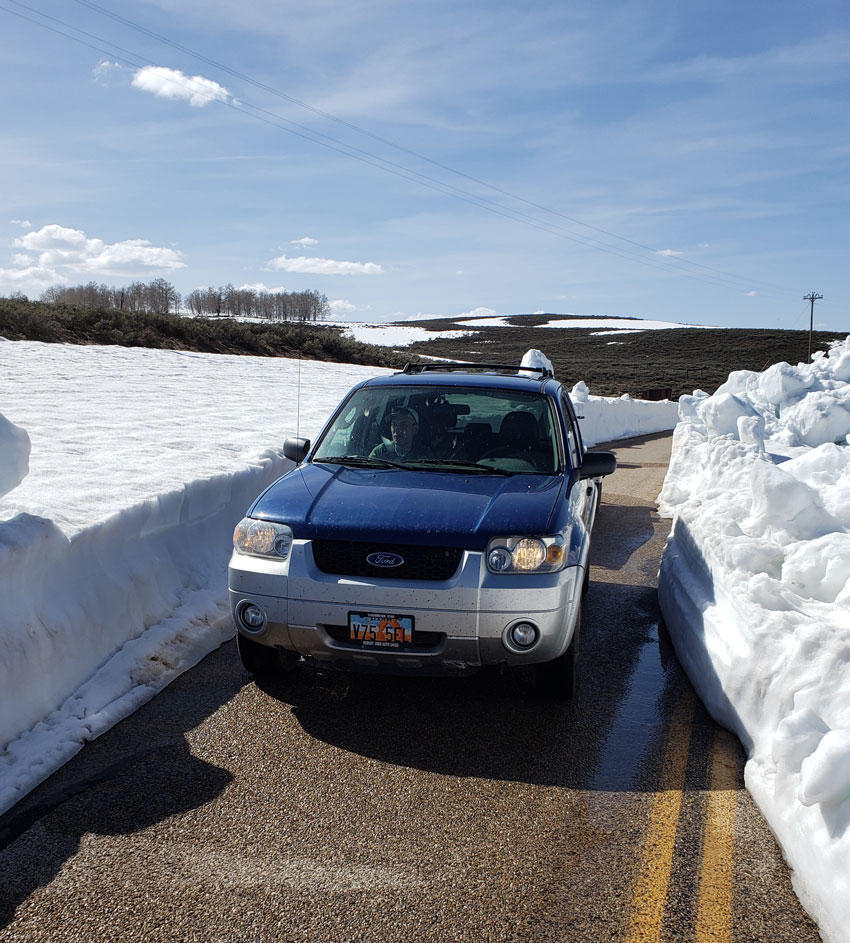 By Dave Webb
May 3, 2019
We heard the ice was pulling back at Strawberry and decided to give it a shot. We had a great time and caught a number of nice cutthroat. The ice-off period can provide some of the best action of the year.
We fished on a Friday afternoon, arriving at the lake about 4:30 pm. It was partly cloudy and breeze, and cooler than expected. We were glad we had dressed for cold.
As we drove by we saw there was a small amount of open water at Mud Creek, and it would have been possible to walk the shore and fish there. The Ladders area had more – the ice there had pulled back about 30 yards. Several people were fishing from the bank and a couple others were out in float tubes working the edge of the ice.
We had heard there was more open water on the Soldier Creek side and that proved to be true. Out from the boat ramp, about half the bay was open water and we had plenty of opportunity to fish.
The access road was blocked by deep snow drifts but had one lane plowed. The boat ramp also had one lane plowed. We had brought a large canoe on a trailer and was able to launch with no problem. Larger boats would have had trouble.
We had a 4 hp motor on the square back of the canoe and used it to maneuver along the edge of the ice and the shorelines. Our best action came long-lining Rapalas. Small lures in rainbow colors proved best but we also caught fish on fire-tiger colors.
We caught cutts ranging up to about 20 inches. Nice fish but no slot busters. We expected to catch rainbows but no luck there.
We were surprised that we caught two kokanee. I normally catch kokanee when fishing deeper using small lures. We caught these near the surface on Rapalas. Very strange.
All in all, it was a great trip.