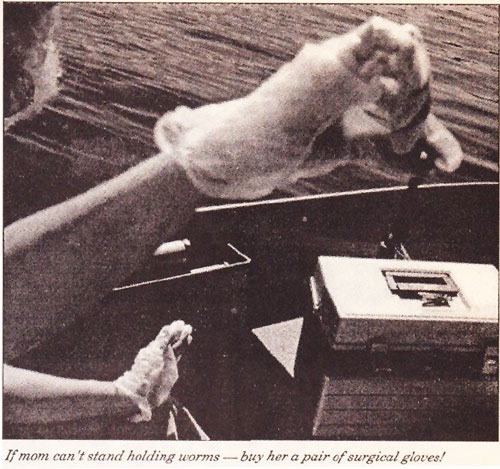 UTAH FISHING & OUTDOORS, December 1, 1991
So here we are, at the beginning of a new season ... BBRRR ... Thanksgiving's come and gone and left us with five extra pounds to moan about, but we spent a wonderful day with our families and reaffirmed those many blessings of which we are most thankful!
The ice hasn't come yet, and it's too cold to hop in the boat and fish — so we really have cabin fever! We have so much to do to get ready for Christmas, and yet. . . we sit and daydream out the window, thinking of all the fun we had this past summer fishing and generally enjoying our beautiful surroundings.
Kathy has a little bit of whimsey to relate to all of you regarding a fishing trip with her dear old mom:
It was late in September, and the fishing was terrific at Strawberry, so just Mom and I went fishing. Mom just started fishing again this year (with a little arm-twisting) after giving up the sport over 25 years ago!. We had geared her all up – new rod, reel and tackle – and she was ready to catch fish!
The only problem she faced was placing a squirmy, wiggly worm on a hook. She tried when we were at Fish Lake and just couldn't do it, and I told her, as much as I loved her, my worm duty was over – she would have to learn to bait her own hook!
So, on this fine, warm day at Strawberry, she decided to be brave and tackle this task with gusto!?! She opened her tackle box and pulled out SURGICAL GLOVES! Donning them, she reached into the worm box and selected a fat, juicy worm and then preceded to squeal and scream and dance around in the boat like crazy, "AAAGGG, I CAN STILL FEEL IT WIGGLING." Of course, I was convulsed with hysterical laughter.
Just then a boat trolled along side us with two men and two women and one lady asked if we were all right. With tears streaming down my face I told them that Mom didn't like worms and was having a hard time with panic control. Then one of the men asked, "What the hell is she doing with gloves on?" At that point we both lost it and they had to figure it out for themselves. After we got over the giggles, Mom and I had a great time – her gloves worked, although she still squealed a lot, and we caught some nice fish – most of which we released because they were cutthroats.
Now, we know that most of you have mothers. How long has it been since just you and your dear mother went fishing together? You may be surprised at how much fun you'll really have!!
Since we can't kick back in our boat now, we're both looking forward to some great ice fishing this winter. And maybe, if the weather isn't too foul, we'll go stand in a stream in our waders, and with the ice forming on the ends of our noses, catch some fish!
LADIES... don't miss the Ladies Angle Fishing Society Christmas Dinner this month. We had a geat time last year and this year looks as fun!
Don't let the snow and cold get you down. The fish are still biting.
Kathy & Joyce