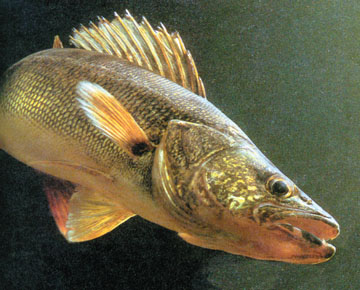 Not many people in Utah think of walleye when they think of ice fishing. But they should. Ice fishing for walleye is very popular in many parts of the country.
It must be remembered, of course, that ice fishing in Utah is still in its infancy. Utahns are still learning about this exciting sport and we aren't yet aware of all the opportunities and possibilities.
One of those vastly underutilized opportunities is ice fishing for walleye.
Lee Potter, a Layton physician who learned how to fish for walleye in North Dakota, says any walleye water that is good in the summer ought to also produce good winter fishing if the right habitat is found and the right techniques are used.
Potter, a member of the Rocky Mountain Anglers fishing club, a walleye fishing club, has done most of his winter walleye fishing in Utah at Willard Bay, mostly because it is so close, but he also fishes Deer Creek and Starvation Reservoir. He fishes Starvation often during warmer weather that helps him locate fish when the ice is on. The methods used to catch walleye through the ice aren't vastly different from techniques used to catch other species. The trick is to find where the fish are. It doesn't do any good to have the right techniques and bait if there aren't any fish within a half a mile of where you're fishing.
Thus, it helps to know your water. Walleye are likely to be where there is structure and dropoffs and where forage fish are likely to be.
Willard Bay doesn't have a great deal of structure and walleye fishing through the ice is rather spotty. Potter said he has had most of his luck in the marina areas, both in the north and south, and best fishing has been around twilight times, either early in the morning or late in the evening. Night fishing might also be good, although Potter hasn't done much fishing in the dark. Sometimes the areas right off or around the docks have been good.
Potter said he usually starts fishing right on the bottom, then works up six inches or a foot off the bottom. He tries a variety of lures and baits, including leadhead jigs, jigging Rapalas and flashing attractor lures like Swedish pimples or castmasters. He tips the lure with a waxworm or dead minnow head.
In waters like Deer Creek Reservoir, where perch meat can be used for bait, a lure tipped with perch eye would be a good setup.
Potter uses a jigging motion, but varies it. He suggests anglers try different speeds and jigging heights, and hold it still for different periods. Generally, a slow jigging motion is best, Potter said, with the lure held still for 5-10 seconds between movements.
Sometimes when the fish are quite active and readily biting, faster motions work better.
Good habitat includes areas with structure and flat areas that drop off into deeper water. Potter said in North Dakota he generally found good success at a point or dropoff into deeper water. If the fish are quite active, they can often be found in water as shallow as 5-8 feet, going after the forage fish. Usually the best success will be in 15-20 feet of water. The biggest walleye may be deeper, down 30 feet or so.
"We used to drill a lot of holes above a flat that drops off, and then go from hole to hole to find active fish," Potter said. Sometimes the fish are found just above the dropoff or at the bottom of the dropoff. There are some good places at Starvation with a flat and dropoff and Potter thinks he can be successful there.
Like other fish, walleye become more sluggish in the winter, Potter said. And they are often more active and bite better just after ice covers a water. Later in the winter as the ice thickens they tend to slow down. So get out early in the ice fishing season.
"Keep moving around," Potter said. "That's really important. You just have to drill a lot of holes."
Like other fish, walleye tend to school up in the winter. When you find one, you're likely to find more. When someone gets a fish, concentrate on that area for a while.
Potter was born in Utah and raised in the Casper, Wyoming, area. He is a physician in family practice and took his first job in North Dakota where he got into walleye fishing.
Upon returning to Utah he found walleye fishing at Starvation to be even better than in North Dakota.
If the forage base holds up in Starvation, Potter thinks it can produce world-class walleye. He is concerned that the smaller chubs seem to be dwindling in numbers. There still seems to be a good supply of large chubs, which means plenty of food for big walleye, but the smaller walleye could suffer.
Utah's major challenge in providing excellent walleye fisheries is finding a permanent forage base. Walleye tend to clean out a water after several years. Utah doesn't have the kind of forage fish that can sustain themselves in the face of walleye predation.
The problem is compounded because the endangered species in many drainage systems prevent the stocking of exotic forage fish. That's the problem at Lake Powell, where the Utah Division of Wildlife Resources has been unsuccessful in winning approval to stock rainbow smelt as a forage fish.
Potter is impressed with the girth and weight of the walleye in Starvation. In North Dakota, a 30-inch fish would be only 10 to 11 pounds, he said, while at Starvation a fish that long is 14 to 15 pounds. He thinks Starvation can produce national records if the forage base doesn't collapse.
Besides Starvation, Lake Powell and Willard Bay, good Utah walleye waters are Yuba Reservoir, Deer Creek and Utah Lake, Potter said. He suspects some lunker walleye lurk in Utah Lake. Trophies have already come out of Deer Creek.
The problem is, no one has really figured out how to consistently catch Walleye in Deer Creek. The walleye there are elusive. Sooner or later, however, some dedicated walleye fisherman will figure it out and discover where the walleye are found and how to catch them.
Potter's biggest walleye was 10 pounds, caught only six feet from shore in mid-aftemoon at Starvation. A lot of people fish Starvation at night, but Potter said he prefers daytime. He's had days when he's caught 20 to 30 walleye in a couple of hours only a few feet from shore with the wind blowing in. He fishes from his boat, casting Rapalas, jigs, bait rigs and spinners.
Potter loves to eat walleye, as well as catch them. "They're my favorite eating fish. I'll still eat a trout, but I prefer walleye.