By Sam Webb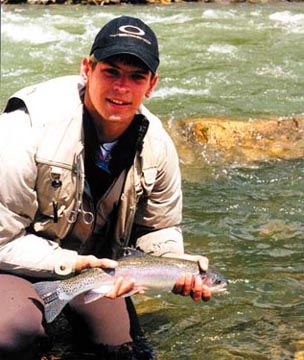 Greg Wilson of Salt Lake City fishes Henry's Lake, Idaho, about 20 times a year and has been trying to get me up there for a long time. Whenever he would mention fishing Henry's, I'd say, "I'd like too but it's just too far away. After all, it's way up there by Yellowstone National Park." Finally Greg asked how many times a year I drove to Lake Powell? He already knew I spent a lot of time down there. "Henry's Lake is closer to Salt Lake City than is Lake Powell," Greg concluded.
I said, "No way!" and got out the maps to prove him wrong. Ok, so I was wrong. It's between a four and a half and a five hour drive to Henry's Lake.
The more I thought about it, the more I realized what an idiot I had been! The most famous fishing rivers and lakes in the world were less than five hours away and I hadn't taken the time to fish any of them. It was time for some serious repentance!
A couple of weekends later I loaded the family in the truck, jumped onto Interstate 15 and headed north. At Idaho Falls we exited onto Highway 20. Soon we crossed the South Fork of the Snake River and in a few miles more began to catch glimpses of the Henry's Fork River.
Greg had suggested we stay at Jared's Wild Rose Ranch Resort, on the north shore of Henry's Lake. Greg said it was the perfect base to fish all the waters in the area. He was right. Henry's Lake is right at their doorstep (the resort has its own boat ramp, docks and boat rentals). Henry's Lake Outlet is just a few miles away. The Henry's Fork River is just 15 minutes down the road.
West Yellowstone and Yellowstone National Park are only 15 miles away. The Madison River, Fire Hole River, Gibbon River and Yellowstone River are all within an hours drive.
Henry's Lake, Island Park Reservoir and Hebgen Lake are all within just a few miles. Yellowstone Lake is less than an hour away.
And what about the fishing? These waters are world famous for a good reason - the fishing is great for big fish.
Henry's Lake Outlet - A small, meandering stream. Best fishing is the spring when large trout move out of Henry's Lake. Later in the year most fish are small but there are lots of them.
Henry's Lake - Lots of big cutthroat, rainbows, rainbow/cutt hybrids, and brook trout. Great float tubing lake. Fishing is only allowed from 5 a.m. to 9 p.m. The limit is two trout of any species. No other special regs apply and bait fishing is allowed.
Henry's Fork River - World class fly fishing water. Great hatches of blue wing olives, pale morning duns, drakes, salmon flies and caddis flies. Woolly bugger and leach patterns are also productive. Much of the river has special artificial lure or fly only regulations, single barbless hooks and no bait.
Madison River - Despite the negative publicity about whirling disease, the river is fishing well for brown trout and good numbers of rainbows. There are lots of trout over 20 inches. Great summer dry fly fishing.
Hebgen Lake - Great dry fly-fishing lake during mid summer for rainbows and browns. Trout average about two pounds and range over four pounds. Fish from a tube or boat for best success.