Monsters in Wyoming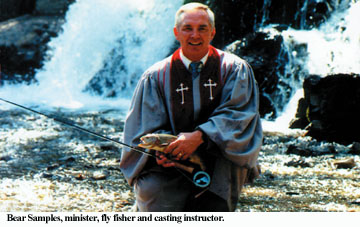 By Bear Samples
Minister and Master Certified Fly Casting Instructor
Most people think of monsters as the stuff of movies, children's stories or even nightmares. In Wyoming, monsters are the stuff of fly fisher's dreams, especially the gigantic fish of Monster Lake.
I had heard about Monster Lake from other fly fishers who had raved about its good fishing. One of my good friends swore that the early season fishing was fabulous. He didn't talk about fish in inches—he only recounted the pounds! After meeting Monster Lake guide Dick Brinkerhoff at the Salt Lake International Sportsman's Exhibition, I was sold on the fly fishing opportunity.
It may sound remarkable but my church, Park City Community, has a fly fishing group. Every year we make a trip to some faraway place in search of finned trophies. I gathered together a group of 10 diehards for a fall trip to Wyoming that would include the Green River, Clark's Fork of the Yellowstone River and Monster Lake.
After a good day on the Green, we caravanned to our headquarters in Cody at Delta pilot Karl Lampe's new home. Karl had the latest scoop on hot fishing from North Fork Outfitters and we yard-dogged (this is an Arkansas term for "ruffing up") the whitefish on the Clark's Fork. The fish came easily to dry flies and most of the group ended up in double figures.
Many fly fishers only go for whitefish in winter, but in places with good fish populations, they are terrific during the summer. Most of the fish were in the 15-18 inch range.
We got an early start at Monster after the 10-mile drive from Cody. After calculations, the lake is almost exactly 400 miles from Park City. Dick was ready to greet us with coffee, doughnuts, killer fly patterns and the latest technique advice. He filled us with stories of fast action throughout the year. The only time the lake rests is during winter ice-over.
Seeing is believing and his "wall of shame" displaying photos of lunker fish and smiling anglers, proving the quality of the fishery. "How big do they get, Dick?" "Oh, the browns run up to 10; brooks about 4; cutts get up to 8 or so; and the 'bows top out around 12-15." Yes, he was talking pounds. The shack turned into a Three Stooges act as everyone tried to bust through the door at once.
Monster Lake is a private, catch-and-release, pay fishery. Our group price was $150 per day, per person. That may sound pretty steep, but this lake is one of the best in the West for producing fish over 20 inches. Guiding adds to the cost of the trip.
Dick has fished there for years and almost knows the fish by name. His clients sing his praises because in most cases he linked them up to the largest fish of their lives. If you use the guiding service, you'll fish from a comfortable drift boat that is equipped with a special trolling motor mount that Dick invented.
Some of his biggest fish come from trolling flies as he moves from one part of the lake to another. Why waste good fishing time. Almost every day that he guides, an 8-to-10 pound trout is taken on the troll.
We launched a variety of boats including a canoe, a drift boat, float tubes and a pontoon craft. I had my Outcast pontoon boat equipped with trolling motor and Force Fins. Force Fins are an extremely powerful, diving style tubing fin. They are perfect for holding you in position or moving to nearby spots. Fins are indispensable for this type of fishing. The lake is about a quarter mile wide by 3/4 mile long, with 150 acres. If the wind kicks up, a trolling motor is the only way to beat the waves.
Dick encouraged us to go for the brookies, which were on spawn on the flats near the earthen dam. One of the special Monster killer patterns is a Clouser Minnow in brook trout colors. Within minutes, most everyone had hookups on these aggressive fish. Humpbacked and hook-jawed, these brooks looked like nasty street fighters. As you know, it is one thing to look tough but what about the fight? Sweet, can those fish pull.
Most were in the two pound range and gave us all some good activity. Believe it or not, the brook trout were almost too aggressive. To keep from foul hooking fish from the school of a hundred or more, you had to strip slowly and tease them on. Hooking a fin or tail meant all-out warfare. It was fun to watch John and Cari Griggs both get fish on with no one to help them with a net.
After a warm-up on brookies, I headed for rainbow land. The 'bows were holding on points and at drop-offs as the banks steepened. My goal was to fish in an 8-10 foot depth at the edge of a large weed bed. My outfit was a Sage XP, 9 foot 6 weight matched to a Tibor Freestone reel and Scientific Anglers Type II sinking line. Using a countdown to 20, I would begin a slow, steady strip with a Pond Olive Leech. Before long the Sage was bent double, with the Tibor screaming. Ah, life is beautiful.
Monster rainbows are an excellent Kamloops strain with big bodies and beautiful colors. Fight. Fight. Fight. You might not be used to this type of bar room brawl, but you have to apply plenty of pressure to keep the fish out of the weeds. With the battle won, I netted the 4-pound fish.
What is the secret to the superb size and health of Monster Lake trout? The lake is planted with scuds or freshwater shrimp. I was astounded to see hundreds of shrimp clinging to the neoprene waders of a wading fisher. It doesn't take a rocket scientist to figure out fishing a scud pattern directly in the weeds produces results too.
Although we were catching fish, a passing storm front was slowing the bite. A visiting angler from Colorado picked up an eight-pound rainbow at mid-day for the "largest of the day" honors. Our biggest problem was resisting the Wyoming wind. It was blowing up whitecaps. Be prepared at any time for some howling blows. Don't risk fishing for safety's sake.
By late in the day, Dick gave us directions to take 30 final minutes and wrap things up. We again had returned to the dam area where Dick assured us that we had a good chance for a cruising brown. As Yogi Berra (my childhood hero) says, "It ain't over till it's over."
My 18 year-old son, Geoff, put on the show of the year. Geoff had fished on Youth Team USA in the World Youth Fly Fishing Championships and finished 16th out of 75 competitors this past year. He is an outstanding caster and was the youngest certified casting instructor in the U.S. at age 15.
About eight of us were in a lineup pounding for cruisers. Shortly, Geoff popped a four-pound brown to complete his "Monster Lake Grand Slam" by catching a brown, brook, cutthroat and rainbow in the same day. It was the second grand slam at Monster for the whole year. Geoff was all smiles and my job was netting and photos.
Back to the line and moments later Geoff yelped, "Fish on!" This was another solid fish that turned out to be a rainbow of three pounds. He wasn't finished. A pair of twin five-pound browns rounded out his flurry of catching. Everyone else was left shaking in their waders and shaking their heads. It was an amazing show of skill as he was able to get a longer distance cast matched with his relentless fish-fighting on his Sage/Tibor outfit. He has added the Gram Slam certificate to his trophy case.
Dick gave us a teaser as we prepared to leave, "There are lots of 50 fish days by fishers throughout the season. Also, you may want to try to get here in June when the big fish all come to the surface for insects. It is great dry fly action."
The monsters of Wyoming haunt me still. Psychologists tell you to face your fears, so I can't wait till I return to Monster Lake and some more alley fighting.
You can contact Dick Brinkerhoff, the lake manager and guide, at Dick's Trophy Trout Service, (307) 548-6711. He has brochures on the lake and latest fishing information for the area. Or visit his web site: www.monsterlake.com
Cody, Wyoming, provides many amenities including several nice hotels and a variety of restaurants. With free time, a visit to the Buffalo Bill Historical Center provides an outstanding collection of Western art and memorabilia. The east entrance to Yellowstone Park is about an hour away. Fishing and sightseeing in the park is a must.