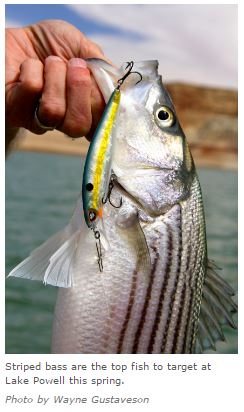 Spring is an excellent time to fish Lake Powell and action is hot right now. It will stay very good into June and then slow a bit as the heat of summer sets in.
Striped bass are a prime target and they are preparing to spawn. They seek out moving water and so that helps anglers zero in on good fishing spots. Many fish move toward the dam and so that area attracts good numbers of fishermen.
Fish also move toward the major inlets - the Colorado River and San Juan in particular. Those big rivers are high and muddy and so Lake Powell has muddy water on its upper ends. Fishing and boating are difficult in the muddy water but good action is often available at the "mud line" where the muddy inflows start to give way to the clear main lake water.
Smallmouth are also spawning now and they also provide very good fishing. Walleye, crappie, bluegill and catfish are also biting.
Wayne Gusteveson, DWR's Lake Powell project leader, offers very good fishing advice on his website, wayneswords.com. He has also contributed to this great new article from DWR. Below are excerpts.
Pleasant temperatures, fewer boats and aggressive fish make spring one of the best times of the year to fish at Lake Powell.
You'll need a boat to fish Lake Powell effectively. In the spring, you'll see a lot less boat traffic. "Large wake boats and other watercraft can churn up the water and make it choppy in the summer," Gustaveson says. "That's not the case in the spring. Right now is the perfect time to fish from a boat at Lake Powell."
To find and catch stripers in the spring, stay in the main lake channel and use bait to entice the fish into biting. Anchovies cut into two or three pieces, cut sucker meat or even meat cut from a thin striped bass will all work. Simply place the bait on a size 4 hook, or on a -ounce jig head, cast it out and get ready for a fun fight.
Smallmouth bass love rocky areas. And that makes them relatively easy to find at Lake Powell; simply scan the sandy shorelines until you find areas with either rocks or brush near them. Rocky islands are also good spots to target.
Walleye claimed the third spot on Gustaveson's list. "Finding spots that hold walleye at the lake isn't too tough," he says. "And you can catch them using fairly simple techniques."