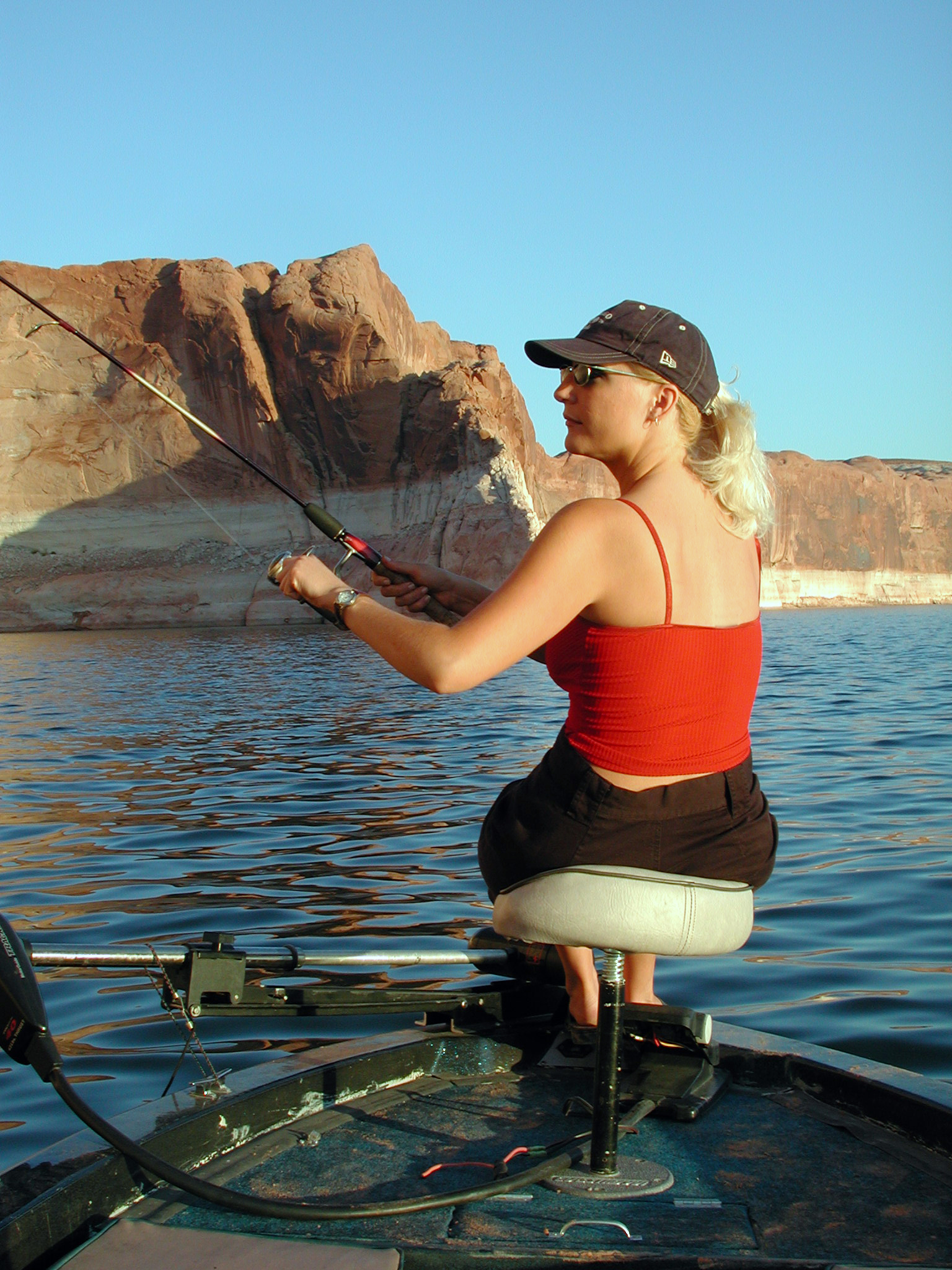 By Dave Webb
Published February 7, 2018
Spring
Ice normally comes off Utah Lake, Willard Bay and similar waters in late February or early March. Walleye fishing is often difficult when the waters first open up but action starts to pick up as temperatures warm. Walleye action is often very good during late March and April.
Deer Creek and Starvation are usually a couple weeks behind Utah Lake and Willard. Starvation is perhaps our best walleye water and action can be very good. Deer Creek walleye are a bit unpredictable but nice fish are caught every year.
Green River, Provo River and other streams pick up as the snow goes away and the water starts to warm. Midges are key but blue wing olives start to show in later March. In April, BWO hatches can produce very good fishing. In May, trout feed on many kinds of bugs and fishing can be very good.
Spring runoff usually hits hard in May and can continue into June. During runoff, the protected stream sections below dams are usually clear and can provide good action.
Deer Creek, Jordanelle, Rockport and similar waters can offer very good trout fishing during the first couple weeks after ice-off. Savvy anglers pay attention and follow the thaw up the mountains. The lower portion of Flaming Gorge fishes very well during this period.
Strawberry and Scofield usually thaw in mid or late April; some years the ice doesn't come off until early May. Strawberry can be fickle just after it opens up but both waters usually offer great trout fishing as the water just starts to warm. Trout often cruise shorelines and anglers do well working close to shore.
Lake Powell striper, largemouth and walleye fishing picks up in March and becomes very good in April and May. Smallmouth are usually a couple weeks behind largemouth and action becomes red hot in April and May. Crappie and bluegill fishing also picks up in April.
Bass provide good action at Deer Creek, Rockport, Pineview, Mantua, Pelican, Mantua and other waters during May and June.
Wiper fishing picks up at Willard Bay and other waters during May.
Summer
Lake Powell fishing is good for all species in early June but starts to slow as the heat of summer sets in. When the water warms fish move deeper. Anglers that adjust tactics can enjoy good fishing through the warm months.
Walleye fishing can be great at all of our walleye waters during June. They fish can be caught right through summer but it can be more difficult to fish them during the warmest months.
Strawberry trout fishing is usually very good in April and May but slows during the hottest part of summer. As the water warms, fish move deeper. Fly fishermen do best early and late in the day. Boat fishermen can catch fish at all hours but also do best early and late. The time between sunset and dark is often best. Many anglers arrive after the best morning fishing and leave before the good evening action.
Streams fish very well as runoff ends, usually in late May or early June. A large variety of insects command attention. Cicadas, salmon flies and green drakes can provide exceptional action if you pay attention and catch the hatch.
Boulder Mountain high country often opens up in early June.
High Uinta lakes start becoming accessible in June but the highest passes may not be open until late June or July. The Boulders, Uintas and Skyline Drive areas usually offer great fishing through the heat of summer and into fall.
Flaming Gorge smallmouth action becomes red hot during June.
Lake Powell striper boils start in July and peak in August, providing some of the fastest and most exciting fishing of the year.
Kokanee can be caught year-round but the best action of the year starts in later August and continues into September, when mature fish congregate as they stage to spawn. Action is often very good at Flaming Gorge but can also be good at Strawberry and other waters.
Catfish action at Utah Lake, Willard Bay and other waters starts to pick up in May and becomes very good in June. For catfish, the warmer the better and action stays good through the summer.
Fall
Stream fishing for trout can be excellent during the fall. The irrigation season ends and managers allow water flows to decrease. Fly fishing can be great in the low, clear water. On many streams you have to be careful not to spook fish. Ground vibrations from heavy feet will put fish down.
Lake Powell striper and catfish action stays good during early fall and smallmouth fishing picks up as the water starts to cool. September offers some of the best fishing of the year and the big lake. Walleye fishing can be very good through the fall. Action for most species starts to slow in mid October.
Strawberry, Otter Creek and other waters offer excellent trout fishing during the fall. Many anglers do well working Lucky Craft Pointer Minnows, Rapalas and similar lures along shorelines. Action stays good until snow and ice make conditions miserable (for humans) and shut down boat ramps.
Flaming Gorge lake trout become more predictable during fall. They congregate and stage for spawning in October. The best fishing for large lake trout often happens about the same time hunters take to the field for Utah's general season deer hunt.
Brown trout fishing picks up in the fall as the fish become more active. The browns spawn in November and they can often be seen making and guarding nests in shallow areas. Take care to not disturb spawning fish and don't tromp through nests. The Weber River is often very good for browns in fall.
Ice fishing starts to become possible on our small, very high elevation lakes and reservoirs during November. Scofield often freezes by about Thanksgiving. By December 1, we usually have fishable ice on a number of small, high-elevation waters.
Winter
Strawberry and Fish Lake usually freeze by about Christmas and provide very good ice fishing.
Scofield, Otter Creek, Currant Creek and many other waters also provide good ice fishing.
Flaming Gorge usually has safe ice on the Wyoming side. On the Utah side ice may extend down lake a ways, but the lower lake often has boatable water and good fishing. Temperatures can be very cold.
Bear Lake may or may not freeze. Cisco spawn in mid- or late-January and provide a unique experience. Cutthroat and lake trout fishing can be good just before the cisco spawn.
On the Green River, Provo River and other streams water coming out of dams is warmer than that downstream and fishing can be good using midges on top, streamers, scuds, glo bugs and other patterns. Snow and ice can make fishing difficult but it can be worth the effort.
Weber River usually offers good action for whitefish during winter.
Lake Powell striper fishing can be good if you jig to deep fish. Walleye and a few largemouth can be caught. Action is generally slow for other species.