By Jim Brearton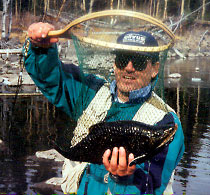 Just so you know my bias, the only fish I've had mounted was an 18-inch male hook-jawed brook trout that took a streamer in an Idaho river.
The opportunity to get a brook that large is rare. Some travel all the way to Labrador or Nova Scotia for a chance at one.
But the largest brook trout I ever caught was right here in Utah, on top of Boulder Mountain. In an alpine lake there in October of '94, I hooked and landed a female brook that probably weighed four pounds, twice the weight of my 18-inch male. She wasn't more than 17 inches long, but her girth was enormous. And the next day I netted a male that dwarfed mine by at least a pound, maybe two, caught by my friend, Norm Albiston.
I have my theories why some lakes on the Boulder produce these prodigious fish. This particular lake was at one time natural but was expanded with a dam to hold more irrigation water for the valley below. But even with the dam it is still quite shallow and difficult to fish. It is mostly mud-bottomed or covered with vegetation, except for rocky shorelines, inlets and outlets. The shallowness of the lake allows for sun-drenched vegetation that supports enormous scuds, over an inch long, with plentiful leeches and baitfish.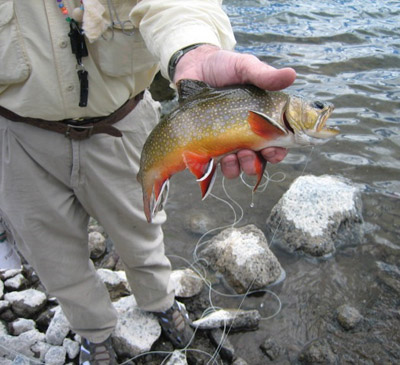 The only brookies found in this lake are washed down from a reservoir a quarter-mile up the mountain. Once these few fish find themselves in this food factory, with phenomenal growth potential and light fishing pressure, they make the paradigm shift to "monster."
These monster fish are the sumo wrestlers of trout that seem to grow in thickness as fast as length, and my theory here is that the high protein scud diet gives them the "sumo" look. I have seen fish this shape from other Boulder lakes and would guess that the big scuds would be found wherever these fish are found.
As the fish become monsters, they decide they're only going to be available during the fall spawn or spring ice-out to fly or jig casters, very specialized fishing that few know of or bother to attempt.
This scenario could be repeated in other lakes harboring monsters, or a different set of variables could be at work. Perhaps the common denominators could be shallow but cold lakes, with large amounts of vegetation due to the southern climate producing earlier ice-offs and later ice-sets than the Uinta or Wind River ranges.
I've seen big cutthroats, rainbows and golden trout caught in the High Uintas and other high mountain lakes, but usually brookies will overpopulate and stunt. Only brook trout seem to thrive in the really cold, higher lakes, but the big fish lakes must have just the right temperature for forage and large fish. The lake just above the one we fished that trip was five times bigger and deeper but full of small fish you couldn't keep off your fly. Those fish feasted on midges, primarily, and some callibaetis, mayflies and caddis.
John Campbell, owner of the Outdoor Source, a Boulder Mountain outfitter, directed our adventure that October, leading us to the big brookie lake just in time to catch the fall spawn. Brook trout are especially colorful anyway, but during their fall spawn they are spectacular.
Norm and I had worked for John as fly-fishing instructors, so he invited us to see if these fish would take a fly rather than the leadhead jigs that were the preferred method at the time.
On this particular trip, ice formed on the trophy water each night and we had to break it off the spawning beds each morning to fish. The fish were stacked up to attempt to spawn at the stream inlet. We waded around the bed, breaking through the ice. We broke off quarter-inch slabs the size of tabletops and tried to shove them under the ice layer, all while huge brookies darted between our legs. Once the beds settled we fished the corridor we'd established.
Normally we wouldn't have interfered with spawning fish, but these trout were too big to make it up the inlet. Furthermore, the dam was to be breached and repaired, unfortunately eliminating most if not all the fish. This is a common occurrence these days, as many of the small dams on the mountain are old and leaking. Some are being repaired, necessitating that they be drained. But the trophy waters are restored to the same conditions, where possible, and when possible I would hope that more are created.
The day I caught the massive female I was accompanied by a doctor from Las Vegas, who was our best ice-breaker and doubled as my net man, and another man running a video camera. They would occasionally throw a lure into our small ice-free area while I parked as far out as I could in a float tube and cast into shore with the ugliest woolly bugger I had. Norm was fishing that day at the higher lake with his son.
When the big female came along, she tried to squash my fly rather than eat it, and I hooked her in the belly. This is typical spawning behavior. She would repeatedly run underneath the ice, and I had to keep my rod in the water to keep the line off the edge of the ice.
After several attempts we had her in the net and, after John ran up and shot some photos (he had heard our hollering from camp), we released her.
The next day, Norm and I were fishing alone when the jumbo male attacked his streamer. It was much more difficult to control the fish from shore than from a float tube, but I netted the fish on the first try and Norm let out a holler that was probably heard in Teasdale.
The camp contingent came running the 200 yards or so and cameras started clicking like mad. As far as I know this was the largest fish taken from Boulder Mountain in recent years. The state record brookie came from this same lake and this fish was real close. With fish like this so rare, I figure it was the most prized fish I ever netted.
In two days of fairly intense fishing we had hooked and landed two trophies. Just a chance at one of those fish would have been worth the trip. This may be the Everest of my fly-fishing experience.
And yes, we discovered, they will attack a fly.
I would recommend the Outdoor Source if you are considering a Boulder retreat for big fish, lots of fish, or just beauty and solitude. John Campbell introduced me to Boulder Mountain many years ago, and I have since fished many lakes and streams with him. A local guide proves invaluable in determining current conditions on the various waters.
Some of the Boulder roads aren't recommended for large vehicles, but John sometimes makes three or four trips back and forth on them a day with his big Suburbans. Our Jeep Cherokee and 4-Runners had all they could handle getting up those roads. They've improved some to get large dam repair equipment in, but they are still the roughest, rockiest, steepest roads in the state. And in October or early spring they have a dusting of snow, which adds to the adventure of the big fish quest.
I hope some of you are willing to pay the price to have a chance at these beautiful fish in our own back yard.