By John Campbell
Utah Fishing and Outdoors May 16-31, 1993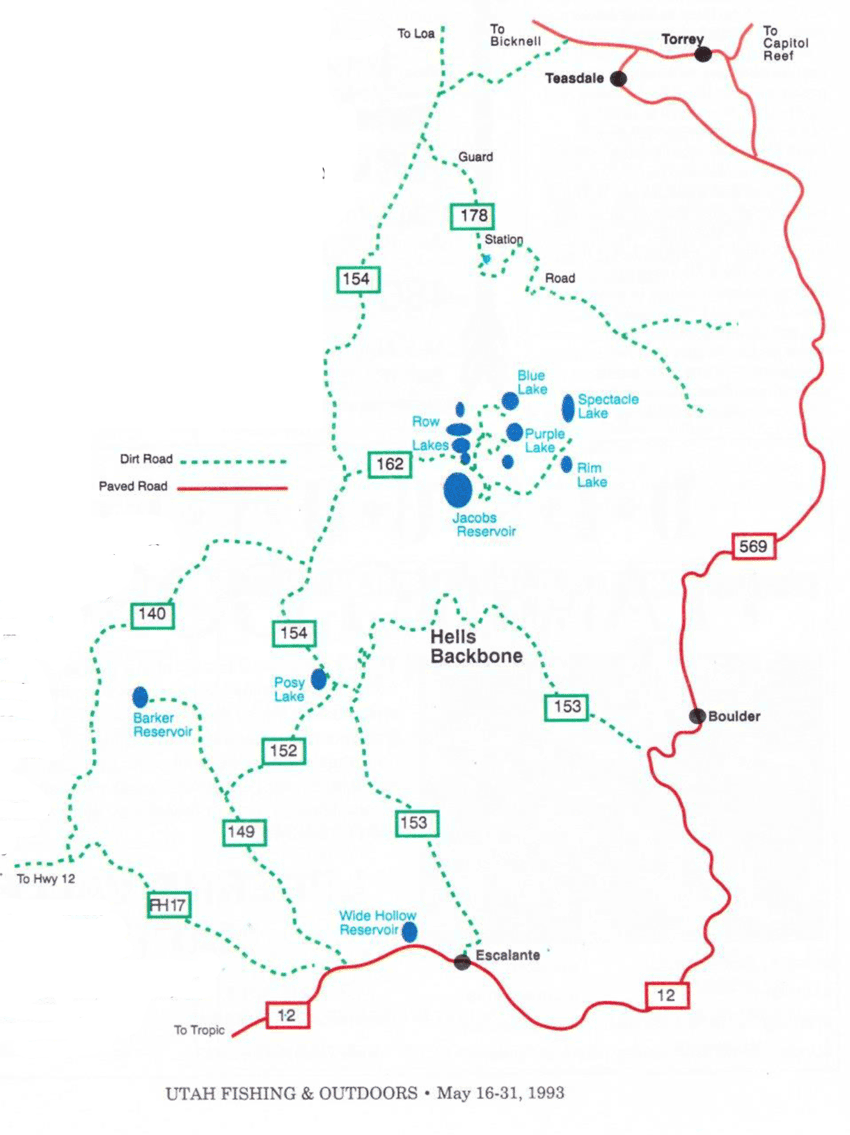 I've decided to tell you all where to go. Of course, I mean where to go fishing. Sam tells me this is a family magazine. As I understand this new backroads column, the intent is to inform the readership of areas with roads accessible by vehicle, how to get there, what facilities are nearby, and, of course what to use fishing. So, snap on your seatbelts and I'll take you to the west side of Boulder Mountain. Most areas of Boulder Mountain can be accessed from the west side, and today I'll take you up road #162 to the Row Lakes area.
The Boulders are about 4 1/2 hours south and east of SLC. You'll continue south past the Fish Lake turnoff about 30 miles and into Loa, Utah about 10 minutes from the Boulders. You'll see Derrell's Chevron on the left, directly across the street from the Road Creek Inn in the center of town. Derrell's is a good place to gas up before beginning up the mountain. I never head into the mountains without a top-off. He does tire repair and general maintenance. I mention this because I've had tire problems (they don't call them the "Boulders" for nothing) and I had a valve lifter go "toes up" on a fairly new engine. Derrell also has propane and ice.
Directly across the street is the Road Creek Inn, a very nice country inn converted from an old two-story Coop. It's a good place for dinner and a terrific overnight stay if you are not camping. The Inn has all the accouterments: lovely rooms, a sauna, Jacuzzi, recreation and meeting rooms, an extensive menu which features fresh trout dinners prepared by Rod Wiess, former Park City chef and the Inn's resident fly fisherman. The Road Creek Inn also has private trout ponds and an excellent fly-fishing academy for those wanting to learn the sport or sharpen up existing skills. Check in with Evan, the Road Creek Inn manager. He'll be glad to show you around.
Head directly south out of Loa and you'll connect with Escalante Road #154, a good, partially graveled road that is suitable for sedans should you wish to take a different route to Escalante. Go about 10 miles south past the signed Aquarius Guard station turnoff, and start looking for the Jacobs Reservoir turnoff, road #162. I'd recommend at least a high clearance 2 wheel-drive vehicle, especially if you're planning to access the upper regions of the top (note: the Boulder Top is usually closed to vehicle access until about June 15).
About five miles up this road you'll see Jacobs Reservoir on your right, an excellent stocked fishery early in the year. Shortly after that turnoff you'll find another road veering left to the Row Lakes and to Blue and Purple Lakes. The Row Lakes are stocked annually with catchable rainbows and should be great for the kids. If you continue a little further you should get close to Blue and Purple lakes, which contain brook and cutthroat trout.
For the more adventurous, you can drive a little further on #162 up by Rim Lake and several other waters in the area. One of the largest concentrations of the rare yellow Aquarius paintbrush flower is nearby. The Forest Service asks you to be very careful not to damage the area there.
Some of the Boulder Mountain lakes are overpopulated due to the active life style of the brook trout. They appear to have a whole lot of fun. Some harvesting of fish in these lakes would actually help. On the other hand, some lakes are overfished or sometimes winterkill. Catch and release is recommended, in that case. Sam tells me he recommends catch and release most times. Of course, I've never seen him catch a fish, so that's easy for him to say. You might check with the DWR or the Egan fish hatchery outside of Bicknell about specific waters and fish populations.
Bait fisherman can use the usual baits effective in the Uintas and other small waters. Powerbaits and nightcrawlers are the standard.
If you are into catch, photographing and releasing, spin and fly fishing are the best bet to insure survival. Spin fisherman should bring along a supply of gold and silver Jake's spinners, as well as, Z-Rays and Phoebes. A couple of clients of mine out of Las Vegas, Kevin and Gary Widdison, both catch and release fishermen, are deadly using black-headed jigs cast from shore. It's really interesting watching skilled jig fishermen and their techniques. I've been trying some, but all I've done is wear my arm out, so far.
Kevin told me last year about a secret recipe he knew for boiled trout. Well, I followed his directions scrupulously and it tasted just like... boiled trout. Y-e-e-e-ch!! It didn't matter what I did to try and salvage that fish for eating, I dusted it with flour and fried it in butter. Still y-ee-ech. Then I dipped it in batter and deep fried it. No go. By now, the little 3 oz. fillet weighed about 2 lbs., was kinda' hard to chew through and had a kind of sloppy slushy texture to it. Don't know how else to describe it. Don't ever believe a catch and release fisherman when it comes to recipes. Trust me.
Fly fishermen should have an ample supply of scuds for early ice-off fishing. The big brookies are cruising the shoreline for freshwater shrimp and anything scud-like will be effective! Terrestrials (black ants etc.) and match the hatch in mid and late Summer. Minnow patterns late Fall.
There is no improved camping on the West side or the Boulder Top, unless someone snuck (that a word, Sam?) one in when I wasn't looking. So, there are issues to be discussed about primitive camping. We've all gotta help with the environment so we have future access to it. Bear with me while I give you the two minute drill here.
Carry in your drinking water. Any water you drink from a lake or stream has to be boiled for at least 2 minutes. The Forest Service recommends camping 100 feet from water. The University of Utah recreation and leisure department recommends 200. As far as I'm concerned the further the better, but for sure, do at least what the Forest Service says. Use only already impacted areas for campsites. Don't dig trenchs around your tent. I actually saw someone doing this last year.
Keep any fires small and only use the dead and diseased timber around. There is usually some if you look a little ways from the campsite. The bark beetle infestation in the early part of the century accounts for most of it.
Use existing fire rings. One of my outdoor classes at the University taught that it takes 10 years to remove a fire ring's damage and restore the microbiotic (living) soil and rid the area of the visual pollution. If there are a number of fire rings in a small area, consider doing a small forest service project. Time it for when the kids start getting whiney and have them haul the rocks from one of the fire rings away from the campsite. My experience is, hauling rocks will shut somebody up in a hurry.
Human waste is really getting to be an issue. The Charmin' Lily is fast on the way to becoming the state flower if we don't do something about it soon. If you can't bury or burn the paper, then pack it out. Better yet, haul all your human waste out. As you may or may not know, river rafters have had to do this for years now. They have used a toilet-seated Ammo Can (lined with multiple garbage sacks) system for hauling out waste for years, but even that regulation will be changed next year. Everybody will be switching to a more portable unit that will probably be some sort of plastic holding tank. They can be emptied and cleaned at any dump station, from what I understand. I've seen a prototype out there, but it is very pricey and low-tech, so far. You know how it goes with a new product. Somebody will realize they have a better idea and can still make a great profit at only half the original's price. I'll be using a couple of these units this year with my outfitting business. There's a great future market out there for some enterprising plastic man, and if you plan on building one, let me know. I have some ideas about what it needs to do and features it should have. OK, the sermon's over.
Now, when you leave, there is an interesting drive back along the main dirt road (#154) towards Escalante. Again, this is all easily traveled by passenger car. If you take the well marked turn-off to Boulder town (Road 153), you'll pass through a really fascinating area called Hell's Backbone. Have a camera ready. You'll end up on the other side of Boulder Mountain and will work your way back about 40 miles north on highway 12 (forest service road 569), designated a National Scenic Byway. There are a number of turn-outs and view areas along the way to Teasdale and three improved campgrounds on the east side of the highway. The largest and most popular is Singletree Campground with 26 single units, 5 double units, and two group areas. Stop at the Wildcat Visitor center near the Pleasant Creek campground for maps and more information on the area.
Well, I hope you enjoyed our little outing to the Boulder Mountain area. It certainly ought to be a trip you should consider soon. If you'd like me to do a hiking piece and take you on some (verbal) hikes to some of the more remote areas on the mountain, give Sam a holler. I'd be glad to oblige.