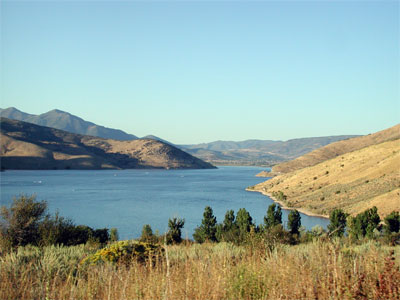 Update January, 2018: Deer Creek is a no longer a SUSPECT reservoir for Quagga Mussels. Special procedures to drain and dry boats are no longer required. (Sportsmen are always encouraged to drain boats after use and to make sure all interior areas dry completely, to prevent the spread of mussels.)
Deer Creek Reservoir is a popular fishery, that receives heavy pressure due to its proximity to the wasatch front. It has plenty of room to play and plenty of fish.
Location: 10 miles south of Heber, top of Provo Canyon, on Hwy 189.
Lat:

40.4453° N

Long:

111.4962° W
See our reports on Deer Creek Reservoir:
Species: Largemouth Bass, Rainbow Trout, Smallmouth Bass, Walleye, Brown Trout, and Yellow Perch.
Special regulations:
Corn may be used as bait, as part of a pilot study extending through 2018.

Underwater spearfishing is legal at Deer Creek, as long as largemouth and smallmouth bass are not speared and taken April through June 23.

Carp may be taken, using a variety of techniques.

White bass and black bullhead catfish must be either taken or disposed of if caught. No limit.
Seasonality:
During summer, the best fishing is from a boat or canoe. There are many places to fish from the shore along the south side of the reservoir, down from the highway.

Walleye and trout fishing usually pick up in April. The Provo River inlet area is a popular place to fish for walleye but it can be crowded.

Smallmouth fishing can be very good in June.

The Chokecherry Campground is open for winter camping, with electric and sewer available. Camping is first come first serve beginning October 16th.
Key Attractions:
Heber Valley - beautiful alpine mountains and meadows geography

Deer Creek State Park

Excellent state park boat ramps (fee charged). Nice campgrounds/picnic areas. Watercraft rental at Deer Creek Island Resort.

Sandy beaches.

Good fishing close to Utah's population centers.

A decent sized reservoir that can accommodate good numbers of people fishing, boating, windsurfing and playing on the sandy beaches.

Good ice fishing in winter.