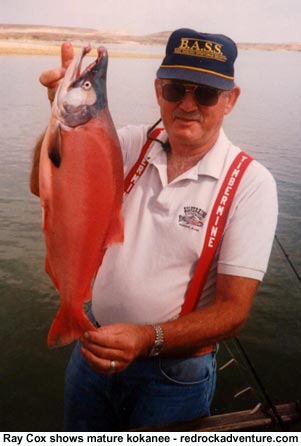 Kokanee salmon are one of Utah's most unique sport fish and they provide very good angling opportunity; they also put on an interesting sideshow during late summer and early fall. They are popular with fishermen because they are fairly easy to catch and make excellent table fare.
Kokanee are a form of landlocked salmon found in several Utah reservoirs; by far the largest populations are in Strawberry and Flaming Gorge. Anglers take a few kokanee, including some big ones, out of Strawberry every year but Flaming Gorge sustains the bulk of the fishing pressure. The Flaming Gorge population appears to be cyclic; this is an up year and so good fishing should continue into the fall.
Lake trout in Flaming Gorge prey heavily on the kokanee, DWR biologists think the predator-prey populations are out of balance and so they are proposing changes in management at Flaming Gorge. Public input is being sought at a series of meetings to be held around Utah. One will be Aug. 24, 6 p.m., in the Brigham City Community Center, 24 N. 300 W., Brigham City. Interested people are encouraged to attend and make comments.
The biologists would like to raise the lake trout limit to eight fish. The lake trout limit at the reservoir is currently four fish; only one of the lake trout could exceed 28 inches in length. And anglers would be required to release all kokanee salmon caught from Sept. 10 through Nov. 30. Currently, anglers must release all kokanee caught between Oct. 1 and Nov. 7. These changes are proposed for next year (2006).
The changes would not affect kokanee fishing at Strawberry.
Kokanee usually look much like a rainbow trout, silver-green-blue in color. Just before spawning in the late summer or early fall they turn dark red to bright scarlet, with green heads. Their skin becomes leathery and their flesh mushy. After spawning the fish die.
Some kokanee spawn in streams during late August and September. You can easily see them in Sheep Creek above Flaming Gorge and in the Strawberry River above Strawberry. A boardwalk near the Strawberry Visitor Center provides excellent viewing opportunities. Photos and displays are usually set up in the visitor center.
A large number of fish spawn in the reservoir over a period of weeks, with spawning action continuing into late fall.
The kokanee are a landlocked form of the sockeye or red salmon, prized for its table qualities. But during the spawn, when its flesh is mushy, the salmon lacks flavor and is not desirable for sport fishing or eating.
Kokanee are difficult to raise in hatcheries but their natural reproduction rate is excellent at Flaming Gorge and Strawberry. Most trout caught in Utah were raised in hatcheries and are caught within a year or two of the time they were planted, as part of a "put-and-take" management program. But kokanee are self-sustaining at Flaming Gorge and many other waters. When they are allowed to spawn they improve fishing in Utah and save all of us money!
Kokanee have become an extremely popular sport fish at the Gorge, accounting for about as much action as the rainbows. The fish are fairly easy to catch and reach 17-20 inches by age four, when they are ready to spawn. A few spawn when they are five and so are a bit larger. The Utah record kokanee went six pounds, zero ounces and was caught in Strawberry in 1995.
Flaming Gorge and Strawberry are our major kokanee waters but the fish are also found in several smaller reservoirs including Causey, Porcupine and Moon Lake.
Kokanee are caught throughout the year, with June being the most productive month. Ice fishing for kokanee can be productive – if you get over a school you can find fast action. Flaming Gorge is so big and deep that it can be difficult to find the fish during the winter.
Kokanee are plankton eaters. They do not feed on smaller fish. They do go after small attractor lures and will also take worms and salmon eggs. Most are caught trolling small, brightly colored lures. Look for them about 10 feet deeper than you would expect to find rainbows – generally down about 40 feet this time of year.
Kokanee are so effective at straining plankton out of the water they can compete effectively against the chubs and suckers that cause such turmoil in Utah's lakes and reservoirs. Studies show kokanee can be used to help prevent trash fish from taking over a reservoir –thus leveling out the boom-and-bust cycle that has been repeated so often in Utah waters.
A prize game fish and an excellent management tool... the kokanee is a real winner.
Copyright Dave Webb, 2005