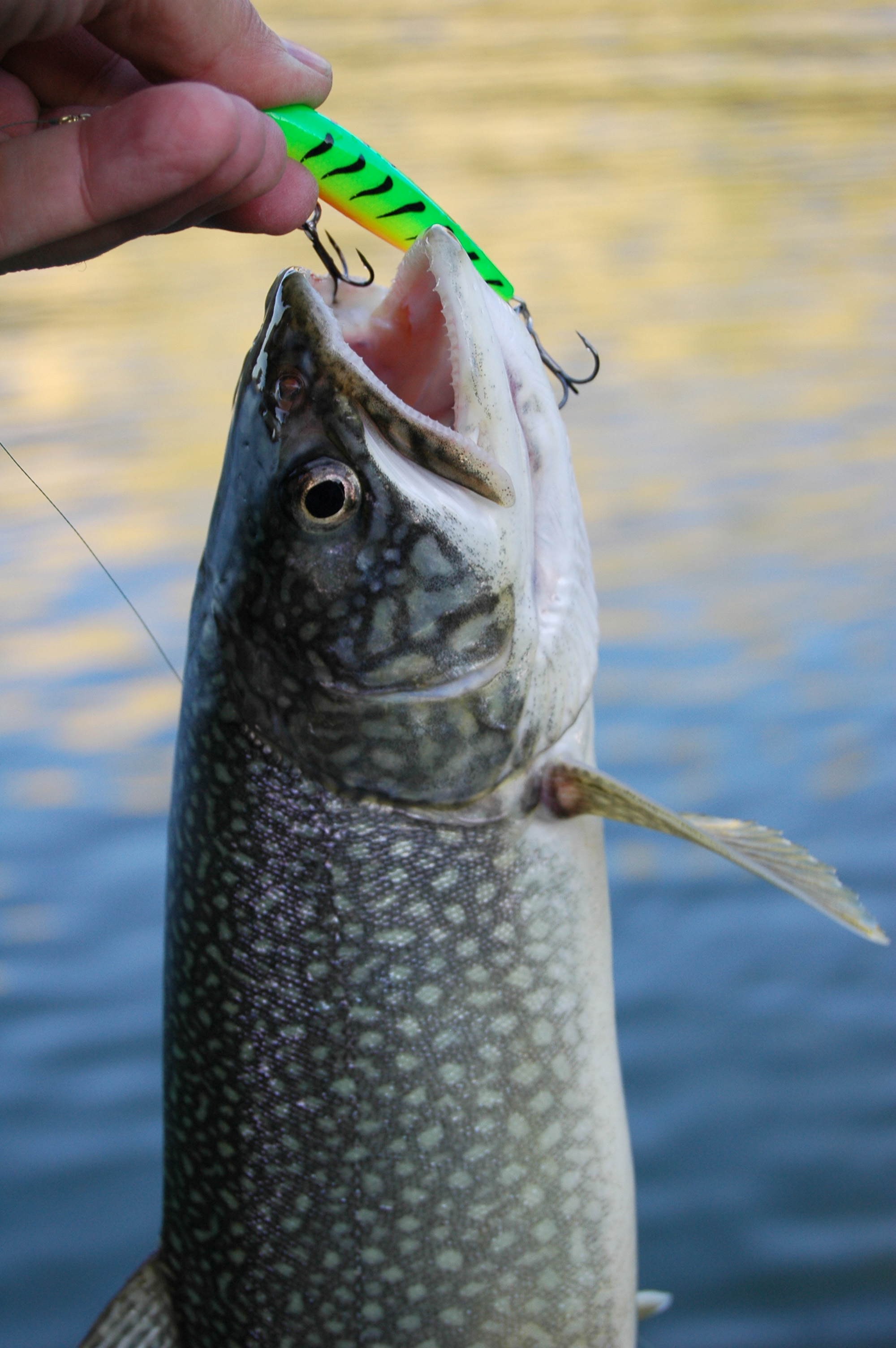 (Updated 2-21-18)
Also see our Flaming Gorge fishing map, Flaming Gorge articles and fishing photos.
Flaming Gorge is one of the best places in the world to fish for trophy lake trout. It also offers good to great action for kokanee salmon, rainbow trout and smallmouth bass. Anglers also occasionally catch cutthrout and brown trout and channel catfish.
Burbot have also become common in the reservoir and offer sport fishing. Wildlife biologists ask people to catch and kill as many as possible. The are to eat.
Elevation: 6,024 feet
Location:
Flaming Gorge straddles the Utah/Wyoming border. The dam is about 45 miles north of Vernal in NE Utah. The reservoir extends up the Green River drainage toward the town of Green River, Wyoming.
Major locations include:
Flaming Gorge Dam: 40.914936 -109.422833
Mustang Ridge Boat Ramp (near the dam): 40.923534 -109.446818
Cedar Springs Marina (near the dam) 40.912561 -109.447906
Sheep Creek Bay Boat Ramp (Utah side) 40.923425 -109.674891
Lucerne Marina (Utah/Wyoming border) 40.990958 -109.603804
Buckboard Marina (Wyoming side) 41.246972 -109.597788
Regulations
See the latest proclamation. Highlights include:
Utah residents fishing on the Wyoming side need a Utah license and reciprocal permit or a Wyoming license. Wyoming residents fishing the Utah side need a Wyoming license and reciprocal permit or Utah license.
Limit 4 trout or kokanee salmon (a combined total), excluding lake trout, and no more than 3 may be kokanee salmon.
Limit 8 lake trout/mackinaw, only 1 may exceed 28 inches.
Linwood Bay area CLOSED to nighttime angling (sunset to sunrise) from Oct. 15 through 6 a.m. on the second Saturday of December.
Anglers may not possess kokanee salmon from Sept. 10 through Nov. 30.
Seasonality
The upper portion of the reservoir usually freezes in early January and offers good ice fishing. The lower portion of the reservoir often does not freeze. Ice often extends down to about Sheep Creek. Boat ramps near the dam are often usable year-round but may be icy during winter.
Winter temperatures can be very cold.
Ice fishing can be good for kokanee, rainbows and an occasional lake trout.
Lake trout are very sensitive to water temperatures. During spring, when the water is cool, they often range near the surface and can be caught casting or long-lining. At other times of the year they move deep. The big fish are often down 80-100 feet or more and are caught using downriggers or jigging.
All species are active during spring and fishing can be very good as the water warms.
In early June, smallmouth spawn along rocky shorelines and are relatively easy to catch. Action can be fast. After the spawn the move deeper and anglers need to work the bottom to reach them.
Rainbow and bass fishing usually remain good through the summer. The hot "dog days" often cause fishing to slow in our trout reservoirs but now so much at Flaming Gorge, where the high elevation and deep water keep temperatures cooler.
Mature kokanee start to stage to spawn during mid or late August and can be found in good numbers in Sheep Creek Bay and other areas. By mid September many fish have changed to a deep red color and are moving into tributaries. (Remember, you are not allowed to harvest kokanee from Sept. 10 through Nov. 30.)
Lake trout stage to spawn in October. The "humps" in Lucerne Bay are known spawning areas and often become crowded. (Remember, Linwood Bay area is CLOSED to nighttime angling sunset to sunrise, from Oct. 15 through 6 a.m. on the second Saturday of December.)
Lake trout are the "big game" of Utah sport fish and the prime time to target them coincides with our fall big game animal hunts.