By Dave Webb
Posted 7-24-06
Lake water level approximately 3608.55 ft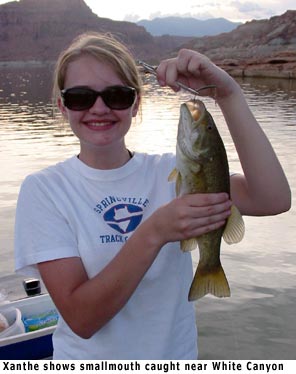 Striped bass are starting to boil on the surface at Lake Powell, ushering in one of the most enjoyable and productive fishing opportunities of the year.
We found small stripers boiling up and down from the mouth of White Canyon, at the top of the lake, on 7-22, during the middle of the afternoon. We chased them for an hour and caught 10-13 inchers until our arms were tired.
As soon as the water surface temperature cools a tad, larger stripers will start to join the feeding frenzy. The action will get better and better during the next few weeks, peaking in late August or early September. This article has good tips for fishing the boils.
Stripers feed on small shad, which are the principle forage fish in Lake Powell. The first young-of-the-year shad are just now getting big enough to attract the attention of the larger stripers. Growth of the shad is another reason the fishing will improve over the next few weeks.
Wayne Gustaveson, DWR Lake Powell project leader, maintains an excellent website with the latest fishing info. Watch his reports for current info on where they are boiling and what they are hitting.
Boils are most common during early morning and late afternoon/evening hours. We were cruising full speed down the middle of the main channel when we noticed a boil. My boat was loaded with camping gear and we didn't even have our rods rigged, but we pulled up and quickly put ourselves into fishing mode. The boil lasted long enough for us to catch several fish.
As it ended we started back down the lake, but another boil popped up in front of us and we had to stop and fish it. That happened again and again.
Finally I decided we had to break off fishing and find a campsite, so we could unload the boat and free up space so we could fish more comfortably.
We found a nice cove across and just down-lake from the mouth of White Canyon and stowed our gear there. There was an algae bloom in the cove and we noticed a bazillion shad feeding all around us. There were several sizes represented, from so tiny they were barely visible to some about one inch long, with a fair amount of meat on their bones.
There was a large boil right in our cove just before sunset - again 10-13 inch stripers. After the stripers left we kept casting and caught several nice smallmouth (the biggest is shown in the attached photo).
A short boil occurred in our cove the next morning. We had to leave after that so I don't know if the afternoon action repeated. I can say the area around the mouth of White is one of the most consistent spots for boils, year after year. It will produce excellent fishing during the coming weeks.
We saw a coyote come down the ridge across from our camp. He seemed completely unconcerned about our presence.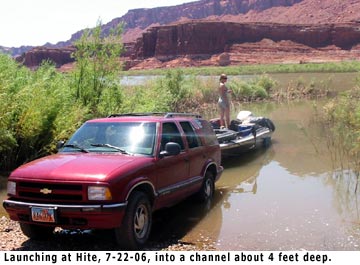 We launched at Hite, using the road base where the marina store was located. It was easy pushing my little fishing boat out into the channel, which was only four feet deep. Had to squeeze between brush, but that wasn't hard. Water level was approximately 3608.55. I took a look at the main ramp and decided not to attempt to launch there. There were obvious ruts where people who had tried had apparently become stuck in the mud.
On 7-21 we were down at Slickrock, downlake from Bullfrog, and found smallmouth boiling near the brush in the back of the canyon. Stripers dominate when they are around; when there isn't a striper school close the smallmouth will produce a boil on their own. We caught a bunch of smallmouth, 7-10 inchers, and one tiny striper.
That spot in the back of Slickrock is a consistent producer - stripers will boil there during the next few weeks.
A rattlesnake tried to climb under our tent to get out of the rain while we camped near Slickrock. It buzzed when it felt us moving around. I peeked out the door it was coiled right against our tent. It was probably 3.5 feet long. It buzzed for about 10 minutes and then slithered away.
We had a great trip.
Copyright Dave Webb, 2006