By Dave Webb
August, 2005
Some mighty fine fishing is happening right now at Lake Powell, and the action will probably get even better before peaking in late August.
Striped bass are feeding on the surface where they are easy to find and catch. Stripers are predators that feed on shad, a small forage fish. The stripers literally "herd" shad into coves and against cliffs and then decimate them. Shad often leap from the water in frantic attempts to get away, with large stripers in hot pursuit. The lake's surface appears to boil in those areas because of the turmoil.
Drag a shad-imitating lure through a boil and stripers will pound it. Stripers may hit the lure multiple times until one is hooked. Fishing can be incredibly fast. Hits are fierce and stripers fight hard. This is one of the most exciting fishing opportunities you will find anywhere.
Boiling action started early this year and has been intense. So far, the best action has been mid-way up Lake Powell's remote San Juan arm. Recently, boils have become common around Good Hope Bay and the action appears to be moving down-lake toward Bullfrog. During late August fishermen should be able to find boils lake-wide, with the most consistent action occurring on the San Juan arm and in the Good Hope area.
Most boils occur during early morning and late afternoon/evening hours and last only 30 seconds to couple minutes — just long enough for the trapped shad to be destroyed or to escape. The longest boils are often found just before dark. As the action peaks, boils will probably last longer and become more common throughout the day. Watch this website for up-to-the-minute reports: www.wayneswords.com.
Fishermen in boats cruise the lake searching for boils. When one is spotted they rush to the area, cutting the boat motor as they approach so they don't scare the stripers away. Many times the boil will be gone before the boat reaches position. But sometimes the fishermen draw close enough to cast across the boil and they are rewarded with great fishing.
Even after the boil disappears it is often productive to cast into the area because lingering stripers may hit the lure.
The boils often move around coves or along cliff faces. A boil will disappear and then reappear a few minutes later a short distance away. Once in awhile a boil will last 30 or more minutes and anglers who are lucky enough to find it will fill their boats full of fish.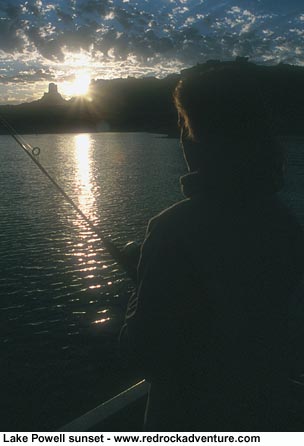 When boils are occurring stripers are looking up and the most productive lures are stick baits or similar offerings. As the boil fades the stripers move deeper and a lure that dives may produce better results. Kastmaster spoons are a good compromise and often work well in both situations. They are heavy and can be easily cast a long distance. Immediately begin a fast retrieval and the lure stays near the surface. Let it sink for a couple seconds before beginning the retrieval and it will run deeper.
Trolling can be effective when stripers are not boiling but you know they are in the area. A Shad Rap Rapala or similar lure can be deadly. Watch your fish finder and experiment to find the most productive depth.
Good lure colors are silver, gray and pearl.
It is great sport to go after boiling stripers with fly fishing tackle. Closure minnows and several woolly bugger patterns are effective. The difficult part is getting within casting range while the boils are still active, since fly rodders can't cast as far as guys throwing heavy lures.
Largemouth and smallmouth bass also prey on the shad and are occasionally caught by anglers working the boils.
Last year I enjoyed great action chasing boils around a cove near the mouth of the lake's Escalante arm. I hit the water at first light and cast to short-lived boils occurring right at the water's edge. The boils moved rapidly and I often failed to get within casting distance before they disappeared. But I learned to anticipate their reappearance and connected with several that produced great sport.
Since the best action happens in early morning and late evening, I like to camp in the area I intend to fish. That way I don't waste the most productive fishing time boating from the marina to my fishing spot. That is less important in late August when boils may be found anywhere, including the middle of Bullfrog Bay.
My kids still talk about a trip a few years ago where we spent an hour working a loose boil in the back of Bullfrog. We camped in a large cove and slept on the boat, which was anchored against shore. When I awoke at first light I saw splashes on the surface — very short disturbances that would erupt in one spot, last only a few seconds, then almost instantly reappear a short distance away. I pushed the boat out and it drifted into the middle of the cove. We sat there and made rapid-fire casts whenever anything showed at the surface. We caught a dozen nice fish without ever having to start the boat's motor.
The stripers are bigger and fatter this year; 3-7 pound fish are being caught regularly. Pound for pound, stripers are hard fighters. When a kid ties into a seven-pound fish he may be in for a 20-minute fight. Often, it will be the biggest fish the kid has ever caught. That's fun. The only thing I like better than catching boiling stripers is helping kids catch boiling stripers.
Powell's level is up about 50 feet this summer and so launching and boating conditions are very good. The only exception is Hite, where the ramp is still not usable.
With boiling action approaching its peak, I'm planning my next trip. Look for me on the San Juan arm in late August.
Action should be good during early September and then fade as the month progresses.
Smallmouth bass fishing will improve during late September as the water starts to cool. October is a very good month to fish for smallmouth at Powell.
Copyright Dave Webb, 2005