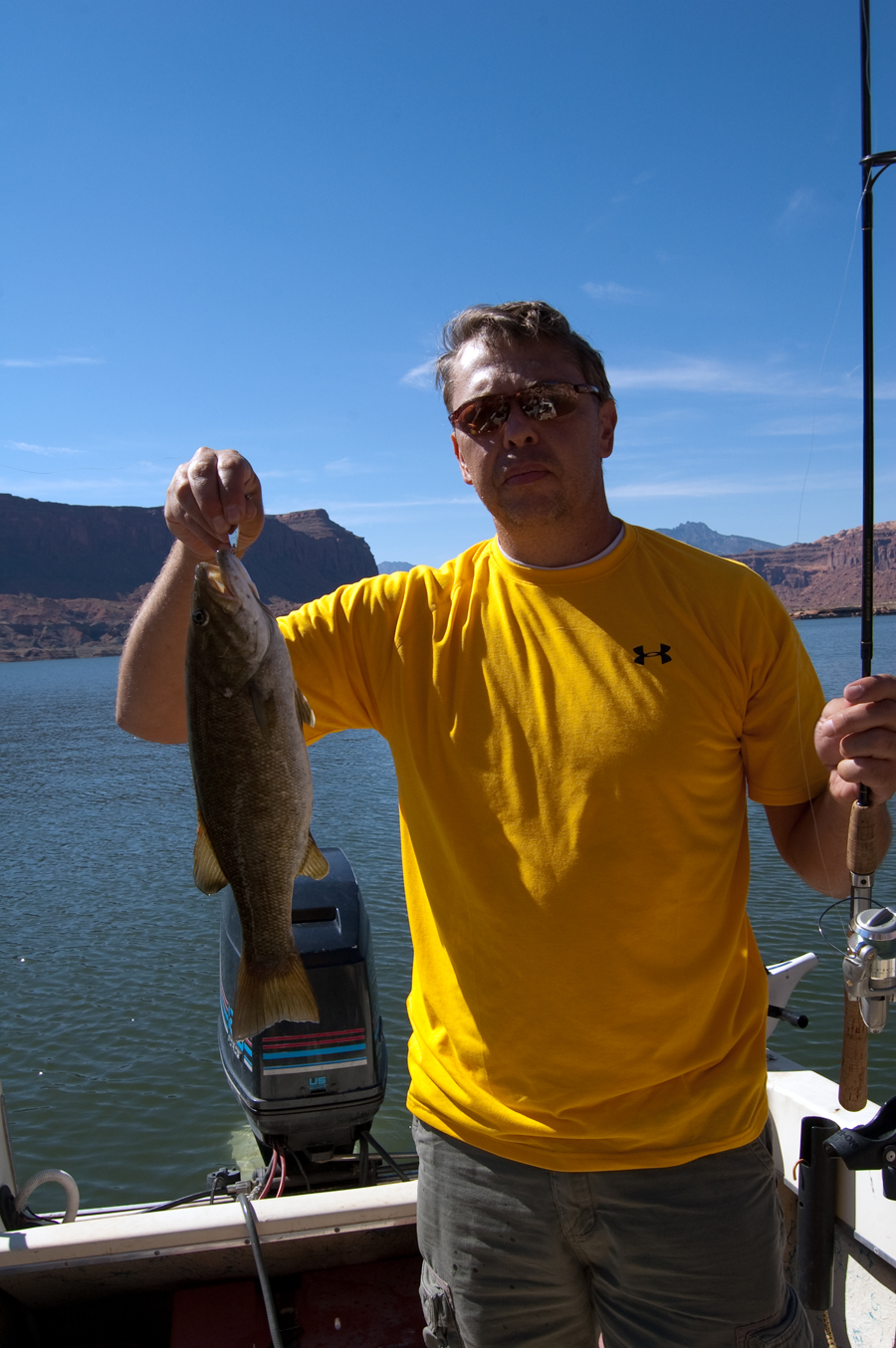 Updated February 22, 2018
Also see our Lake Powell fishing map and fishing articles.
Lake Powell, the huge reservoir located along the Utah/Arizona border, is one of the world's great places to fish for striped bass, smallmouth, largemouth, walleye, crappie, bluegill and channel catfish.
Action usually becomes red hot in April and May, slows to just very good during the early summer, then heats up again in August. It continues very good through the fall but slows a bit during the coldest months.
Key locations:
Dam: 36.937635° -111.483831°
Wahweap Marina boat ramp: 36.994802° -111.482955°
Stateline boat ramp: 37.005280° -111.495429°
Antelope Point Marina ramp: 36.966398° -111.442322°
Dangling Rope Marina (boat access only): 37.122150° -111.082049°
San Juan arm: 37.173028° -110.844663°
Escalante arm: 37.302461° -110.895704°
Bullfrog Marina boat ramp: 37.512387° -110.733182°
Halls Crossing Marina boat ramp: 37.465848° -110.719325°
Hite Marina: 37.871979° -110.398150°
Note, the lake level has been low and the Hite boat ramp has not been usable in recent years. Smaller boats can usually be launched off an old road bed in the Hite area.
Lake Powell is a unique lake and requires tactics somewhat different from those used on other waters. The best information comes Wayne Gustaveson (http://wayneswords.com), Utah DWR coordinator for Lake Powell. He posts detailed fishing reports with excellent tips on where to find fish, what lures to use and what techniques are effective. Study his website. If you are new to Powell it will give you invaluable information and save you time and money. If you are a seasoned fisherman, you'll still find very good info that helps you maximize fun.
General tips
There are relatively few spots where you can fish Powell from shore. The marina areas are crowded but do offer some shore fishing opportunities. If you can, get a boat and cruise into more remote locations. Boats can be rented at the larger marinas
Largemough can be caught during the cold months but become more active in mid or late March. Smallmouth follow within couple weeks. Both species nest in shallow areas, usually in May. Observant anglers can often sight fish to the nests.
Rocks are a key structure at Powell – fish concentrate in areas where broken rock comes down into the water. Largemouth also key on submerged brush and tree stumps.
Crappie and bluegill are also very active in the spring. Look for them around structure toward the backs of canyons.
Walleye are most abundant in upper lake areas. Walleye can be caught during the spring but are more easily found in June, after they spawn.
There is no limit on striped bass at Lake Powell. Catch, keep and eat as many as you can. They are tasty.
During spring, stripers stage to spawn in areas with moving water. That means the dam area and the top of the reservoir's Colorado and San Juan arms. Runoff brings muddy water down the rivers and so the mouths of the rivers are often not fishable. Work the "mud line" where the cloudy water starts to give way to clear. Through mid-May, stripers range freely in the cool water and can be caught at all depths.
After the spawn, smallmouth, largemouth and striped bass go deeper.
Catfish are active during the warm months and can be caught in sandy coves around the lake. Many people catch them on hot dogs, fished off the back of houseboats.
Shad are the most common forage fish in Lake Powell. Lures that image shad are very effective. The shad spawn during the spring and grow rapidly. By mid or late July the young shad are big enough that they start to draw the attention of the big predator fish, which "boil" on the surface as they chase the shad.
During August, boils become common and provide exciting fishing opportunities. Cruise the lake looking for surface disturbances. When you find boiling action, pull up and cast shad-imatating lures over the fish and then retrieve the lures through the boil. Often, you will get multiple strikes as you retrieve the lure, until you hook a fish.
Some large boils last for 20, 30 minutes, with a few lasting an hour or more. Action can be incredibly good.
The boils usually last into September and then slow. But largemouth/smallmouth/walleye fishing heats up as the striper action slows. Fall is a great time to catch bass and walleye at Powell.
During winter, stripers are the primary target. They school up and are less active. Anglers jig to them using anchovies and/or shad-imitating lures, often with good results.