Huntington Reservoir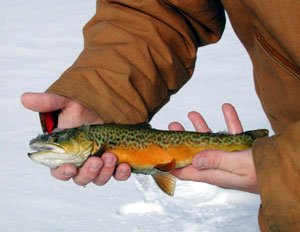 Description
This beautiful little mountain lake is one of the best places in Utah to catch tiger trout (a cross between brook and brown trout). It is also one of our best ice fishing waters.
Location
Skyline Drive area, 16 miles East of Fairview, along Hyw 31. From the other direction it is 30 miles NW of the town of Huntington.
112 miles from Salt Lake City
GPS Coordinates: N 39.58610 deg W 111.26 deg
Primary Species
tiger trout, cutthroat trout
Special Regulations
CLOSED to the possession of cutthroat trout and trout with cutthroat markings. Otherwide general limits apply.
Seasonal Factors
This reservoir is one of the first to freeze in the fall, and one of the last to open up in the spring. Ice fishing is usually very good here, particularly during the first few weeks after ice becomes firm (usually around the end of November). Snow piles deep during the winter but the highway is plowed and so the lake is accessible.
Lures and Techniques
Tiger trout are predatory and are often taken by anglers casting lures or fishing dead minnows. Float tubes are helpful during summer (there is no boat ramp and so you've got to carry boats to the water). During winter, jigs are effective when tipped with a minnow tail or other bait. Standard ice-fishing lures are also popular.
Note:
In 1988, the well-preserved, 9,500 year old skeleton of a Columbian Mammoth was uncovered during reconstruction of the Huntington Reservoir dam. The skeleton and replicas are displayed at various museums around the state.