Fishing Mill Hollow
By Gaylen Webb
(Note: Mill Hollow has been drained for dam repairs. It will not offer fishing until 2008)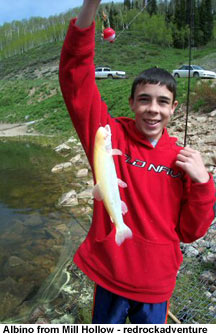 Here are two pics from Mill Hollow. The fishing was fast early Saturday morning (6-3-06), around 7 a.m., and slowing down after 10 a.m. but still good. We probably caught over 30 fish and lost nearly that many. Of course we let them all go. Early on the albinos were cruising the shoreline and we only needed to cast out about 15 to 20 feet. If we casted out further we caught small, but beautify brookies and rainbows. Most of the fish were in the 8-10 inch range, but a few were larger than 12 inches and I landed one that was probably 15-16 inches.
We could see the albinos chase the bait, but they didn't bite hard, so it was a lot of fun and a bit of a challenge to catch one. We used nightcrawlers and meal worms, with a bobber about three feet from the worm. The Powerbaits didn't work very well for us. I saw one fellow catching fish with a lure, but didn't stop to ask what he was using. A few purists were fly fishing on float tubes. Can't say what they were using or if they were catching anything because they were too far out on the water.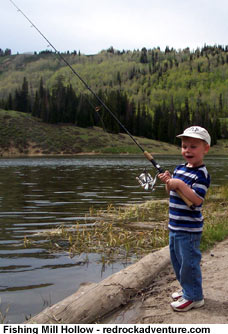 Mill Hollow is a great place for family fishing. It is 14 miles east and 3 miles south of Woodland, which is a short drive south from Kamas. The road is paved until you drive the three miles from the main road to the lake. The dirt road is a little like a washboard, but not bad. Most cars should do fine. The campground still has a lot of snow and doesn't open until July, but there are other places to camp if you look around. It still got really cold during the night and was fairly nippy at 7 a.m.
Copyright Gaylen Webb, 2006