Fishing St George-Area Small Streams
By Dave Webb
March, 2008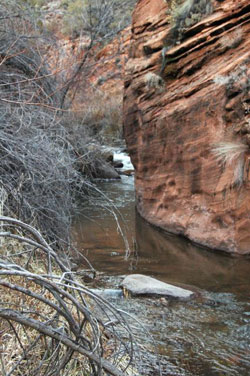 In southern Utah on business, I found I had a couple hours to kill so I decided to check out one of the small trout streams in the St George area. I keep fishing gear in my truck so I can take advantage of such occasions. This time it proved enjoyable, and frustrating, as I played with small cutts.
It was quite a comedy of errors, actually, on a beautiful, warm afternoon on March 1. It was my first stream fishing attempt of the year and it felt good breaking out the fly rod. Trouble is, I couldn't find my fly box. Sometime over the winter, one of my kids must have walked away with it. I dug to the bottom of my gear and found two nymphs, both well chewed. One was a haresear and one was a bead-head pheasant tail. Not much to go with.
I was in Cedar City at the moment and noticed a Wal-Mart nearby. I marched in, hoping they would have a few flies. They had just one - a Royal Coachman. That's a beautiful pattern, proficient at catching fishermen, but I didn't think it would be much use catching fish in a desert stream in late winter.
The nymphs proved to be all I needed. I tried the haresear first and it elicited a few hits. The bead caused the pheasant tail to run a little deeper and the little cutts hit it on virtually every cast. But I'm getting ahead of my story...
I chose to fish Leeds Creek, a small stream that flows south from Pine Valley Mountain just above the towns of Leeds and Silver Reef. The other option in the area is the Santa Clara River, which flows off the west side of the mountains past the town of Veyo and down to Gunlock Reservoir. The Santa Clara is bigger and has a few nice browns, or so I hear, but Leeds Creek was closer and so I drove up that canyon.
There was no snow or ice in the area. The stream flows through a steep, V-shaped canyon, over boulders and through dense brush. I choose to fish the area where it cuts through the red Navajo sandstone that flanks the mountain. I love playing on the red rock and though it would be fun to fish the same formation.
I had my dog with me, a border collie, thinking it would be a nice buddy experience. Wrong! Laddie is a bit exuberant and wanted to charge ahead, wading into the pools before I had a chance to fish them. I spent all of my time trying to restrain him. It's hard to sneak up on wary trout in a small, clear stream when you're forever calling out to your dog, telling him to stay back.
Finally I gave up on the dog and took him back to the truck. But climbing out of the steep canyon took valuable time and it almost dusk before I got back to the stream.
I approached holes quietly, staying back away from the bank, and pushed my rod through the brush. I would flip my nymph up to the top of the hole - no room to cast - and let it drift down along the edge of the current. Oh, I didn't have any strike indicators - those had disappeared with my fly box. So I reached out with all of my senses, trying to feel the soft takes. But when I got a strike I couldn't set the hook because I couldn't raise my rod. The brush was so thick, there was no room to sweep the rod upward without getting tangled up.
Pulling my line tight, I felt several fish thrash momentarily before they flipped off.
Thinking the pheasant tail might have a sharper point, I tied it on and started getting more strikes - a strike on virtually every cast when the nymph got down near the bottom. By now the light was starting to fade and it was hard seeing my line. And I still couldn't move my rod tip more than a couple inches because of the thick brush.
I did get clear views of several fish. They were small native cutthroat, about 7-10 inches long. Beautiful fish.
It was a fun outing, even if I didn't touch a fish.
The weather was an extremely nice 75 F that afternoon, but it changed quickly as I drove I-15 north toward Salt Lake. It was snowing in Beaver, and that turned into a blizzard as I drove toward Fillmore. It was almost a whiteout on top the mountain, heavy snow falling horizontally, pushed by a strong wind. Plows had not yet hit the road and so it was slick. I drove that stretch in 4-wheel-drive, at 25 miles per hour.
Still, I enjoyed that business trip.
Copyright Dave Webb, 2007