I fished Strawberry Wednesday afternoon and caught a very nice fat rainbow. Kevin, fishing with me, also caught a decent rainbow. Overall thought, action was pretty slow.
There was still considerable ice on the Strawberry side. Most bays had a couple hundred yards of open water and then rotten ice out toward the main lake. We walked the shorelines and cast various lures. In some spots we could cast toward the edge of the ice. The fish we caught came from Mud Creek Bay.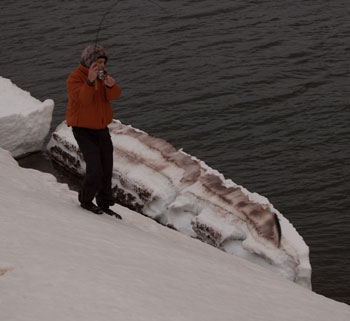 We drive over to the Solder Creek side and found it was totally open water. No ice at all. You could launch a boat and have plenty of water to fish. We fished in the cove out from the dam for a few minutes and had several bumps but no hookups there. We saw a few small trout jumping in that area.
It rained on us off and on throughout the afternoon. A steady wind blew, making it hard to fish. It was cold.
With warm temperatures this weekend, the remaining ice will go fast. I suspect there will still be some ice on the main lake on Saturday but it will be difficult to reach the edge without a tube or small boat.
By Monday, I suspect the ice will be pretty much gone.
Roads around the reseroir were open and in good conditions.
Shore fishing should pick up as the water warms a bit. The trout I caught was fat and in great shape. It obviously did well through the winter. Still, fish are hungry and will start to feed aggressively during the next few weeks.
Right now fish can range freely through the water column. They will often come in close to shore to feed. So shore fishing should be good through May.
Strawberry is known to be fickle, for good reason. On any given day action can be very good or dead slow. Even when it is slow, the size and quality of the fish make it worth the effort.
Now's a great time to fish the big reservoir.