By Andrew McCloy and Kent Sorenson, Utah Division of Wildlife Resources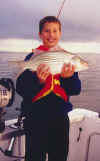 9/17/98
Have you frequently gone to Willard Bay with the greatest of expectations only to be skunked? Or accidentally caught one species when targeting another? Those situations often are not attributed to lack of skill or bad luck, but more likely to the unique nature of the reservoir.
Willard Bay Reservoir in Northern Utah has become a dynamic fishery with an unusual diversity of game species. The fish assemblage in Willard is quite unnatural and often does not follow normal patterns familiar to most anglers. The fish in Willard Bay behave differently and anglers must adjust in order to be consistently successful.
A significant variable that most anglers are unaware of is the seasonal explosion of forage fish produced by the introduced gizzard shad. As the gizzard shad begin their spawning activity in June, the large predatory gamefish (walleye, wiper, smallmouth bass, and even channel catfish) change their feeding habits and switch to shad. This radically alters the feeding behavior of the predatory fish in Willard and consequently, the methods most anglers use are only marginally successful.
Wiper
Wipers are a peculiar fish resulting from crossing a striped bass and a white bass. They do not successfully reproduce in Willard Bay and their numbers are maintained through stocking. Wipers, although caught sporadically throughout April, began to be caught consistently in May. It appears there are several age classes in the reservoir. They school rather tightly and feed in packs.
The largest and oldest fish were being caught along the north dike near the outlet canal. Anglers pitched jigs and crankbaits along the riprap for state record size fish. The north marina was producing large numbers of one and two year old fish on small jigs. Anglers trolling picked up some wipers but were unable to consistently catch high numbers of fish.
In July the wiper began to boil, herding and eating juvenile shad. Large boils occurred along the east dike, north dike, north marina, and inlet channel. The key to consistently catching these fish is to use small jigs, crankbaits, or flies. These fish are keying on prey that are approximately an inch to two inches long. Larger baits may catch fish, but anglers using small baits caught more fish. Those boils ended as August began and fish noticeably absent from the boils were larger, three and four year old fish. Wipers are still being caught in open water using the same tactics for late summer walleyes; troll open water with small crankbaits. Past years have shown that wipers again boil in early autumn.
Walleye
Early season pre-spawn walleyes are vigorously sought at Willard Bay. Popular and successful angling methods are trolling worm harnesses and crankbaits behind bottom bouncers along the dikes in shallow (<10') water. Shore and boat anglers also experience good success with grub-tailed jigs and crankbaits cast along the dikes for cruising males.
Success is best during early mornings, late evenings, and after dark. Anglers seeking larger females cast large jigs and crankbaits into the mouth of the south marina. A lesser known, but still highly effective tactic is to fish outside of the mouth of the south marina. Anglers, using electronics search for fish stacked up approximately 100 yards outside the south marina and either jig for them individually or troll through the loose schools.
Those tactics work well throughout April and early May. There is usually a slowing of walleye activity in late May, commonly referred to as a post-spawn recovery period. A few smaller fish are typically caught during that time but in lower numbers.
After a couple weeks of recovery (about the first week in June), post-spawn fish actively resume feeding and can be caught using the same tactics employed earlier in the spring.
After June, however, creel surveys show that the fishing for walleye slows and fewer anglers target them.
The reason for the dramatic change in effectiveness is that mid and late summer walleyes begin targeting gizzard shad as prey. As a result, their behavior changes from that of a bottom feeder to that of a midwater or surface predator.
These fish can still be caught quite successfully, but anglers must change their methods. One of the unfortunate realities of this situation is that success is much better from a boat. Anglers should then troll open water with small crankbaits (Shad Raps and Wally Divers) or worm harnesses fished up in the water column (top 10'). We would encourage anglers interested in catching walleyes into the late summer to try those unorthodox tactics.
Black Crappie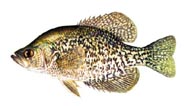 Black crappie at Willard Bay are almost exclusively caught in the winter and spring. The 1998 creel survey showed that the best months for crappie were April and May. Crappie are caught almost exclusively in the north marina. Anglers complain about a degradation in the fishery from predominantly very large fish to a mixture of all sizes.
Crappie will probably never reach the numbers seen in the early stages of the Willard Bay Project (early 1990s). They compete directly for a zooplankton resource with gizzard shad and the shad are simply better at eating plankton than are crappies. From a management perspective, it appears that the population is stabilizing, albeit at lower numbers, and a variety of age classes were being harvested. After May, crappies were not a significant part of the creel.
Catfish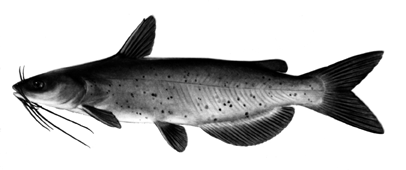 Channel catfish began to be caught in early May and fishing got hotter with warmer weather. The most effective method for catching catfish was with bait fished from shore. The catfish creel has been dominated by small fish although fish 14 to 16 inches long have been caught regularly. Anglers fishing for large catfish use large baits in order to keep these small fish off their hooks. There are some very large catfish in Willard Bay. Spring and fall gill netting routinely captures catfish in the 12-16 pound range, but rumors of the 100-pound catfish have never been corroborated.
Surprisingly, catfish have also been caught in wiper boils and examination of their stomach contents prove that fish large enough to prey on the shad indeed feed heavily on them. That shows that even catfish have adapted to the seasonal abundance of shad and have come off the bottom in order to partake in the feast.
Smallmouth Bass
Smallmouth bass have become a pleasant surprise to anglers at Willard Bay. Interviews show that they have never before been caught in either the large number or size (up to 14 inches). Best fishing began in late May and has continued through August. Look for smallmouth along the east dike and both north and south of the south marina entrance. Fish are also found in the inlet channel and the north marina but do not appear to have spread substantially any further than that.
The most effective way to pursue these fish is to pitch jigs or flies into the riprap along the east dike or to troll small crankbaits (Rattle Traps and Shad Raps) close to the riprap. When selecting lures and color schemes remember that their preferred prey are crayfish.
Bluegill / Green Sunfish
Bluegill and green sunfish are found throughout the reservoir. However, best success for them has been in the same areas as the smallmouth bass. Those fish are most effectively caught with worms or for faster action and lower hooking mortality, use small jigs slowly retrieved from the riprap along the dikes.
The introduction of gizzard shad has been a mixed blessing for anglers at Willard Bay Reservoir. The well being of the predatory fish, both on an individual and population level, has benefited. Conversely, the populations of panfish have declined somewhat. The extreme fluctuation in prey availability has intensified the seasonal success of anglers. Many quit fishing when the young of the year shad appear while others change tactics and continue to be successful well into late summer.