Yuba Reservoir Fishing Overview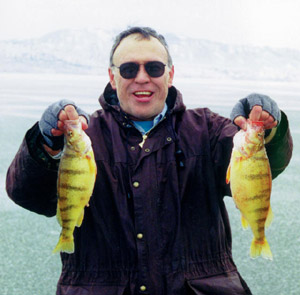 Description
Yuba Reservoir is a popular boating and fishing water located in central Utah south of Nephi. It offers sandy beaches, concrete boat ramps and nice campgrounds. During summer the water is warm enough to make skiing and other water sports enjoyable. Fishing is usually great for perch. Rainbow and walleye action can be good at times. Northern pike fishing is always tough.
Location
Just east of I-15, south of Nephi
112 miles from Salt Lake City
68 miles from Provo
Primary Species: Perch, Walleye, Rainbow Trout, Northern Pike, Channel Catfish
Special Regulation
Limit 10 yellow perch.
From Jan 1 through April 30, all yellow perch caught must be kept.
Seasonal Factors
Trout cruise the shoreline during spring and can be caught casting small lures or jigs from the bank, from float tubes or from boats. Perch and walleye fishing are also good during spring for boat anglers who hunt down productive spots. The walleye span at Yuba happens a little later than it does at Utah Lake, usually in late April and May. The spawn here does not attract the kind of attention it brings at some other waters. The best walleye fishing of the year usually occurs a couple weeks after the spawn, when the fish go on a feeding binge, and then again in the fall as the water cools.
Perch fishing is productive year-round - perch are the primary species targeted by ice fishermen. A few ice anglers go after walleye but they are harder to find.
Lures & Techniques
Productive techniques depend on the species targeted, and the time of year. For trout in the spring, cast lures or jigs along the shoreline. During summer, troll deep for trout. For perch, jig vertically using a small lure tipped with bait.
For walleye, work crankbaits or jigs near the bottom.