Green River Fly Fishing in March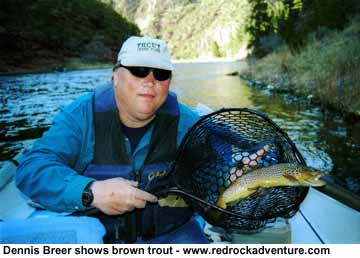 Editor's note: Fishing picks up on area streams during the first weeks of March, as warming temperatures stir fish and insects into activity. The Green, Provo, Weber and many other streams offer good fly fishing using midge and blue-wing olive patterns on the surface; scuds and standard nymphs work well fished near the bottom. Action gets better week after week as spring progresses.
Spring weather can be fickle. After an unusually mild/wet winter, I expect this spring to be cool and wet. But that's perfect fishing weather. Stormy days are some of the most productive for trout fishing. As a wag said, the fish don't mind a little rain — they aren't afraid to get wet.
Dennis draws from years of experience and offers excellent advice on early spring fly fishing. His comments focus on the Green River, but the advice applies to most of our trout streams.
Green River awakens in March
By Dennis Breer
Owner, Trout Creek Flies
(Green River Guide Service)
March on the Green River is a time of awakening. The shorter days of winter give way to longer ones that provide increasing periods of sunshine along the river corridor. Sure, winter can return at any moment, but it is this increase in light that stimulates the earliest movements of nature away from the grips of winter, in us humans as well as fish. This awakening is a reversal of what we experience in early winter when the trout become almost docile.
Now the trout become more active in their feeding, almost aggressive after a winter's rest. We even see the same aggressiveness within aquatic insects, with a species of winter caddis and slender winter stones joining the ever-present midges. Even a few terrestrials such as ants and small beetles will start to stir.
Rainbow trout, too, will respond to their urges to reproduce and will visibly gather in some areas for the spawn. The river's movement away from winter is a slow process and it begins in March, when there are still opportunities for solitude and great fishing.
While the river is in change, nymph fishing will still be the most solid approach. There will be opportunities to fish with midge patterns on the surface for periods most days. But to take full advantage of the trout's aggressiveness, my experience suggests that bright scuds with midge trailers produce the best overall success. That setup is especially good when targeting the larger trout that allow themselves to be seen by observant anglers.
Some of the most effective patterns will be large scuds in sizes 12 to 10. Good colors are orange, pink or tan. Some anglers prefer glo-bugs in the same colors, or simple midge pupas in sizes 16-18-20, in red, black, brown or olive.
On the surface, try the classic Griffiths gnat in sizes 18-20. But watch for the large winter caddis (a blond colored size 10), or the slender winter stones (size 14 black flying ant matches it well).
Don't forget streamers — woolly buggers in sizes 2-4-6, black, olive, tan (ginger). Also try some in white.
Copyright Dave Webb, 2005