By Larry Tullis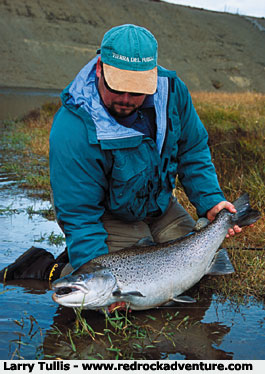 Imagine casting dry flies and emergers for browns to 24 inches. Think of catching trout to 30+ inches on nymphs and see yourself ripping big, aggressive fish on streamers. Now put that stream where it runs through several towns and within an hour of a big city and you have the Provo River. I'd rank it as one of the best urban trout fisheries in the world.
Everyone complains about the crowding on the Provo River and the crowds are real but so are the excellent angling opportunities. The Provo rewards those who spend the time and energy to get to know its moods and waters. It's often a stream where 10% of the anglers get 90% of the trout. Most fly fishers there can catch trout when they are aggressively feeding but the expert can catch them anytime of day or anytime of the year by using the techniques described briefly later.
The smart beginners hire a guide for a day or two just to learn the techniques. Don't ask a guide to show you all his secret spots. He probably won't anyway, but every hole is a secret spot once you learn how to fish there. On a recent trip I fished my clients in a half dozen holes and taught them to use dries, emergers, nymphs and streamers. They caught a number of trout but said that the instruction was most valuable. It's not so much where you fish but how.
On the Provo, knowledge is power (to abuse an old saying). You can be standing in the best spot in the river and not catch any trout if you fail to learn presentation techniques first. Here is a overview of the river sections and techniques you need to know.

The Lower Provo
The Lower Provo extends from Deer Creek Reservoir downstream to Utah lake and actually includes three distinct sections. The dam to Olmstead Diversion has special regulations and the lower sections have general regulations.
Utah Lake to mouth of the canyon has been dredged, channelized and largely abused but still has large numbers of trout where there is good holding water. You'll be fishing behind trailer courts, malls and housing developments but it's all part of the urban fishing experience.
From the mouth of the canyon upstream to the Olmstead Diversion there is lots of fast pocket water and a few nice holes. Fish nymphs in the pockets behind rocks. It's not the best dry fly water but dries work during hatches. The most heavily fished section is from the Olmstead Diversion upstream to Deer Creek Reservoir. On weekends you may have a difficult time finding a spot to fish but if you are patient and courteous, you will get to fish most anywhere. Many anglers live for the dry fly hatches there but nymphs and streamers all work very well.
The trout move as hatches and water temperature change. In cold water, fish the deeper slow areas and when hatches are prolific, fish the shallow to deeper runs adjacent to deeper water. When the water comes up due to runoff, and it will sometime in May, the trout often move in tight to the banks. The middle of the river is too fast and deep to fish in most areas.
The Blue Wing Olive hatches are going very well now and mayflies will continue to hatch until the high water. Fishing pressure drops off drastically as other waters in the state get ice free and start fishing well. Caddis hatch later in the summer. Sowbugs, egg patterns and San Juan Worms are always worth a try, year-round.

The Middle Provo
The Middle Provo is the section from Deer Creek Reservoir upstream to Jordanelle Dam. It used to be dewatered by irrigating farmers but new laws now keep water flowing all the time. This section will soon be improved as Central Utah Project mitigation monies are used to restore the original river channel or at least a good approximation. Even now, the middle section is much better than it used to be, even though there are far fewer trout than the lower section. This section is slippery, harder to wade and has less convenient access as well. Still it is often worth the effort to fish. It's a smaller water and cannot handle as much pressure as the lower section.
The mayflies are hatching well as I write this and they will continue into June. Midges are still hatching but will soon be over. Even during June's high water, larger mayflies like Green Drakes will hatch, mixed with brown stoneflies.

The Upper Provo
The Upper Provo is the section upstream from Jordanelle Reservoir to the headwaters. It isn't fished much of the year due to low trout numbers, smaller trout size and lots of private property that is posted. The upper portions in the Uinta Mountains turn on after the runoff recedes in mid-July.

Nymphing the Provo
The most common method of nymphing is to rig a strike indicator on your leader and one or two nymphs below with the proper amount of weight and leader length to sink the flies near the bottom. Cast up and across stream and keep plenty of slack in the line for a natural drift. If you have drag, you won't catch many trout on nymphs.
Another key is size of flies. Observe what's hatching and imitate the nymphal version of that insect. Most effective Provo nymph patterns are from size 16 to 22. For the current mayfly hatch, try size 18, dark brown or rust colored mayfly nymph patterns. Emerger patterns fished during hatch situations often do better than regular nymphs or dry flies, especially for larger trout. WD40's, Pheasant Tail Nymphs and Black Midge Pupa are doing well now.

Dry Flies and Emergers
Current hatches call for small Griffith's Gnats in the morning to imitate midges and size 18 BWO Duns for afternoon risers in flatwater areas. If trout are not rising well, fish nymphs. A common mistake is to see riseforms and assume that trout are feeding on the adults. Trout often key in on emergers instead and take the pre-emergent nymphs at the surface. Fish two flies to take advantage of both types of feeders. Trail an emerger behind your dry fly (either floating or sinking varieties of emergers will work). Use a dry fly you can see as the strike indicator to track the unseen emerger. #If the dry fly disappears, set the hook.

Streamers
For variation, try streamers in low light periods like morning and evening or on overcast days. Hatch periods are poor times for streamers as trout are concentrating on insects instead of minnows.
Cast weighted Wooly Buggers, Dark Spruce flies or Zonkers on the margins of the far bank or slow and deep in the holes and strip it back with a pull-pause retrieve. Remember to point the rod tip at the fly when retrieving for best feel.
The Provo is a remarkable stream. The trout there are full of fight and will teach you well how to present the fly. If you are patient, you will learn and be rewarded as you learn. Angling pressure is somewhat self regulating in that if you want solitude, you won't go there. If you are courteous and patient, you can have lots of fun on the Provo. I thank God that we have such a fine trout stream close by. Let's take care of it and be wise stewards by picking up trash that others leave, by not fishing water already occupied and causing hard feelings and by reporting violations seen onstream. Know the regulations where you fish and follow them. Know and practice good catch and release techniques. Most of all, have fun and let others have a good experience too.
Copyright 2005