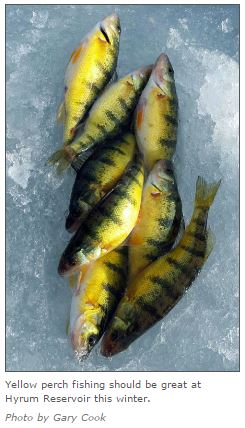 Utah's Division of Wildlife Resources has released the 4th article in its new ice fishing series:
Editor's note:The story below is the second in a four-part series about a fun activity to do in Utah in the winter — ice fishing! The series explains the benefits of fishing through the ice and provides tips to get beginning anglers started. Experienced anglers should learn something too.
Read other parts in this series:
Here are quotes from the article:
"In my opinion," says Randy Oplinger, cold water sport fisheries coordinator for the Division of Wildlife Resources, "Utah has some of the best ice fishing in the country. The state provides a wide variety of fish to catch. And many of these opportunities are close to your home."
Oplinger says Utah County is a prime example. If you live in the county, you can fish for white bass at Utah Lake in the morning, and then turn around and head to Strawberry Reservoir to catch trophy-sized cutthroat trout in the afternoon.
Ice conditions
To help you decide which water to visit, check the following websites for fishing and ice condition updates:wildlife.utah.gov/hotspots,bigfishtackle.comorutahwildlife.net.