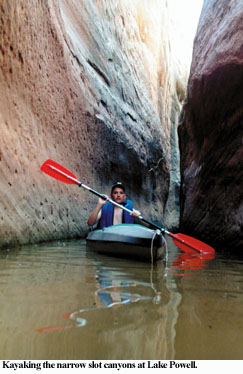 These days many people own boats that will cruise at 65 mph. That means you can boat Lake Powell, from Wahweap to Hite, in just 2.5 hours, assuming you follow the main channel. If you want to explore side canyons youll have to add a couple extra hours to the trip.
Of course, you may miss a few of the better sights on the lake if you cruise by at that speed. In fact, at 65 mph you'd better not go much beyond the mouths of the wider canyons — those sheer walls come at you pretty fast when you don't give yourself room to turn.
If you really want to explore the canyons at Powell you need to slow down. If you boat carefully you can reach the very back of most canyons, even some that are just inches wider than your boat. A slow and deliberate exploration gives you time to really see the lake, including things that you would miss at faster speeds.
However, there are canyons on the lake that are just too narrow for boating. Slots just a few feet wide, flooded by lake water. Some of these canyons have become popular raceways for people using personal watercraft, zipping in and out at high rates of speed, enjoying the power of the machines.
Perhaps a better alternative is to explore the narrow canyons by kayak. With a kayak you can skim almost effortlessly through the slots, taking time to actually see and appreciate the beauty of the area. Lake Powell is a place of incredible serenity, if you turn off the roaring engines and get away from the bustling crowds.
Paddling a kayak is like riding a mountain bike. The feeling is completely different from that which comes when you are power boating or jet skiing. In a kayak you slip right in and become part of the natural world — you harmonize — you're not just an intruder making waves. The egret fishing the shoreline doesn't startle as you go by and the striped bass swim along with you.
There are people who enjoy kayaking long distances on flat water. Powell is a great place for that sport. With a thousand of miles of shoreline and innumerable side canyons, you can paddle to your hearts content. Long touring kayaks, also called sea kayaks, are designed for this activity. They maximize every paddle stroke and have room to carry gear.
Whitewater kayaks are much shorter and more maneuverable, but not designed for extended paddle trips. They are loads of fun if you just want to play in the water.
Either kind of boat can be used to explore Powells water slots. With sea kayaks you can start right at a marina and paddle to distant canyons. If you are using whitewater boats you may want to throw them onto a houseboat or tow them behind a ski or fishing boat, camp close to your destination and then paddle into the canyons.
Slots canyons on Lake Powell
Cathedral Canyon is our top choice for kayaking. It is one of the most scenic canyons on the lake, with high, sheer walls and lots of twists and turns. It features a long slot that is too tight for many powerboats. Before becoming a slot, Cathedral offers a long section of narrow canyon that is boatable, with interesting twists, turns and side canyons.
Because of its sheer walls, there are no places to camp in Cathedral.
Cathedral is about 45 miles uplake from the dam — too far for most kayakers. Carry or tow the kayaks into the canyon, then use them to explore.
Cascade Canyon is also a great kayak destination. It is similar to Cathedral but not quite as long. It features interesting narrow side canyons that are fun to explore, and a long, tight slot at its end. Its about 47 miles uplake from the dam.
Wetherill Canyon has perhaps the longest, tightest kayakable slot on the lake, extending about two miles past the point where boats must stop. In many places the slot is just 3-4 feet wide so tight you have to work the paddles vertically up against the side of the kayak, you cant extend them out into the water as you do in a normal paddle stroke.
Wetherill has a long section of narrow canyon that is boatable before you enter the slot. It offers several coves where a houseboat can anchor but canyon walls are steep in most places and so there is little beach.
The slot in Wetherill has been a popular raceway for people on personal watercraft. They blast through the slot at high speeds, sometimes leaving paint marks where they scrape the wall. Personal Watercraft may be banned from the lake by recent rule changes but be careful just the same.
Face Canyon is a great camping destination with a slot at its end. Water in the slot is not very deep and so its length varies as the lake level rises and falls.
Face has a wide mouth and offers several coves with sandy beaches ideal for camping or tying up a houseboat. The canyon has a long, boatable, narrow section near its back that is also fun to kayak, before you reach the slot.
The mouth of Face is about 22 miles up from the dam.