With a little effort you can ski five resorts in one day.
By Joel Zuckerman
(Published Dec., 2001, Utah Outdoors magazine)

Salt Lake City offers an embarrassment of riches for the avid skier. No less than ten major ski areas lie within an hour's drive of the airport, which leads to something of a dilemma. The majority of time-challenged alpine enthusiasts will run out of vacation long before they run out of options.
Fortunately, the Utah Interconnect Tour offers a guided service that allows those with ambition and the proper conditioning the chance to cover plenty of ground quickly. Using a combination of lift-serviced and backcountry routes, participants touch down, albeit briefly, at five of Utah's premier ski resorts in a single seven-hour day. The secret is traveling as the crow flies, assuming the crow rides the occasional chairlift. Here's the chronology:
9 a.m. Today's tour group congregates at the base of Park City Mountain Resort, which serves as both the initial and final destination of the day's activities. Seven skiers join the two guides, Deb and Rod. We sign waivers acknowledging that we'll be confronting a number of risks, dangers and hazards in the backcountry, which might lead to personal injury or death. We're assigned avalanche beacons, which will emit a signal should any of us have the misfortune of ending up on the wrong side of a snow slide. Fears are allayed by Rod, who tells us that in 14 years as a guide, he's never had a client buried in the snow. Reasonably reassured, we head to the lift.
9:45 a.m. It takes a series of four chairlifts to ascend from the bottom of the Park City resort to the summit. Deb, who's been guiding Interconnect tours for a decade, is also the owner of a local bed and breakfast, as well as a serious triathlete — three times a finisher at the Hawaiian Ironman and one of the most successful triathletes in the local area. Attempting to keep up with her pace on the climbs and traverses to come will be a fruitless task. Like the richest sheik in Saudi Arabia or the smartest guy at Harvard, being one of the premiere athletes in a fitness mecca like Park City is a major statement.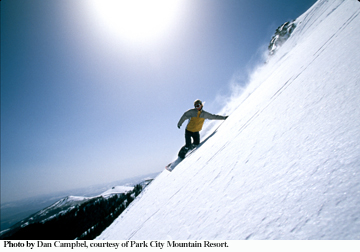 10:10 a.m. After ten minutes of side-stepping farther up the hill from the summit chairlift, we exit the area boundary, and head down the back side of the mountain. Ducking under the out-of-bounds rope brings back memories of off-piste exploits of years gone by, but this time there's no need for furtive backward glances for oncoming ski patrol. We take a short series of fresh turns through a lovely glade of aspens. There are about four inches of fresh powder over a windblown crust that Rod deems "supportable," a word we'll hear over and over again as he searches for the best and safest routes through the backcountry. The weather, which had been blowy and snowy until this point, begins to clear as we congregate on a little-used snowmobile track beneath the tree glade. The guides wear telemark skis, which leave the heel free and allow for ease of movement on the flats. They break trail for the guests, the majority of whom are encumbered by traditional alpine gear, locked down at both heel and toe, making any movement other than directly downhill an ungainly proposition.
10:50 a.m. We embark on a series of mellow single-track descents through the woods. Starting at thirty-second intervals, our obligation is to follow the trail over each crest and ridge, keeping enough momentum to reach the next downslope. It's an experience to savor, rushing headlong through the timber, noiseless and serene, save for the hissing of skis on snow.
11:20 a.m. We descend into Big Cottonwood Canyon, take off our skis to cross the highway, and walk through the parking lot at the Solitude Mountain Resort. It's a noteworthy achievement — we've covered the ground under our own power in just slightly more time than it would have taken to drive to the resort via interstate highway. Rod, who's been in regular radio contact with the ski patrols at Park City, Solitude and Alta, determines that we'll have to skip the Brighton resort if we're to make it to the next canyon before the weather worsens again. Before lunch at the day lodge, we crank a couple of hard lift-serviced runs through the steeps at Solitude, and the speed, pitch and mogul fields are just what the doctor ordered. The quietude of the forest behind us was unique and delightful in its own way, but most of us have been chafing to send ourselves down a slippery slope, knowing a chairlift would quickly return us to where we began.
12:45 p.m. The day has once again turned blazing, and sunscreen, sunglasses and baseball caps are all popular choices as we exit the cafeteria. But in the space of the two lift rides it takes to reach the Solitude summit, it socks in again, and the snow begins falling in earnest.
1:15 p.m. We begin traversing the "Highway to Heaven," the main backcountry link between Big Cottonwood and Little Cottonwood canyons. It's the only time all day the mood turns pensive; a Solitude ski patrolman supervises our traverse across a gorgeous snowfield known as Twin Lakes Pass. We allow plenty of spacing as we navigate the unbroken powder field, which seems to cant at least 35 degrees; the idea being to minimize danger to the entire group should the snow release down the hill. We reconvene in a stand of trees after the ten-minute crossing, only to remove our skis, and begin hiking up a diabolical little rise known as Patsy Marleys.
1:35 p.m. You won't find a longer twenty minutes outside of a root canal or a Pauly Shore movie, but we make our way, huffing and puffing with skis over shoulder, to the top of Patsy Marley's. We're rewarded, once again in renewed sunlight, with an ethereal fresh powder run through snow-covered evergreens. It's only 15 or 20 turns, but the rolling, pristine powder field is knee deep, and the moment of ecstasy easily makes up for the hardship of the climb.
2:50 p.m. We make our way into the legendary alpine resort known as Alta, and board a chairlift for one final descent. The group has decided against pushing on to Snowbird, the glitzy resort adjacent to Alta, and instead takes one final powder plunge on a little-traveled slope that terminates well south of the resort base. The pickup van, which has been in constant radio contact with our trip leaders, will be there to meet us, and as Deb opines, "Why ruin such a beautiful day in the wilderness by riding a tram with a hundred other people?"
3:40 p.m. Our last run is probably the best — a steeply pitched descent through stands of trees, making new tracks in almost a foot of fresh snow resting lightly on a delicate crust of windblown hardpack. We whoop and holler with delight, squeezing final turns in the pristine powder as we make our way to the highway below.
The Utah Interconnect is definitely not the ideal for those who want to rack up major vertical yardage. Helicopter, powder cat, or simple lift-serviced skiing is the better choice for folks whose ultimate desire is to turn and burn down the hill. The Interconnect is an immensely rewarding experience for those who can appreciate it, however. It's peaceful, lovely, scenic and serene. For those who appreciate a challenge, it's a day well spent. It's plenty of work, and plenty of fun besides.
If you go
The tour costs $150 and includes guide service, lunch, lift tickets and transportation back. To make reservations, call (801) 534-1907 or e-mail This email address is being protected from spambots. You need JavaScript enabled to view it.. Trip length is approximately 8 hours. Trips on Mon./Weds../Fri./Sun. depart at 8:30 a.m from Park City and go to Solitude, Brighton, Alta and Snowbird (depending on weather, snow conditions, etc.). On Tues./Thurs./Sat., the trip begins at Snowbird and goes to Alta, Brighton and then Solitude.
The Interconnect is for advanced skiers, and you need to be fit. Approximately 50-65 percent of the trip is spent traversing or going uphill. A smaller percentage was actually going downhill.
It's a much easier trip on telemark gear than downhill gear. If you can make tele-turns, then you'll be better off than slogging through the snow, both heel and toe locked down.