Find out what lies beneath
By Christy Shepherd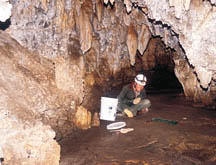 As I rode down the bumpy dirt road in an orange Polish hummer to what felt like the middle of nowhere, I wondered just exactly what I was getting myself into.
It was one of my first caving trips and although the maze of an underground realm seemed a little on the scary side, I have to admit the thought of exploring a cave conjured up an unexplainable fascination.
When we finally got to the cave, we donned our helmets, turned on our lights, pulled on some gloves, crawled through the entrance hole, and started our journey. Entering the cave was like entering a completely different world. I'd never seen things like stalagmites, stalactites, and crystallized rocks before and was amazed that over thousands of years a single drop of water could create such remarkable formations.
Since caves hold incredible wonders that simply can't be found anywhere above ground—they really are another world. The art of caving, sometimes referred to as spelunking, combines the biological with adventure and the anthropology with education.
A common misunderstanding suggests caves can only be found few and far between, but caves are much more abundant than you might think. Utah is home to at least a few hundred caves, with many more that haven't yet been discovered. Since caves are formed by acidic water seeping into limestone and eating away at it, they can be found pretty much anywhere with limestone surroundings. Sinkholes, or dips in the ground that look like washbasins, can be a sign of a nearby cave.
Once a cave location is discovered, one of the most commonly asked questions to cavers is probably: "What do you find down there?" The answer to this question can be as varied as each individual cave. Cavers may find structures ranging from vast rooms and tight passageways to geological formations and waterfalls. After acidic water has cut into the limestone to form passageways and rooms, it exposes the rock to oxygen, creating the cave's unique formations.
Getting in and out of most caves involves adventure and an intimate relationship with the cave because vertical work such as rappelling and climbing is often necessary. Nearly 90 percent of Utah caves require such skills. Because of this, cavers need to conquer certain reservations in order to fully enjoy the sport.
Caver Mat Hutchings says overcoming his own fears is exhilarating. He recounts a harrowing experience when he was shimmying through a tight passageway. In order to squeeze through the section he had to let half the air out of his lungs so his chest could pass through the rocks. All of a sudden he panicked. Thinking about the tons of rock surrounding him, he felt like everything was coming down on him.
"I tensed up, got stuck, and couldn't move. I wasn't about to have the others pull me back out, so I had to calm myself, become rational again and figure out how I needed to contort my body to become unstuck. I did it, and I was very, very satisfied and relieved to have overcome that fear," he said.
Since even the most avid cavers have to work to triumph over their apprehension, they don't trust beginners who think they are invincible. Jon Jasper, vice-president of the National Spelunking Society's (NSS) Timpanogos Grotto, said many people think they are fearless and just want to know about the cave locations. They often think caving is easy and think they can explore on their own—doing whatever they want while inside the cave. Since people with these attitudes have abused so many caves, cavers don't take there requests seriously.
Although Utah might have hundreds of caves, most cavers will tell you there are no caves to speak of because they don't want their caves to get ruined. "When people first show interest, we'll take them to a more well-known cave for the first time. If they continue to show interest and we feel like we can trust them, we gradually introduce them to the lesser-known and more spectacular caves," said former grotto chair Peter Ruplinger.
My first caving guide made us wear blindfolds on the way to the cave so we couldn't disclose its location to others. He said cavers are very protective of these underground splendors and won't disclose any information about their location until you have earned their trust.
When cavers make a new discovery, they treat the cave almost as if it's their own child. "Seeing your footprints as the first ones to ever enter a cave brings a huge sense of personal involvement. You don't want anyone messing with your cave," Jasper said.
Since caves and their formations take millions of years to form, disrupting its structures can be fatal to the cave. Taking things from a cave disrespectful and also highly illegal.
Shay Lelegren, a Utah County Search and Rescue officer, said Search and Rescue often gets calls involving irresponsible cavers. Most of their rescues involve people either getting lost or stuck. To avoid these problems, Lelegren advises first-timers to explore with a team of experienced cavers. "They know what to do and where to go. They'll teach you how to cave safely and responsibly," he said.
Those who are genuinely interested in caving can get started by contacting their local NSS grotto and getting in touch with cavers who can teach them safe and responsible ways of caving.
NSS is an organization that binds its members with a love for caving. Founded in 1941, the society has more than 12,000 members. Its members desire to cave together safely and responsibly, while protecting the underground wilderness for future generations.
Utah has five NSS grottos that welcome all types of people who have an interest in cave exploration. The groups often host training workshops, cave preservation projects, caving trips and other events to inform and educate those interested in caving.
Caving, if done right, can lead to a lifetime of adventure and can be enjoyed by everyone—regardless of age, gender or financial background.
Caving safety tips
* Go with someone who knows what they are doing.
* Always have three sources of light.
* Wear a helmet. Caves often have low overhangs.
* Never go caving alone and always tell someone where you are going.
* Never leave anything in a cave. Carry out everything you bring in.
* Never touch a cave formation. Your skin oils can halt future growth of the formation.
* Wear proper clothing. Caves are generally fairly cool.
NSS Utah Grottos
Bear River Grotto
[E-mail: This email address is being protected from spambots. You need JavaScript enabled to view it.]
c/o Robert Cranney
241 North 300 East - Apt. #6
Logan, Utah 84321
Color Country Grotto
c/o Kyle Voyles
[E-mail: This email address is being protected from spambots. You need JavaScript enabled to view it.]
P.O. Box 511, Washington, UT 84780
Salt Lake Grotto
c/o Dale Green
4230 Sovereign Way, Salt Lake City, UT 84124
Timpanogos Grotto
c/o Richard Downey
[E-mail: This email address is being protected from spambots. You need JavaScript enabled to view it.]
|380 N 600 E, Orem, UT 84097
Wasatch Grotto
c/o Paul Kemp
[E-mail: This email address is being protected from spambots. You need JavaScript enabled to view it.]|
2821 Ksel Drive, Sandy, UT 84092
For more information on NSS and its grottos, go to www.caves.org