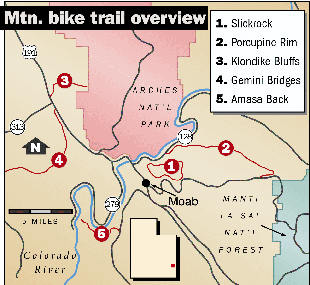 By Brooks Stevenson and Chris Watkins
Slickrock
The most famous trail of all, Slickrock probably needs no introduction. But we'd be remiss not to mention that it's 10.5 miles of strenuous cycling over broken and steep Navajo sandstone. The trail lies atop a stairstep mesa, two sides of which are defined by the Moab Valley and the Colorado River. The sandstone changes colors, from a creamy white to a glowing gold to salmon or lavender, depending on the time of day. Keep this in mind as roving eyes become greedy and lose focus on the eroded or steep surfaces over which you'll be pedaling.
Where to start:
From any of the stoplights in Moab, go east to 400 East. Turn right (south), then left onto Mill Creek Drive. Bear left onto Sand Flats Road when Mill Creek Drive jogs right, and follow the signs to Slickrock. Once you pay your small fee (good for three days), go a half-mile to the parking lot of the world's most famous biking trail.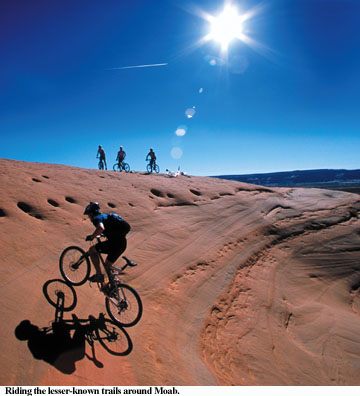 Distance/Rating:
10.5 miles of slickrock and the occasional red sand trap. One of the most technically challenging rides in Moab, rated a 5 on a scale of 1 to 5. You will need to climb and descend steep hills, stone ledges and drop-offs, and slowly negotiate potholes and sandstone knobs. The entire loop will take about two hours for advanced riders and up to five hours for those more interested in a tour of the trail.
Highlights:
Save the bragging rights for Eddie McStiff's that evening, because this trail will challenge your determination to ride the entire loop, especially during hot summer days.
You'll become a changed rider after experiencing the blood-rushing dips, ledge drops and steep hills. A large part of Slickrock can be discovered on your own by investigating the many spurs and unmarked areas; just be careful not to fall off any ledges or cliffs! Make sure to stop 7.1 miles out at Shrimp Rock, where you can take in a view of Arches and the Colorado River while refueling on water and PowerBars.
Legend:
Off-road motorcyclists established Slickrock in 1969. Mountain bikers eventually began dominating the trail once they experienced the joy of riding on the sandstone surface. Show your gratitude when you cross paths with any off-road motorists.
Porcupine Rim
Second in popularity only to Slickrock, the world-class Porcupine Rim includes a single-track descent with cliff sides and ledge drops that will make even the best riders utter some quick prayers. From Porcupine's 1,000-foot plateau, the red rock protrusions jetting up from Castle Valley are clearly visible. The sight is so spectacular that cigarette companies have used this area as an advertising backdrop. But don't get too distracted by the panoramic view, because this trail can be brutal if you don't pay attention to the terrain.
Where to start:
From Center Street and Main in Moab, go east and turn right on 400 West. Go 0.4 mile, then left onto Mill Creek at Dave's Corner Market. Go 0.5 mile on Mill Creek to a stop sign and continue straight on Sand Flats Road. Stay on Sand Flats and pay the entrance fee at the gate. The trailhead is located 7 miles up, landmarked by three big stock tanks on the side of the road.
Distance/Rating:
14.8 miles point-to-point or a 30.5-mile loop. Rated 3 to 5. This ride will test your stamina and overall ability to take a beating. For intermediates, try the point-to-point ride before sprinting straight for the loop. The loop will take all day and requires a high level of fitness. Wear some good gloves because you will need to lift up your handlebars to climb over sandstone steps and absorb the impact of rocks and ledge drops during the descent.
Highlights:
About three miles up the cracked slickrock double-track is the Porcupine Rim Viewpoint. After soaking in the splintered fin comprising Castle Rock, Priest and Nuns, continue on about one mile until the road narrows at a place called High Anxiety Viewpoint. Once you are finished snapping some pictures, the trail begins its downward slope. At 10.5 miles from the trailhead you can begin the single-track descent into Jackass Canyon.
Legend:
Porcupine Rim is an old cattle trail with sections that became frequented by off-roaders. It wasn't until the potential of the trail was spotted by airplane that it began attracting bikers by the truckful.
Klondike Bluffs
One of the best introductory rides in Moab, Klondike Bluffs is a sample of red rock scenery and smooth pieces of slickrock terrain unique to this area. Toward the end of the trail, it's recommended you take a short hike across the Klondike Bluffs that stand on top of thin columns and corrugated nooks. Portions of the incredible Arches National Park, backed by the soaring La Sal Mountains, can be seen from this part of the trail.
Where to start:
From Center Street in Moab, travel 17.3 miles north on Hwy. 191. Once you have reached mile marker 142, continue 0.5 mile to the dirt road on the right, which will have a sign marked for Klondike Bluffs. The trailhead is nearby and the sign will provide additional information such as an alternate trailhead (which will provide an easier ride) and a picture of dinosaur tracks that mark the trail.
Distance/Rating:
Rated 1 to 3. This is a moderately easy ride of about 14.4 miles, taking around 2—3 hours. Add on additional time, water and energy if you plan to hike the half-mile to the Klondike Bluffs. The total elevation gain can reach up to 1,250 feet if you go as far as the turnaround point at the Arches National Park boundary.
Highlights:
Riding at your own pace over slickrock, some sand and steep descents is the perfect place to start. About halfway up the trail, keep an eye out for dinosaur tracks cemented into the rock from millions of years ago, and be sure to make the hike out to the Klondike Bluffs at the trail's end.
Legend:
It has been said that if you put your foot down more than once, or get off your bike and push, on any part of this trail, you will be forever cursed by the Moabian biking spirits and banished from their land.
Gemini Bridges
One of the more scenic trails in Moab, Gemini Bridges offers vistas in every direction throughout the ride. This route follows novice- to intermediate-level four-wheel-drive roads through Little Canyon and onto the mesa overlooking Bull Canyon. A short but strenuous climb leads you out of the valley and up through deeply colored red rock cliffs overlooking Hwy. 191 below. The view of Gemini Bridges, twin arches spanning the canyon, isn't bad either.
Where to start:
Travel 8.5 miles north of Moab on Hwy. 191 to the trailhead on the left side of the road adjacent to the railroad tracks. From here, follow the four-wheel-drive road south along the tracks until it turns west and climbs up the canyon wall. Follow the signs from here to Gemini Bridges for another 7.5 miles.
Distance/Rating:
15.6 miles of double-track Jeep trails through sand traps, slickrock and dirt, rated a 3+ on the 1 to 5 scale. You will be required to negotiate steep climbs near the beginning and end of the route, as this is a point-to-point ride. Otherwise this is a moderately challenging ride. The rest of the trail travels gentle sandstone hills and dirt roads, with very little technical difficulty required. Plan on three hours to complete the task, with time for refueling, scenic spurs and photos at the Bridges.
Highlights:
The views of Monitor and Merrimac buttes and Klondike Bluffs to the north, Gold Bar Rim and Arches National Park to the east, and the La Sal Mountains, Amasa Back and Behind the Rocks to the southeast make this a fabulous way to see the many sights of the Moab area in one afternoon. You can also look down into Bull Canyon from Gemini Bridges or ride into Bull Canyon and look up at the Bridges.
Legend:
Don't throw caution to the wind when crossing the bridges. Closer inspection below Gemini Bridges will reveal a number of tattered bike helmets and other personal articles. Recent falls have resulted in death, so walk with a careful step and use your better judgment when exploring the area.
Amasa Back
Wrought with short technical sections, loose sand and ledgy sandstone outcrops, Amasa Back offers a chance to hone your technical riding skills. Largely made up of slickrock, this trail will take you to a thumb-shaped mesa surrounded on three sides by a gooseneck bend in the Colorado River and endear to you the fact that smooth, black pavement is unlikely to hammer your body relentlessly.
Where to start:
From Center Street in Moab drive 0.7 miles south to Kane Creek Boulevard and turn right between the Star Diner and McDonald's. Follow the road for 5.6 miles until the pavement turns to gravel and park in the clearing immediately after the cattle guard. Ride the dirt road for 1.2 miles until a sign indicates the turn-off for the trail. It dives off to the right and heads toward the creek. Cross the creek and follow the four-wheel-drive road from here. Be sure to consult a more detailed description of the area for spur trails and exact route finding.
Distance/Rating:
Amasa Back rates a 4+ on a scale of 1 to 5. Its 13 miles are technically difficult at times and breathtaking at others. If one section of the trail gets the best of you, stretch your legs and get ready for the next challenge; it won't be far ahead. Plan on at least three hours for this ride, with time to explore spurs and take photos. Don't forget to bring lungs the size of Rhode Island for this climb and leave your fear of steep technical sections at home.
Highlights:
Oh, the beauty of choices. Amasa Back offers three scenic spurs and the option of an extremely technical loop for those with more stamina and legs like tree trunks. Don't forget the 35mm either, as nearly a dozen breathtaking views can be had throughout the route. An overwhelming vista of Jackson Hole, Island in the Sky and the Colorado River can be had once you've reached the turnaround point.
Legend:
Legend has it that anyone who can clean this entire trail, in both directions, automatically becomes the reigning Grand Marshall of Amasa Back. This prestigious title affords you legal gloating rights in at least three surrounding counties and one unnamed Canadian Province.