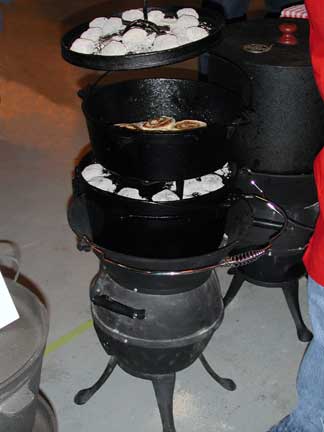 Tips from the International Dutch Oven Society
We've received permission to publish excerpts from the World Championship Dutch Oven Cookbook, which contains recipes from the championship cookoff held each year in Logan, at the Festival of the American West. The cookbook contains a great assortment of recipes, from simple to old favorite to sophisticated: meats, vegetables, breads (including sourdough) and desserts. The book also contains valuable instructions for seasoning, cleaning and caring for the versatile black pot Dutch ovens.
Dick Michaud, of Logan, is the driving force behind the cookoff, and the cookbook.
The following tips come from the cookbook:
To season a new oven, or revitalize an old one, first wash it inside and out with a mild detergent, then dry it thoroughly. (Use a scouring pad or wire brush to remove rust.)
Coat all services, inside and out, with a good quality vegetable oil. Add enough oil to cover the bottom of the oven and place it in a medium hot oven until the oil is hot, about 30 minutes at 350 degrees. Remove the Dutch oven and swab oil all over the bottom and sides. Add more oil and heat in a low oven (200 degrees) for one hour. Turn the oven off and leave the Dutch Oven inside overnight. In the morning rub all surfaces with the remaining oil and wipe out what oil remains.
After the oven has been cleaned, oiled and cooled, store it in a warm, dry place. Keep the lid cracked so air can circulate. Place a paper towel inside to absorb the moisture from the air.
Remove any excess food and wipe out the oven with a paper towel. Place the oven on the fire with the lid on. Heat the oven for awhile and then crack the lid so moisture can escape. Leave the oven on the fire until everything inside is dry and black. Don't keep the oven on the fire after that point or it could overheat and warp. You may need to rotate it to heat it evenly.
Remove the oven from the fire and scrape it out. Wipe it clean and then oil it inside and out, including the legs and handle, while the oven is still hot.
When used properly, the oven will turn a uniform black. The more it is used correctly, the better the seasoning and the better it will cook.
If the oven develops a sticky area, re-season as described above.
Charcoal briquettes are great for beginning Dutch oven chefs because they offer uniform heat that can be controlled easily.
Most dishes can be cooked at a moderate-to-hot temperature.