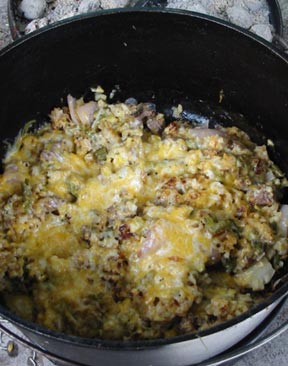 This is an easy, almost goof-proof, basic recipe that can be tailored to your tastes. It is always tasty — a real kid pleaser.
Ingredients:
Tater Tots - 1 lb package
Meat - 1 lb or more (pick your favorite, or a combination: ground beef, chopped steak, roast cut into pieces, pork chops, ham, chicken...)
Onion — medium (and other veggies as you choose: mushrooms, zucchini...)
Green beans — 1 can
Cream of Celery Soup — 1 can
Cheese — 1/2 lb, shredded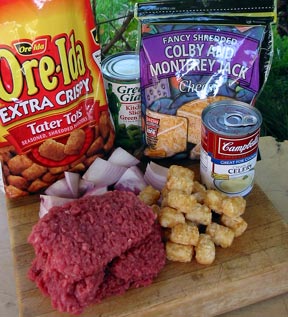 Spices to taste (garlic, pepper...) The ingredients usually contain enough salt that additional is not needed.
In a medium-hot Dutch oven, add oil to coat the bottom; when the oil is hot, add the meat. Browned and continue cooking until the meat reaches the desired doneness.
Add raw veggies and sauté.
Add Tater Tots, beans, soup and any desired spices. Cook, stirring occasionally.
Add half the cheese when the concoction is about half-done.
Allow plenty of time to cook — usually about an hour total cooking time. The more the casserole browns, the better it tastes.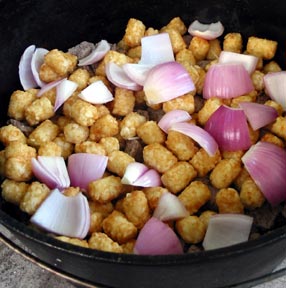 When you think it is done, sprinkle the rest of the cheese on top, put the lid back on and cook 10 more minutes to give this final cheese time to melt and, ideally, brown a little bit.
Remove from heat and allow to cool for a few minutes before serving.