Camping with Children
By Brian Brinkerhoff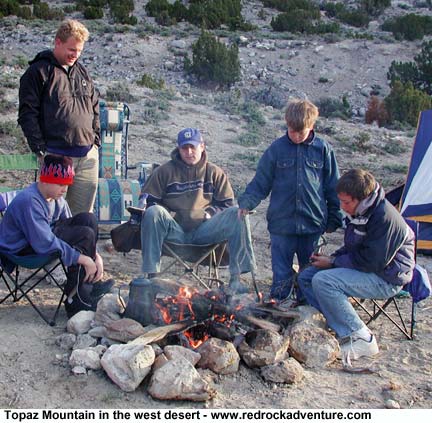 Although camping is a rewarding activity for outdoor enthusiasts of all ages, camping with children can be magical. To wander through a solitary grove of quaking aspen or help youngsters catch their first fish will awaken your own senses to the incredible beauty that surrounds us. To hike through a field of breathtaking wildflowers or listen to the night sounds with a child will change your view of the outdoors as you help them discover the wonders of our natural world around us.
Some of my fondest memories growing up, are of camping excursions to Boulder Mountain with my family. It was there that I developed a love for the outdoors and learned to respect the power and beauty of Mother Nature. It was there that I first discovered stinging nettle, caught my first brook trout in the beaver ponds and savored the warmth of a campfire on a cold rain-soaked evening.
Many of the following tips are provided for families taking youngsters on their first time camping experience, although some tips are appropriate for family campers of all skill levels.
Plan Together

To motivate and excite everyone, you will need to plan this excursion together. From pulling out the maps, guides, and brochures, to making campground reservations, determining activities, and checking gear. Part of the fun is simply deciding where to go and daydreaming about your next destination.
Allow them to participate at a level they can handle, giving them a sense of accomplishment and being part of the decision making group. Initially, it may not lessen your load, but as you educate them, eventually they will be able to take much of the preparation burden and provide them with additional self-respect. Let them help decide where to go, what to eat, and what to do when you arrive at camp. Allowing each member to contribute will help the family function better as a team.
Prepare them before heading out

Backyard camping is a great way to teach them how to set up their own tents, use camp gear properly, and watch for sharp edges on camp equipment. Backyard camping can be a close to home adventure for the younger audience. Setting up base behind your house will allow them to become familiar with sleeping in a tent, while sparking an interest in the fun activities camping can offer. Bring plenty of snacks and games for the nighttime activities. Spend time as a family to give them an idea of what to expect for the real outing.
Familiarize them with the Outdoors

Youth that have trouble with camping vacations are sometimes a little intimidated by the unfamiliar surroundings and are unprepared for the uniqueness of this experience. Try an after-work hike, a marshmallow roast, or evening fishing trip in day use areas of our nearby canyons. Short day excursions are also great no-commitment opportunities where they can learn about the dangers of fire, swift water, and steep-dropoffs. Teach them which plants to avoid, and what to do if they get lost. While enjoying the sunshine, mini adventures after work will develop a feeling for the outdoors and limit many fears youngsters have on their first camping adventure.
Bring Extra Gear

Always remember that with children, clothing will get wet and dirty. Bring plenty of extra clothing to help individuals stay warm, dry, and comfortable. Once children become uncomfortable, everyone will know it. Don't forget warmer clothing to ward off the night chill and warm sleeping bags for comfortable rest.
Gear designed for children is also important to consider. Bring gear that specifically meets their needs, including time-released insect repellants. DEET, the most effective insect repellant available, can be a significant concern for parents of younger users. To address this concern, many manufacturers are now offering time-release products that minimize the overall exposure, yet provide an effective block to these pesky insects. Other natural formulations are available on the market, with varying degrees of effectiveness. Look for sunscreen with a high level of protection from the sun's harmful rays. Early protection is playing a significant role in later cancer prevention. Don't forget medicines in appropriate strengths, band-aids, hats, and additional protective clothing for inclement weather.
Allow younger children to bring a few select toys, teddy bears or games. Avoid the temptation to bring too many or you can guarantee that parts will be lost and clutter will be a problem. A small daypack for each child may be the answer for some families. A personal CD/Cassette player with headphones may ward off the "are we there yet?" questions to reasonable levels. Inside the pack, youngsters should include a personal stash of snacks, safety gear, and extra clothing.
The night can be frightening for some little ones, but when empowered with their own personal flashlight, they will have some control of the darkness that surrounds camp. Coleman has also recently released a remote controlled night light for late night "nature calls" and visiting critters.
Bring Plenty of Snacks

Trail mix, jerky, apples, and cookies are certainly part of the experience for me. Children also enjoy these, so include plenty of healthy snacks and refreshments for the entire journey. A well-fed family army is a happy one.
Bring a Camera

Collect the memories as you make them. Photograph their first fish, the family campsite, a water fight, or the day hike destination. They will savor these moments when they are grown. Bringing a camera will help keep the fondest memories fresh when it comes time to plan your next camping excursion.
Keep First Trips Short

Keep your first camp-out short. It is always better to bring them home before they are ready to go, leaving them hungry for more. Spending too much time on a first trip may make them a little tired and cranky, leaving the vacation on a less than happy moment. By keeping trips short, it is easier to plan, keep everyone's energy up, and leave on a good note. In addition, less food and gear is required, reducing the possibility of leaving something home.
Have Backup Plans

If fishing is slow and attention spans are short, have a backup plan to keep youth interested. Whether it be a short nature hike or a game of cards, stay a step ahead of your children and prevent boredom for younger family members. In addition, remind them of planned future activities, to build anticipation and excitement. Many youth are more than willing to help prepare upcoming campfire programs or marshmallow roasts, allow them to be part of the action.
Teach them Respect

Respect of Mother Nature may help save kids' lives. Skills acquired in the outdoors will last a lifetime. These skills include what to do when you get lost, how to start a fire, catching and cleaning fish, and identifying wildlife. In addition, respect for the outdoors will help preserve the beauty that you enjoy for other generations to follow. When teaching youth about the outdoors, we also learn more about ourselves. Outdoor ethics is easy to teach when they are young, when they look to role models, like yourself, in this unknown beautiful world.
Copyright Dave Webb, 2005