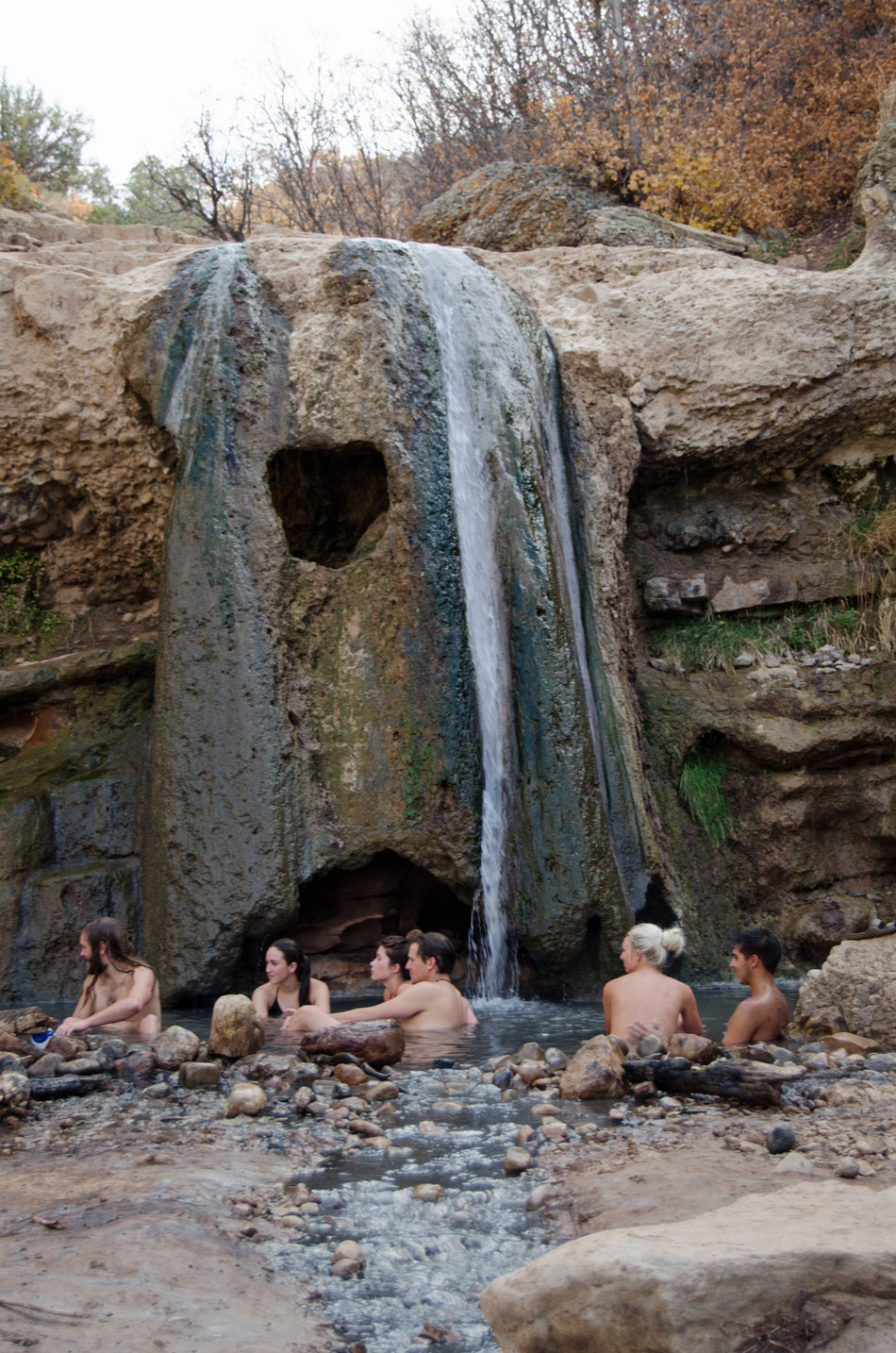 By Dave Webb
There are a series of very nice hot spring pools on Fifth Water Creek, up Diamond Fork Canyon. We have featured them in other articles but felt it time for an update. We hiked on a beautiful, warm, sunny fall day and had a great time.
The area has become very popular and there will be many people at the pools during nice-weather weekends. Go during the week to avoid crowds. Many people backpack in and spend the night, so they can soak late and early.
There may be people bathing nude at the springs. The pools have developed a reputation as a destination for naturists, more so in previous years. Now, with the springs attracting more and more people, more and more families, most people opt for swimsuits. On our trip we saw two individuals soaking au naturel. I've probably visited the hot springs 6 times over the years and I've always seen at least one nude person.
When we first visited, some years ago, there were two main pools near the waterfall, and a couple small pools up and down stream. A flood a few years ago washed out the main pools. Now there are several smaller, but still very nice, pools along the stream. The best, in our opinion, is still the one under the waterfall.
Water temperatures vary with the season and location in the stream. The water is very hot where it comes from the springs and cools as it moves downstream. During summer, cool water comes down Fifth Water and moderates the temperatures. During fall, the cool water flow is diminished and so the pools are hotter. When we visited, the pools near the waterfall were too hot for our tastes and so we moved downstream. But others favored the hot water.
1 hour drive (approximate) from Salt Lake City to Three Forks Trailhead
2.5 mile hike from the trailhead along Sixth Water and then Fifth Water creeks to the hot springs and lower waterfall
1.1 miles from the trailhead to the bridge over Sixth Water (a major landmark along the trail)
The trail is wide and easy to follow. Some ups and downs but no killer hills. Rocky (cobblestone-size).
Easy-moderate, suitable for families.
The fire which closed Diamond Fork Canyon this fall did not reach the Fifth Water area and did not impact the springs. The fire burned in Diamond Fork Canyon up to the campgrounds area. Now, the entire canyon has re-opened and the Three-Forks area (Fifth Water and Sixth Water creeks) are in good shape.
The area is constantly changing but is still very nice.
(Note, I did ask permission before I shot photos of the people at the springs.)