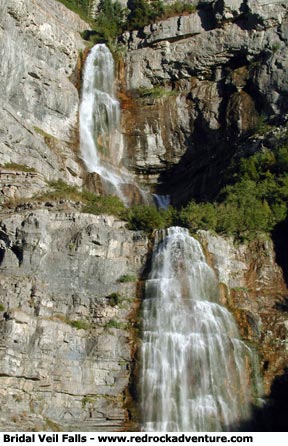 Bridal Veil Falls is perhaps Utah's most famous waterfall. It is located in Provo Canyon, along HWY 189. It is easy to see to the south of the road just a few miles into the canyon when coming from Provo.
Location: 40.339114°, -111.602315°
There is an excellent walking/biking trail along the Provo River up to the waterfall. Some people hike trails and climb rocks up the mountain. In winter, people ice-climb on the waterfall.
There are small waterfalls visible from the highway but to the east and west of Bridal Veil, but they are not particularly impressive.