Rocky Mouth Canyon Waterfall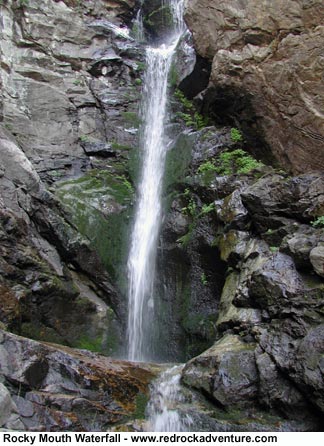 This beautiful little waterfall is located just off Wasatch Blvd on the SE side of the Salt Lake Valley.
The Rocky Mouth Trailhead is located at 11248 South Wasatch Blvd. There is a small sign and a small parking area, but they are easy to miss as you drive the road. An LDS chapel serves as an easy-to-recognize landmark. The trailhead is across the road and just south of the chapel.
From the trailhead, ascend a staircase made of railroad ties. At the top you'll find a regular city street through a new subdivision. Stay on the sidewalk and hike uphill for about 1 block and then you'll see where the trail follows a narrow corridor between two houses. A sign marks that spot.
The trail now climbs a ridge and then enters Rocky Mouth Canyon. A small stream flows through the canyon. Hike up-canyon a short ways and you'll see the waterfall.
Total hiking distance is about 1/2 mile one-way. The trail is easy and the total elevation gain is only about 200 feet.
The water is crystal-clear and ice cold. The canyon is shady and pleasant, even on the hottest summer day.
There are no facilities here for hikers. Be sure to pack out everything you pack in, and pick up any litter you see along the trail.
Location: 40.543185°, -111.803546°
Copyright Dave Webb, 2005