By Sonja McClure
Arches and other National Parks near Moab create so much hype that some visitors don't hear about other equally spectacular landmarks and landscapes in the same region. Although it is important to financially support the preservation of the beautiful national parks, you can often have an equally enjoyable and less expensive vacations in nature by visiting areas that don't charge big entrance fees.
Another advantage of going to a lesser-known place is having more solitude. You don't have to feel like a tourist every time you go somewhere amazing in the outdoors.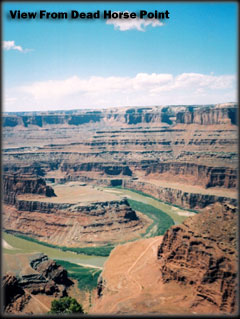 Dead Horse Point State Park
Access: Dead Horse Point is north of Moab, take US 191 then turn west on SR 313 and go about 20 miles. The park is open year-round.
Dead Horse Point is a neck of land atop sharp sandstone cliffs. The geologic layers of rock and sandstone show millions of years of the earth's history.
One legend of how Dead Horse Point got its name suggests the peninsula was used as a corral for wild horses. Cowboys herded the horses onto the narrow point and made a natural corral surrounded by sheer cliffs, allowing no escape. One time the cowboys left the horses for too long on the waterless point and they died of thirst, able to see but not access the Colorado River 2,000 feet below.
The park offers 10 miles of paved and primitive hiking trails that include two joining loops around the rim, with five or six major viewpoints. Most areas are not fenced so be careful near the cliff edges. Depending on which loop or route you take, you can walk for a couple of hours or all day if time permits.
Dead Horse Point is a destination that is all about the gorgeous panoramic view for miles and miles. Looking down below the point, my friends and I caught a glimpse of river rafters taking boat trips down the Colorado River. We saw the winding mazes of Canyonlands National Park and using binoculars helped enhanced the distant views, giving details to each level of the sandstone walls.
At a lookout on the eastside of the rim trail, we saw rows of big bright blue pools of water sparkling like an oasis. The blue stood out like a sore thumb against the sweeping red rock landscape, making them appear to be man made.
While we walked along the mesa, long lizards were darting back and forth across the trail searching for rocks to hide under, but not before I quickly got them on camera.
It amazes me how your priorities change in nature. It seems the stripped down landscape was a metaphor for our own souls. Only the simplest things seemed to matter. No nagging deadlines to meet, the to-do list was easy: hike, eat, relax and watch for animals.
Reverting to the basics of survival is the key. Main concerns: drink water, avoid too much sun, don't get lost. Many people can run multiple electronic devices without problems but they don't have a clue how to start a fire. It is good to know a little about safety and survival when you visit this country.
Exploring the outdoors made me feel active and alive, rejuvenating the heart and mind. With appreciation, I ask what I would do if these open areas were unavailable. Without any outlet, would I be trapped in urban settings like the horses at Dead Horse Point?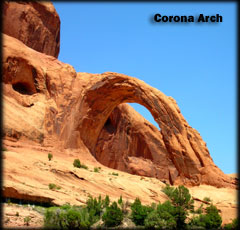 Corona Arch
Access: From Moab head north on Highway 191 for about one mile to SR 279, also known as "Potash Road." Turn left and follow SR 279 for approximately 10 miles to the Corona Arch trailhead.
Across the street from the trailhead is a campground right on the edge of a river. Before we went on the hike, we had a scenic picnic under the pavilion watching the high, swift water move.
Corona Arch is a partially freestanding natural arch with about a 130-foot by 100-foot opening. Adjacent to Corona Arch is the smaller Bowtie Arch. Accessible year-round, the route is 1 1/2 miles and requires a few hours round trip to complete.
The arch isn't visible from where you start the route. The trail climbs east and crossed the railroad tracks. Following an old roadbed, we went into a slickrock section on the trail. At the top of the bench, the trail is marked with cairns (piles of rocks) that took us to the base of a sandstone cliff. Because of steep drop-offs along the trail, we hiked cautiously.
The red soil and sandstone surrounding us seemed to be a reflection of the glowing red sun above.
Exposed, we baked in the heat as we walked and our thirst was growing. We quickly went through our water supply (only one bottle for us to share). We realized hiking in the middle of the afternoon in mid-summer was not a good idea. It was too hot and barren, without any shade or shelter.
As we turned a bend in the trail, behold the arch was finally visible and nearby a tall canyon wall provided some eagerly sought after shade. The thickness and length of the arch made it look like a rock rainbow and it's no wonder why the arch is often called, "Little Rainbow Bridge."
Because we ran out of water, we had to end the hike early and be satisfied with the view from afar. In the future, I would go during a different season with cooler temperatures, either spring or fall or if in the summer in the early morning or right before sunset. Summer nights are warmer but the extremely high daytime temperature is a big disadvantage. Each person needs to carry at least one large bottle of water when hiking in hot weather.
Mill Creek Swimming Hole
After the immense heat at Corona Arch, we wanted nothing more than to take a dip and cool off in a nearby river. With haste, we went outside of Moab to Mill Creek Canyon.
Not far from the parking area, we splashed in the river, the cold water nourishing our sun soaked skin. We climbed 5-10 feet up the rocks on the rivers edge and cliff jumped into the deeper spots in the water. I always wear sandals to protect my feet.
Some other people swimming in the river told us that if we continued another 20 minutes up the trail we would find a large pool and waterfall. Because it was nearing nightfall, we decided to return a little earlier next time to discover the second swimming hole.
Fourth of July in Moab
From a quaint park in Moab, we watched the heavens come alive with fireworks. The spectacular light show exploded into the night, colors bursting like a waterfall in the sky.
Besides viewing fireworks from a boat on Utah Lake, I've always observed explosives inside big cities. It was fun and different to witness a firework display above Moab's natural slickrock backdrop.
While visiting rare wilderness areas, we must show respect by doing our part to minimize our marks and tread lightly, so more people in the future will be able to enjoy these natural resources.
About the author: I am a writer who enjoys the outdoors, travel and dance. I am a University of Utah graduate with a degree in Communication. I have lived in Washington, which is like a second home to me. I have explored southern Utah for the past 10 years in areas such as, Lake Powell, Capital Reef, Goblin Valley and Moab.
Copyright Sonja McClure, 2009