Hike to Delicate Arch
By Dave Webb
See photos from this trip. View our video clip.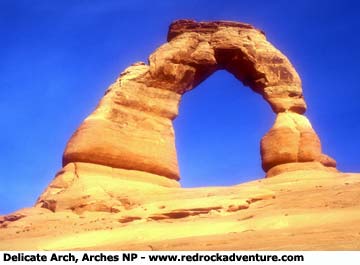 Delicate Arch is one of Utah's most famous icons. You see images of it everywhere: on magazine covers, computer screen savers and license plates. But how many of you have every seen it in person?
Photos are great but they do not adequately convey the stunning beauty that hits you as you come over the ridge and see the arch in person for the first time–when you stand under it, the arch towering above your head, slickrock canyons falling away below you, the snow-covered La Sal Mountains in the distance. It is a spectacular sight. It is also one of Utah's best family hiking destinations, and spring is an ideal time to explore Arches National Park, where it is located.
For a project at work, I've got to take photos and write articles about our best-known attractions. That means I've got to visit them. Yea, I know, it's a tough job but someone has to do it. Actually, for me it's a bit counterintuitive. Our well-known attractions draw hoards of visitors and so I, naturally, want to head the other direction–into the wilderness where I won't see another person.
I'm trying got to think like a tourist, pretending I'm coming from Germany or Japan for a two-week holiday and I want to see the national park country in the Western U.S. I've been studying the guidebooks, looking at the pictures, to decide what to see. Where would you send me? Delicate Arch has to be high on the list for many such tourists.
And so I hiked to the arch on March 25, on a beautiful spring day when hiking conditions were perfect. It was a very enjoyable trip. My website has a video clip showing our hike: www.redrockadventure.com/video.
Yes, there were busloads of tourists but I didn't mind this time. It was fun watching them, and talking to them.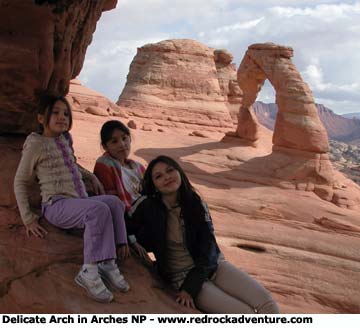 In the future I'll be writing articles about other famous icons. And I'll be recommending you visit them. They are famous because they are exceptionally attractive, both in terms of scenery and overall experience. People from around the world come to see them. Perhaps it's time for you and I to explore the wonders in our backyard.
Edward Abbey, noted naturalist and author, wrote this: "There are several ways of looking at Delicate Arch. Depending on your preconceptions you may see the eroded remnants of a sandstone fin, a giant engagement ring cemented in rock, a bow-legged pair of petrified cowboy chaps, a triumphal arch for a procession of angels, an illogical freak, a happening.... If Delicate Arch has any significance it lies, I will venture, in the power of the odd and unexpected to startle the senses and surprise the mind out of their ruts of habit, to compel us into a reawakened awareness of the wonderful–that which is full of wonder."
It's worth the hike.
Hike Details
It is a three-mile (round trip) hike to Delicate Arch, along an easy, well-marked trail. The trailhead is at Wolfe Ranch, accessible via a paved spur from the main park loop. Signs make it easy to find. The parking lot was full on our visit and so we had to park in a wide spot on the road's shoulder. That's pretty common. They are working to develop a park shuttle service, which will someday make access easier.
At Wolfe Ranch there is a panel of Native American rock art, attributed to the Utes, which is worth gazing at for a few minutes.
The trail slopes gradually upward as you hike toward the arch. The total elevation gain is only 480 feet, but it seems steeper than that as you climb up the slickrock ridge. There is no shade on that section and we felt hot during the middle of the day. The most pleasant hiking is during morning and evening hours, but midday is fine during spring or fall if you wear a hat, use sunscreen and carry water.
Near the top the trail swings behind a ridge, where it levels out and enters an area that is often shaded. Steps have been carved into the sandstone to make it easy to get up some steep places. In one spot the trail follows a shelf on the side of the ridge, a solid-rock mountain on one side and a sheer cliff on the other. The trail is wide and smooth and walking is easy but some people get nervous because of the cliff. Just hang onto your kids and stay away from the edge.
I really did enjoy talking to people along the trail, finding out where they are from and what they thought of the area. I met international tourists, along with people from all around North America.
In response to my inquiry one said: "I love it. I wish I could live here." It's that kind of country–big and beautiful.
Copyright Dave Webb, 2005