Hike the Devils Garden In Arches National Park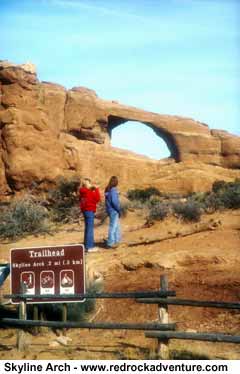 By Golden Webb
(Watch our Devils Garden video clip)
The Devils Garden in Arches National Park is one of Utah's best hiking destinations for youth groups and families. The highlight of the region is Landscape Arch, one of the longest rock spans in the world; certainly it is one of the most beautiful. Landscape Arch is a must-see, a place you should include on your "Natural Wonders I Have To Visit Before I Die" list.
The Devils Garden Trailhead is located 19 miles north of the Arches park entrance. The complete Devils Garden trail, including side spurs and the Primitive Loop, is the longest hike on maintained trails in Arches, about 7.2 miles. Most people, however, choose the two-mile out-and-back option, i.e., stroll down the "super-trail" (flat, easy, double-wide, and crowded) to Landscape, relax under the mysteriously suspended ribbon of stone, then stroll on back to the Chevy. This is the way to go for families. More hardy adventurers can continue north to Double O, Dark Angel, and the Primitive Loop.
About 0.25 miles from the Devils Garden trailhead there's a split in the trail. The left spur goes to Landscape Arch, the right to Pine Tree and Tunnel Arches. Should you follow the spur to the right? Please do. It's short, easy, and the two arches are fascinating.
Head back to the main trail and forge north to Landscape Arch. Landscape joins Delicate Arch (you know, that funny looking orange thing on your license plate?) as Arches' marquee attractions. Interestingly enough, way back when some geographically-challenged cartographer accidentally switched their names on a map. That's true. Landscape is supposed to be called Delicate and vice versa. If you've seen them in the flesh you understand why. Landscape, if anything, is delicate. It could collapse at any moment, geographically speaking. Delicate, on the other hand, is like a window that opens onto the sweeping, panoramic landscape that includes the Colorado River Gorge, the sandstone humps and domes that make up the world-famous Slickrock mountain bike trail, and the laccolithic cones of La Sal Mountains. But the names got switched, then got stuck; the delicately structured arch became Landscape and the arch that frames a spectacular landscape became Delicate, and that's how they've been known ever since.
It is here at Landscape Arch that most people turn back. For those who continue there are wonders to be found. Approximately 0.25 miles past Landscape Arch a spur to the left (west) leads to Partition and Navajo arches, great places to take a load off and eat lunch or snooze or both. From Partition and Navajo it is another 0.5 miles to Double O Arch, or arches, to be more precise; Double O is formed of two ovoid holes in the Navajo Sandstone, one suspended above the other, like bangles in a woman's ear.
Looking northward from Double O, one can see the brooding spike of Dark Angel thrusting defiantly into the desert sky. The sandstone spike has been eroded by the elements into the angelic contours of a seraphim bowing its head in humility or shame. Supplicating at Dark Angel's feet adds a mile to the trip. From Dark Angel, George Washington Hayduke-types could disappear into the mysterious Eagle Park, a foreboding region (which we know nothing about, because it seems no one has ever been there and then returned to tell the tale) that forms the extreme northern region of Arches.
Backtracking to Double O, the Primitive Loop snakes off through the blackbrush to the northeast and disappears behind a pink sandstone fin. An NPS sign reads "Caution, Primitive Trail, Difficult Hiking." This statement is very true in the winter because of ice, a bit overstated if you're reading it in the spring. Follow the loop for 0.5 miles, at which point a spur to the right (south) leads to Private Arch, aptly named because you'll probably have the place all to yourself. The rest of the Primitive Loop trail contours through beautiful desert outback rarely seen by humans of the flabby variety. Maps can be handy on this section of trail; water is essential. Include in your pack more water than you think you'll need and bring along a good topo map.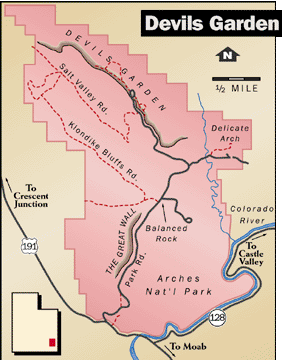 The Primitive Loop trail swings southwest back to the maintained super-trail in the vicinity of Pine Tree Arch, just a few skips and a hop from the Devils Garden Trailhead.
Arches National Park is located on Utah Highway 191, five miles north of Moab. Spring and fall are the best months to hike here. Winter outings are usually pleasant during daylight hours but temperatures can be very cold at night. Daytime temperatures in may exceed 100 degrees June through September. The temperature can range over 50 degrees in a 24-hour period! Keep this in mind when planning your trip.
The Arches entrance fee is $10 per vehicle and is good for seven days. The camping fee Arches has only one campground–Devils Garden, located about 18 miles from the park entrance. It is open year-round and reservations can be made through the National Recreation Reservation System: www.reserveusa.com. A few sites are available on a first-come first-served basis, no reservation needed, but they go fast. The campground usually fills up daily March through October.
Campground facilities include potable water, picnic tables, grills as well as pit-style and flush toilets. There are no showers. Bring your own wood or charcoal for the grills. Some sites will accommodate RV's up to 30 feet in length.
Additional information can be had by phone: (435)719-2299; by accessing the official Arches National Park website: www.nps.gov/arch; or by mail: Arches National Park, P.O. Box 907, Moab, UT 84532