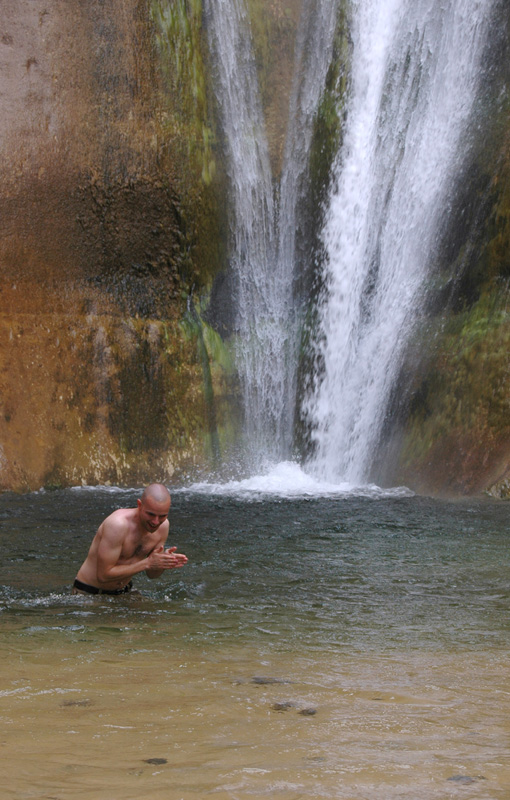 By Aaron Webb
Memorial Day has been on my calendar for a few weeks now, a beacon of light amid the otherwise gray monotony of workschoolhamsterwheelcitylife… Don't get me wrong. Life is awesome. I enjoy school, and am doing remarkably well. Work is fun; I enjoy writing and editing articles and trail descriptions, and doctoring artwork and photographs. And we just bought a house down in Salem a few weeks ago that we are excited to move into, after we finish with all of the remodeling.
But none of this recharges my batteries like a trip into the wild outdoors.
So Memorial Day was going to be my latest escape from reality. With a little bit of discussion and planning, we decided that the Grand Staircase-Escalante National Monument would be our destination, specifically the Calf Creek Falls area. Our group of six definites, and four possibles shrank considerably as the date approached; scheduling dilemmas, transportation issues, and many other problems aided in whittling our group down to four, my wife, my daughter, a high school buddy, and myself.
We only had one day, and we had a lot of ground to cover-I needed pictures of the Lower Calf Creek Falls, as well as the east side of the Escalante River between the town of Escalante and the Highway 12 bridge south of Boulder. The drive was something which we could not really do much about; a two hundred-mile drive is still two hundred miles no matter how you cut it.
That meant that my shortcuts had to be on the hike itself. I thought that I had a system worked out, one that would allow my daughter the freedom to play, to meander along the trail at her pace, while still getting us to our destination in a timely manner. My daughter is too young to understand the concept of hurry up, and I did not want to spoil all of her fun by not giving her the time to wander aimlessly and loiter along the trail looking at every pebble and flower in sight. Not to mention the fact that, as all of you parents know, an unhappy 18-month old can make the four-hour ride home less than heavenly.
So my plan was to go trail running, with Katie on my shoulders, until we were far enough ahead of the others that I could set her down and let her play until mom and Sasha caught up. Then I would pick her up and start running again. I figured that this would allow us to make pretty good time up the 2.8-mile trail to Lower Calf Creek Falls. Unfortunately, it did not work like it was supposed to. I don't know exactly why it took so long, though I have some theories-stopping for photo opportunities would probably be the largest culprit, though we did get some good shots. All in all, even with my trail running strategy, it still took us over four hours to complete the five mile route between the Calf Creek Falls Campground and the lower falls.
I don't remember the last time I was at Calf Creek; it has to have been somewhere around 15 years ago, and I have a notoriously bad memory. So it was pretty much like my first time there, and for the others, it was their first time. First time or not, they all did pretty well. Katie is not even two years old yet, so of course she had some problems. She was bored off and on, mostly on the way back when we didn't have time to let her play. But other than that, she was her customarily good-natured, wanderlust-friendly self. Rebecca, my beach-loving Florida girl, set a pace that impressed me despite my experiences with Marine Corps humps and marches.
At the trailhead, pamphlets are available that give information about the route and the history, geology, and flora and fauna of the area. Calf Creek Falls cuts through deep layers of Navajo sandstone, varying in color from yellows and light browns, to deep oranges and reds. The trail to the lower falls is fairly easy; it has tiny-though numerous-ups and downs, with no real elevation gain, and has a good number of sand traps, but even these are not very difficult. The sun can be strong in this area, and we all came back a little more pink than when we started.
The trail hugs the west bank of the creek for the entire route, not crisscrossing back and forth as so many trails do. That makes it easier to follow, and keeps hikers dry. But it does limit the ability to enjoy in close proximity some of the attractions that will come up later. Eventually, the rugged hills of the east bank of the creek rise into monolithic sandstone walls and shallow, shady box canyons. Some of these box canyons formed the very cattle pens that Calf Creek is named for. Only a mile from the trailhead, along the high cliffs above some of these box canyons, if you look very closely, you will see a Fremont Indian ruin tucked into the rocks. The Bureau of Land Management has made it easier to find; there are numbered wooden posts along the trail, corresponding to the listed attractions in the pamphlet, and the Fremont granary is across the creek from post #6.
A little way farther down the trail than that, at post #9, observant hikers will notice a box canyon across the stream with a large, south-facing cliff wall. On the lower end of the wall, appearing small from the distant view of the trail, three figures have been painted in red. These are Fremont-era pictographs, representing humans or humanoid beings of some sort; though it is unclear as to whether they are religious in nature or something else entirely.
After a few more bends in the trail, hikers find themselves closer to the water, right beside the small, cold stream in fact. My daughter was fascinated with all of the little trout swimming in the pools below its banks.
Only a little further, and the light roar of the waterfall can be heard. Lower Calf Creek Falls is surrounded by high canyon walls, and crowded with moisture-seeking greenery-it is a verdant paradise amid the rocks and sands of what would be seen by some as mere wasteland. There are plenty of little grassy areas hidden among the groves of trees where visitors can take a break, enjoy a picnic, and soak up some sun in a cool, misty environment. Swimming in the falls is encouraged, though the water is usually very cold, even in the summer. Some people like to climb up the algae and moss-covered rocks at the base of the falls in order to slide down into the water. This is fun, but dangerous; it is very easy to slip and fall in the slick algae. If you are going to fall and break a limb, make sure that you do it at the trailhead, not at the end of the trail where people have to lug your carcass over miles of rocks and sand in order to get you to adequate medical aid.
Katie and I reached the waterfall first, thanks to my little plan to run ahead with her on my shoulders. I set Katie down and let her wander over to the water's edge. Meanwhile, I stripped down to my shorts and river sandals, and jumped in.
Ice water.
I have been swimming in some cold water before (much thanks to my earlier days as a reckless boy scout). This was truly cold. I am sure that some of the shock came from the fact that I have been hanging around in warmer places like North Carolina, Georgia, Florida, and Iraq too much in the last few years, and some of it probably has to do with the fact that I've been on the road to soft and old for a good while now. Whatever the reasons, that water was cold enough to make my kidneys hurt. I climbed out and shivered in the sun for a few minutes until the rest of our group caught up. No one else dared to jump in-even Katie had decided that she didn't want to play in the water anymore. So I agreed to jump in one more time for some pictures, while curious onlookers gawked at me as if I were the main event at a freak show.
Once more I jumped out of the water shivering. We played around for a few more minutes, taking pictures of the baby, exploring the stream below the falls, and resting in the shade (though I was in the sun). Eventually though, as with every trip, it was soon time to get back on the trail and head home. We were tired-Katie in particular-and we still had a few more stops before we could get back to civilization and the countless appointments and engagements of our otherwise busy lives.
The hike back was shorter-we probably even made pretty good time, though I don't recall how long exactly. Rebecca carried the baby for the majority of the route back to the truck. That was quite a feat, because Katie is a heavy baby even when she is awake, but doubly so when she is peacefully snoring deadweight.
As always, as I drove away, I could not help but stare wistfully into my rearview mirror, dreaming of the next time I would be able to make it out there. Hells Backbone disappeared from view as we made our way north on Highway 12, and as it left a void in my mind, I began to formulate plans for my next visit to the Escalante area. I am thinking that a trip to both pools, later in the year-so that I can enjoy swimming rather than suffer hypothermia-followed by a trek up the considerably warmer waters of the Escalante River, into the town of Escalante, would make an excellent two-day adventure.