Hiking Peek-A-Boo, Spooky and Brimstone Gulches
Watch our Peek-A-Boo/Spooky video clip.
By Sam Webb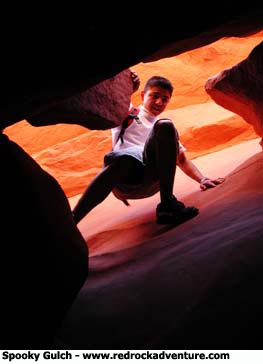 I'll be the first to admit that I have to buy a bigger belt than I did a few years ago and that the bathroom scale groans a little when I step on it, but I have tried to keep myself in pretty good shape. Never-the-less, I got stuck. Not seriously stuck – just enough so that I couldn't go forward. My chest was too wide.
After a moment or so of panic I discovered that the canyon walls were just a little bit wider down by my feet. I knelt down and worked my way past the narrow spot, on my knees. It wasn't very graceful but it got the job done.
My kids kept kidding me, saying I'd better smear myself with Vaseline so I could slide through the slot without getting stuck. They show no mercy.
On the other hand, this was no ordinary slot canyon. I have hiked lots of narrow canyons in my time and this canyon had the narrowest slot for the longest distance of any canyon I have been in.
Several times the slot was so narrow that I would literally walk out from under my hat, leaving it wedged between the canyon walls. That's a narrow slot.
Hiking slot canyons is addictive. Once it gets into your blood you'll spend a lot of time researching and hiking these amazing places. You see, southern Utah has the most and the best slot canyons found any where in the world and people come from around the world to experience these canyons.
Yet, most of us locals don't even know the canyons exist.
Drive down (or up) Highway 12 until you are about six miles east of Escalante. Look for a sign indicating the turn off for the Hole In The Rock Road. The Hole In The Rock Road is graded and graveled but can be extremely slick just after a rain storm. A high clearance vehicle is recommended.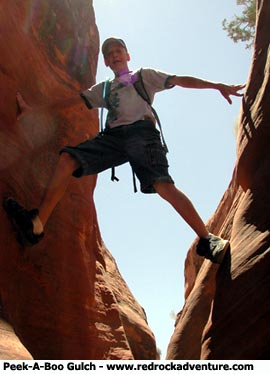 After traveling down the Hole In The Rock Road for approximately 26.5 miles you will come to a sign indicating the turn-off to Dry Fork wash (left hand turn, northeast). Travel about 2 miles on this road, keeping to the left (You will pass several turn-offs to the right). The road ends at the trailhead.
Sign the register. Grab your gear and work your way off the stepped ledge just below the parking area.
Stay to the left of the gully and pick a route that will take you to the bottom of the cliff and into Dry Fork.
If you walk up Dry Fork a short distance (less than 100 yards) you will enter a slot canyon. Check out the Dry Fork slot if you wish or head down stream to the mouth of Peek-a-boo.
The Hole In The Rock road is gravel and is in pretty good shape down to about Dance Hall Rock (36.5 miles). After that the road deteriorates rapidly. If you wish to travel all the way to Hole In The Rock you will need a high clearance, four wheel drive vehicle. This area is part of Grand Staircase-Escalante National Monument.
Plan to take a full day for these hikes. Take plenty of water and your lunch.
This hike is best done in the early spring or fall. In mid-summer the daytime temperatures make hiking unbearable and even dangerous. Plan your hike for some time in March, April, May or September, October or November.
Check the weather carefully and if there is even a remote chance of thunderstorms – stay home! Once you get down into the slot there simply isn't any place to go to get out of the way of a flash flood.
This is a hike that can be taken by just about anyone in moderately good condition providing that: 1) you are not claustrophobic, and 2) you are not too big of a person.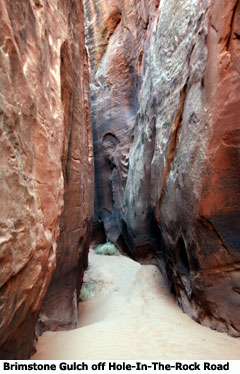 Now I realize I could get myself into a lot of trouble here, but I owe it to you to tell you the truth. If you are a big person, i.e. your belly, chest or any other part of your torso has a circumference greater than about 45 inches and you can not tuck it in, suck it up or otherwise flatten it out, you will get stuck in Spooky slot canyon. And, I guarantee that you don't want to spend your weekend wedged between two massive sandstone walls.
Do not try to take a backpack with frame into the slots. It simply won't fit. Take a SMALL day pack and plan on carrying it either in front or in back of you as you work you way through the canyons. You will spend most of your time walking sideways.
Keep your eyes open for rattlesnakes and don't put your hands or feet into or onto anything you can't see. Pygmy rattlesnakes live in the canyons.
Keep these canyons clean and free of litter, trash or anything else you bring with you. DON'T TRASH THE PLACE!
If you need to use the rest room, do it before you enter the slots. Find a secluded spot at least 100 feet from the trail. Use a plastic bag to collect all toilet tissue and haul it out with you.
Don't make fire pits or fires in or around the slot canyons. Bring your food already cooked or bring a small backpacking stove.
If you plan on taking pictures you'll want a fast lens' f1.4 or 1.7 and fast film, ISO 400 or even 1000. It gets mighty dark in the slots. A good flash will let you use a slower film but sometimes a flash will completely wipe out close walls.
Never hike alone. Wear a hat. Use sun screen and be careful. If you break your leg in one of the slots it will be impossible for your companions to carry you out. The best they will be able to do is drag you to the bottom of the canyon. Use common sense and you will have a great experience.
Look carefully for Peek-a-boo. It enters Dry Fork at a dry fall on the left side of the gully (as you are walking downstream). You'll know you are there because as you look up into the mouth you will see several small natural bridges. Climb up the dry fall, skirt the water pockets, climb under the bridges and head up the slot.
I have thought long and hard for a way to describe the experience of making your way through a narrow slot and I haven't come up with an adequate description.
Words such as convoluted and sinuous come to mind. But other words such as awesome, spectacular, magnificent, indescribable and way bad also pop into my head (or the heads of my kids).
The slot turns and twists, narrows and broadens as you work your way along its tortuous path. The sandstone has been cut, ground, polished and worn by incredible amounts of water until its joints and fractures have been opened up and cut through like seams in the fabric of the stone.
As the walls narrow and you begin to feel the sandstone closing in, you want to run, to escape its confines. You round a bend and plunge into darkness. Yet around the next bend a beam of sunlight penetrates the depths of the canyon illuminating the slot and bringing welcome warmth and relief.
The walls above your head slowly retreat as you climb further and further up the slot until you suddenly emerge into a wide, sandy wash. The change is completely unpredictable and will take you by surprise.
Stop for a moment and think about your hike. Don't rush, don't hurry. Take time to soak in the full experience. This is also a great time to make sure everyone has had a good drink of water and maybe a snack or even lunch.
Look up wash (Peek-a-boo) and then to your right and you will see a series of low sandstone hills (to the north). Work your way to the right of these hills (east) skirting the edge of the nearest one. Look off to the east and you will see a wide gully flanked by several big sand hills. Run, jump and slide down the sand to the bottom of the gully.
Hike down the gully (downstream) toward the massive sandstone directly in front of you and you will see where the wash narrows and cuts its way into the cliff face. That is the entrance to the Spooky slot.
Spooky is much narrower, deeper and darker than Peek-a-boo. It is the most narrow slot I have ever hiked through. If you get claustrophobia, don't enter this slot.
A couple of words of caution. It is fairly easy to move down the slot but there are several drop-offs that would be difficult to get back up after you have gone over them. Plan on making your way out the bottom. Don't go part way and then try to go back up unless you are good at climbing rock and are in excellent shape.
There are several narrow spots in Spooky – so narrow that at first you may think you can't get through. Don't panic and you will notice that the slot is quite a bit wider down by your feet. Kneel down or lie down and work your way through the narrow places. In just a few yards the slot widens again and you will be able to stand back up (sideways).
There are several places where the slot isn't vertical and if you look up you won't be able to see any sky. If you are in to spelunking you'll be right at home.
Spooky empties into Dry Fork wash. Once you re-enter Dry Fork you can hike up-wash and you will be back at your starting point or you can continue down wash through another slot and to the mouth of Brimstone Gulch.
Brimstone is one of the deepest, darkest slot canyons around, and it offers a great hike. It is located about 3/4 of a mile down-canyon from the mouth of Spooky. The mouth of Brimstone is wide and sandy; you've got to hike up Brimstone over 1/2 mile before it slots up. So it is a long hike to get to the fun part, but it is worth it. You just hike up Brimstone until it becomes so narrow you can't go any further.
Between Spooky and Brimstone the Dry Fork becomes narrow and you must climb down a choke stone. It isn't a serious obstacle and it serves as a landmark so you know you are still going the right direction.
Before you start your trip buy the map, Canyons of the Escalante, produced by Trails Illustrated in cooperation with USDA Forest Service, Bureau of Land Management and the National Park Service
Books on the area you might want to buy include, Hiking the Escalante by Rudi Lambrechtse, (1985). Wasatch Publishers, 4460 Ashford Drive, Salt Lake City, Utah, 84124.
Canyon Hiking Guide to the Colorado Plateau (Second Edition 1991). By Michael R. Kelsey. Wasatch Book Distribution, P.O. Box 1108, 66 West 400 South, Salt Lake City, Utah 84110. 1-801-575-6735. There is a brand new edition (3rd) to this book that is just coming off the press as we go to press with this article.
You can camp out at Calf Creek Campground or at the Escalante State Park just outside of the town of Escalante. If you don't want to rough it, there are three or four motels in town and there are several restaurants. These places fill up fast on holiday weekends but generally you shouldn't have much trouble finding a room.