Hiking Natural Bridges National Monument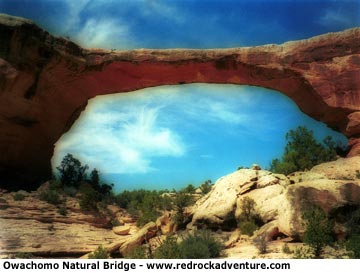 By Dave Webb
I gazed upward at tree branches towering high above me. Above the branches was empty space for dozens of feet. And then solid rock – the massive span of a natural bridge arching between the canyon's vertical walls. Above the rock, blue sky and wispy white clouds. I felt disoriented as I gazed upward. My head swirled and I became dizzy... so dizzy I could hardly stand up.
It was a strange perspective, the span of rock directly above my head, the sheer canyon walls seeming to close in on me, the clouds rushing above the tree limbs and over the caramel-colored rock.
After a moment I had to shift my gaze forward to the solid, normal looking canyon walls.
Such was the feeling I experienced the first time I stood under Sipapu Bridge, in Natural Bridges National Monument, in southeastern Utah.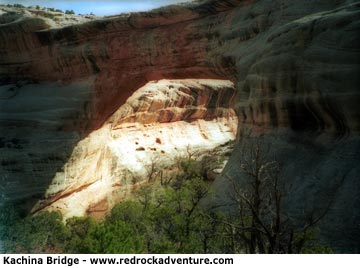 An exhilarating hike into the canyon added to the unique feeling. It's a moderately challenging hike over slickrock, with steps chiseled into the rock, and down ladders positioned to help people get past difficult spots.
Natural Bridges is located in southeastern Utah, on a pinyon-juniper-covered mesa bisected by White Canyon and her upper tributaries, Deer, Tuwa and Armstrong canyons. Because of the monument's beauty, ease of accessibility and friendly attractions, Natural Bridges is one of Utah's best family hiking and camping destinations. The setting is wild and woolly but the Park Service has done a great job of providing easily negotiable trails to the bridges and in setting up interpretive displays and placards that explain the area's rich natural history as it unfolds to the visitor.
The monument is open year-round and hiking is enjoyable during warm periods in winter. Caution is in order because there may be some ice and snow on trails during stormy weather and that can make hiking hazardous. March, April and October perhaps the best times to hike here.
Natural Bridges was declared a National Monument in 1908 when President Theodore Roosevelt invoked the Antiquities Act of 1906 to "reserve these extraordinary examples of stream erosion with as much land as necessary for the proper protection thereof..."
The monument shelters three massive natural bridges plus several remarkable well preserved Anasazi ruins in a beautiful slickrock canyon with sheer walls and hanging gardens. It's fun to auto tour along Bridge View Drive, stopping at the viewpoints where you'll find spectacular views of the three bridges and the Horsecollar Ruin Anasazi site. Short, easy walks are required to reach viewpoints. Trails to viewpoints are well marked and maintained. The loop drive is nine miles long.
It's more fun to hike into the canyon to one or more of the bridges, or loop hike from bridge to bridge and then back to the parking area.
Getting into and out of the canyon requires moderately strenuous hiking along well maintained trails. In some paces the trails are steep, with exposed drop-offs. The route between bridges in the bottom of the canyon is relatively easy, with little elevation change and few obstacles. There is no maintained trail in the canyon bottom but hiking is generally easy.
Always carry water when hiking. Water bottles can be filled at the visitor center. Small streams flow intermittently in the canyons. Pockets of water are almost always available but the water must be treated before it becomes safe for human use.
Flash floods are always a danger in canyon country. Never enter the canyons if there is a chance of thunderstorms, which are most common in July, August and September. Check at the visitor for the latest weather information before hiking into the canyons.
The Anasazi relics in the canyon are fascinating. The famous Horescollar Ruin is located just down-canyon from Sipapu Bridge and can easily be seen from the trail. There are numerous structures at the site, including a well preserved Kiva with original roof intact.
There are many other ancient structures and artifacts in these canyons. Three distinctive periods of habitation can be documented. Early people farmed the hilltops and built pithouses from about A.D. 200-400. People returned to the area about A.D. 650 and stayed until A.D. 725, cultivating beans, making pottery and building multi-room structures. The last period of habitation was from about A.D. 1060-1270. During this period the people built masonry homes on the mesa tops and in alcoves in the cliffs.
It is illegal to climb on ruins or collect artifacts.
It was probably some anonymous local cowboy who first laid European eyes on this area, but the recorded right of discovery goes to Cass Hite, Scotty Ross, Edward Randolph and Indian Joe, who in September 1883 came up White Canyon from Dandy Crossing on the Colorado looking for gold. The prospectors named the bridges "President," "Senator" and "Congressman" (in order of decreasing size), then promptly forgot about them.
Twenty years later, a stockman who had ranged cattle in the area, J.A. Scorup, led a Colorado River gold dredger named Horace J. Long to the bridges. The account of their trip ultimately led to a notice, "Colossal Natural Bridges of Utah," published in National Geographic Magazine in 1904. To many, the story seemed unbelievable. Three stone bridges. Clustered together. Far bigger than anything previously discovered or even imagined. This was something people had to see.
The bridges' present names, derived from Hopi words, were assigned by a United States Surveyor named William B. Douglas, who mapped the area 1908. Sipapu (SEE-pah-poo) means "place of emergence," an opening between worlds by which the Hopi believe their ancestors entered the present terrene sphere. Sipapu is the largest and the most spectacular of the monument's bridges. It's considered middle-aged, older than Kachina but younger than Owachomo. Kachina (ka-CHEE-na) is named for the Hopi katsina spirits that frequently displayed lightning snake symbols on their bodies. Similar snake patterns carved by prehistoric people can be found a hundred feet south of Kachina Bridge on the west side of the canyon. Owachomo (o-WAH-cho-mo) means "Flatrock mound" and was named for an outcrop on its east side. Because Owachomo no longer straddles the streams that carved it, the bridge actually resembles an arch.
So what's the difference between a natural bridge and an arch (such as those in Arches National Park)? Natural bridges are carved mostly by streambed erosion, while arches are formed by erosion of wind, rain and freezing and cracking. Natural Bridges National Monument offers the largest display of natural bridges in the world. Sipapu is said to be the second largest natural bridge in the world.
Hiking directly to a bridge:
Sipapu - 1.2 miles, 500 foot descent. Moderately strenuous hiking. Stairs, handrails and ladders are provided in the most difficult spots.
Kachina - 1.5 miles, 400 foot descent. Moderately strenuous over steep slickrock. Handrails are provided.
Owachomo - .4 miles, 180 foot descent. Easy hiking. Terrain is uneven but not difficult.
Hiking from bridge to bridge:
All of these hikes are considered strenuous. The entire loop is approximately 8.2 miles long and requires about five to six hours walking time.
Sipapu to Kachina: 5.6 miles
Sipapu to Owachomo: 8.6 miles
Kachina to Owachomo: 5.4 miles
Camping
Camping is allowed only in the established campground and the overflow camping area. The monument features a 13-site campground that is open year-round one a first come, first served basis. Sites will accommodate only one vehicle and there is a 26-foot combined length limit for RVs and vehicles with trailers. Water is available at the visitor center but not in the campground. Up to nine people are allowed per site.
Sites have a fire grill, tent pad and picnic table. Firewood gathering is prohibited.
An overflow area is available and can be used by campers with multiple vehicles, RVs exceeding the length limit and people who arrive after the campground is full.
Primitive toilets are provided in the campground. Flush toilets in a heated building are available at the nearby visitor center.
Pets are not allowed in the canyons. Mountain bikes must stay on paved roads within the monument.