Maple Canyon to Strawberry Reservoir
Cross Country Backpacking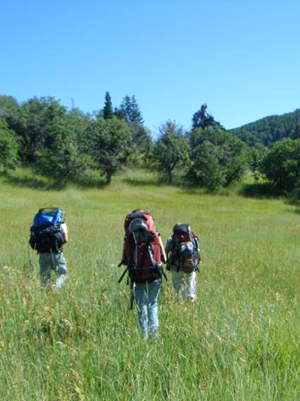 By Xanthe Webb (August, 2008)
(Also see Xan's backpacking tips)
There have been many times where I have wanted to see and explore the mountain passes and wilderness that lies between some of my favorite places. It is the mysteriousness. I want to be able to see how the landscape changes and know what I'm missing out on in the dense forests and brush that lie between my often-visited vacation/weekend spots. The first weekend in August, 2008, I had the opportunity to do that. We backpacked cross-country from Maple Canyon (Mapleton/Springville, Utah) and zig-zagged our way over to Strawberry Reservoir.
It started out with a couple people saying, "Wouldn't it be cool to hike practically from our own backyards, right over to Strawberry?" To experienced hikers, this journey held interest because the exact terrain was unknown, the conditions could be guessed but it remained unknown. Surprises were sure to hit us, and the unknown seemed welcome.
Four of us set out on a Thursday night, right before twilight. Our packs weighed everywhere from 15 to 35 pounds. For a multiple-day journey it is best to keep a backpack weighing as little as possible.
We took the trail that starts at Whiting Campground in Maple Canyon. We were able to do three miles that night before it was too dark and late to go father. The next morning we realized that we were not even a mile away from the peak- the highest point above the canyon and also in our hike.
We had looked at maps beforehand and decided on a general route; however on Friday morning, our second day- we veered a little bit. Looking over the path we had taken, after the trip was over, we realized how much out of our way we had gone. We hiked in a basic 'S' shape down the peak, to the left over to Diamond Fork Road, and then we followed that road for more than 10 miles as it went south for a while, and then curved back up northward. By the time that we had reached the road though, we had bushwacked enough of our way that we felt perfectly fine just walking along the side of the highway for a while.
It may have not been the most direct route, and caused us to hike about 20 miles that day, but at the end of the day we still felt pretty good about what we'd done. The path was scenic and we had found trails to follow for most of the day.
Unfortunately, the next morning I had to be intercepted by a friend, and leave to go back into town for something important. My friends, however, completed the trip that day to the reservoir. They also had a little bit of trouble that day. It turned out that the map we had looked at- had showed us a road that seemingly lead all the way to the lake, but it in fact did not.
My persevering friends reported to me later that they went about another 15 miles that day, although they only started out about 8 straight miles to Haw's Point. They ended up hitchhiking a little ways after getting a little sick, and finding out that they were on the wrong end of the lake.
What was supposed to be a 30 miler, ended up being 30 miles for me- who left a day early, and almost 50 miles for my friends who stayed the whole way! 50 miles was a whole lot of walking (with a heavy pack) for only a little more than two days! Still though- I'd never talked to people who had had so much fun, suffering under the blazing sun!
Copyright Dave Webb