Midnight Hike - Mount Timpanogos
By Xanthe Webb
July, 2008
View photos from this trip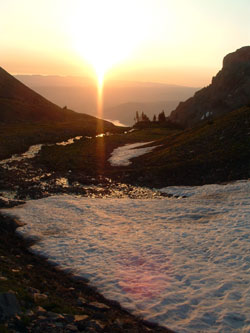 I only recently became aware that hiking the popular Mount Timpanogos trail during the middle of the pitch-black night was somewhat popular. I just knew I wanted to go hiking that weekend, the second in July, so I tagged along with some friends on what turned out to be one of the better hikes I've been on in quite a while.
I live in Utah County, and I always find myself wishing that I lived by this lake, or that mountain, or closer to that National Park, and I always have a hard time realizing that there are terrific hikes right in my own backyard. They may not be redrock or slot canyons, but they are just as great and satisfying as any other alpine hike, and they have their own advantages - cannot be compared to southern Utah hiking because they are in their own different genre.
Night-hiking opened a whole new dimension of hiking to me, and I can't believe that I have never tried it before - well intentionally. It was an original experience, using more senses than just your vision - hiking in the dark, having it be a little bit more challenging, a little bit more fun and scary, and being able to see what it looked like during the day (on the way back down) after you had thought you knew what you had hiked the night before.
Three of us set off from the Aspen Grove parking lot (we took the Provo Canyon side of Timp, not American Fork Canyon) at 12:30 in the morning, with two large flashlights, and not enough layers to keep us warm once we reached the chilly peak. The hike starts off fairly flat for a while, and starts to angle up slowly as you go along, but I would say that about 4/5 of the hike is at a fairly steep incline. Many people bring children, however, it just depends on how fast you want to go- this is the shorter side/trail of the mountain.
We had crossed the river probably 4 or 5 times, and stepped across the icy glaciers about 6 times, I'm guessing. In the dark, we had to make the best guess at which trails to follow (all lead the same direction- but in the dark it is hard to make out which is the intended, most direct path)- sometimes turning back and backtracking for a minute or two. Our two flashlights proved to be very successful, seeing as how we made great time up to the top. We reached the small cabin, built by the city in 1959, at 3 am.
It was still very dark outside, and we were due for a much-needed rest, so we sat down and tried to shut our eyes for a while. We originally didn't go into the cabin because there were other hikers in there, but after leaning against the building in the cold wind for maybe 40 minutes, we decided that a bear could be inside and we would probably head inside anyway. We saw that a corner of the cabin was unoccupied and we sat huddled there trying to warm up and rest. Two hours later when I was just as cold and my shoes and pants were not any more dry, the sun started coming up and the other hikers in the cabin (thankfully) helped us warm up a bit with some warm drink. It was Gatorade…but in survival mode, it tasted pretty good.
The sunrise that morning was one of the most amazing things I have seen in a really long time! It was a golden, fiery sun that had a shimmering reflection on Deer Creek Reservoir. Surrounded by the beautiful, exceptionally green mountains, waterfalls, and forest- that sunrise was worth a thousand frigid mornings.
After having seen the spectacular sunrise (our main purpose in going- besides just hiking at night because we could), we didn't feel the need to hike the little bit extra to the highest point- the summit. It would have been worth it, but we already felt like we had seen and done a great hike, and our feet were numb- so we felt good about our decision to head back.
Again, it was incredible to see what we had actually climbed during the night, in the daylight. I had no idea how high we had climbed up, or how steep it was. I had seen the lights from Heber getting lower and lower, but seeing what we had done blindly the night before was incredible! Now that I have done it at night- doing the hardest/steepest part in the dark, where you can't keep looking and seeing how much farther you have to go, I don't think I could do it again starting in the daylight.
Overall, the 10 mile hike was well worth it! I might bring a heavier jacket next time, and some waterproof boots, but in any case I will remember that thrilling moon-lit trail and the glorious sunrise!