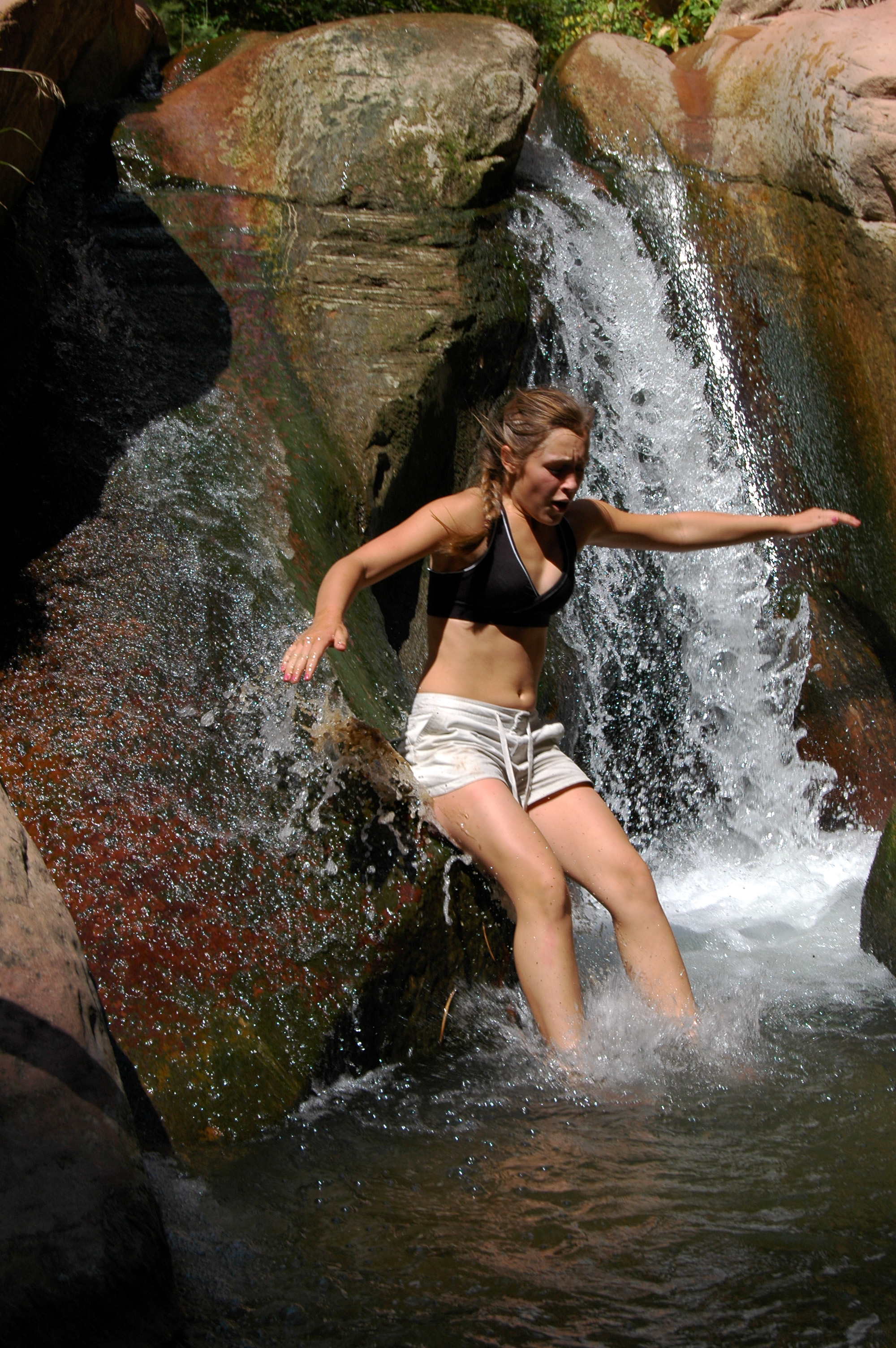 Kanarra Falls hike now requires a permit. Also see our photo gallery and video showing this hike.
By Dave Webb
Kanarra Creek is a fun hike in an easy slot canyon; the hike is only moderately difficult. The canyon has plenty of appeal for adults and is easy enough for adventurous kids of about age 12 and older. Younger kids will need help to get through. Lately it has become very popular. Expect crowds.
The canyon offers several narrow sections that are beautiful and photogenic. A small stream flows between the towering walls and you've got to wade multiple times as you make your way up the canyon. Most pools are not deep - normal sized adults don't need to swim and only a few pools come up to your waist.
Three features add excitement to the hike: two waterfalls that you have to climb up and one small waterfall that you can slide down. A log leans against the first waterfall and makes it fairly easy to ascend. The second fall is a little higher and more challenging, but still not bad. A wooden ladder puts you halfway up. Then you grasp ropes and pull yourself up another log.
You can hike the canyon for many miles but the slots stretch for only about 2 miles. Beyond that the canyon and creek are beautiful but not particularly unusual for the Zion area.
The canyon is located east of Kanarravlle, just south of Cedar City, just outside the Kolob Canyons area of Zion National Park. You access it by following 100 North Street to the east edge of town. 100 North becomes a dirt road that winds past water tanks and into the canyon. Unfortunately, you have to park in town and hike the dirt road into the canyon. That adds about 2 miles round trip to the hike.
You follow the dirt road until it drops down to the creek, then you just follow the creek up the canyon. You are in and out of the water, wading about 1/3 of the time. There is no way to hike the canyon without getting wet. For this reason, it is best hiked during the warm months - May through September.
Most people will turn around after about three miles - so total hiking distance is about 6 miles.
This is a great introduction to easy, non-technical canyoneering. To appreciate other canyoneering adventures, just picture how it would be to do Kanarra Creek without the logs and ladders to help you up and down the waterfalls.
It's a fun canyon.
Copyright Dave Webb