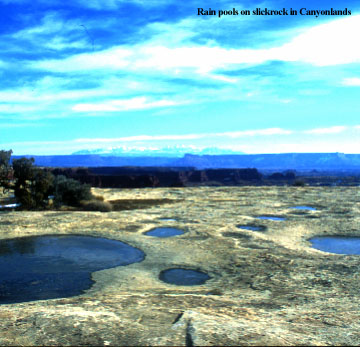 Canyonlands National Park, first established in 1964 and then expanded to its current size in 1971, is located due south of Green River, southeast of Moab, and north of Monticello, and preserves 527 square miles of wild lands.
It is generally divided into four distinct districts. The Island in the Sky makes up the northern portion of the park, consisting of a vast plateau and the surrounding rimlands that offer expansive views of the Green and Colorado Rivers.
The Needles District lies to the east of the Colorado. Its namesake geologic feature is a cluster of towering spires that from a distance resemble a red and white-banded Manhattan skyline of stone.
The Maze is just that – a literal maze of stone corridors. Where the Needles seems to have been formed with the laws of Euclidean geometry in mind, The Maze is all about Chaos Theory, a jumble of canyons and pinnacles that at first seem to adhere to no logical rhyme or reason, but in the end forms its own beautiful pattern.
Horseshoe Canyon, actually separated from the main body of the park by a strip of unprotected land, contains the Great Gallery, one of North America's most significant and evocative petroglyph panel.
The two rivers make up the fourth district. Draining uncounted miles of mountains and desert, they join forces in the heart of the park, where the Green is subsumed by the Colorado. Downstream in Cataract Canyon lies a stretch of white water as exciting and dangerous as any other in North America.
Contact Information
Mailing address: Canyonlands National Park, 2282 S. West Resource Blvd.
Moab, UT 84532-3298
Visitor Information: 435-719-2313
Backcountry Reservations: 435-0259-4351
Email: This email address is being protected from spambots. You need JavaScript enabled to view it.
Official website: http://www.nps.gov/cany
Island In the Sky Visitor Center: 435-259-4712
Needles District Visitor Center: 435-259-4711
Hans Flat Ranger Station: 435-259-2652
Seasons, hours of operation
The park is open year-round.
The park offers three facilities for visitors. Island of the Sky Visitor Center is located along Highway 313 about 32 miles NW of Moab. Needles Visitor Center is on Highway 211 about 75 miles SW of Moab. The Hans Flat Ranger Station is located along a 2-wheel drive dirt road about 70 miles south of Green River. All are open daily from 8 a.m. to 4:30 p.m., with extended hours spring through fall. These facilities are closed December 25th and January 1st.
Weather in the park is usually dry and sunny but heavy storms can occur during any season. Biking, hiking and backpacking are most pleasant during the spring and fall. Sunny winter days can very pleasant, with air temperatures climbing into the high 40s or even the 50s. Winter nights can be bitter cold. Summer days can be extremely hot, with temperatures rising above 100 degrees.
Travel
Two paved roads lead into Canyonlands. Highway 313 provides access to the Island in the Sky District and begins 10 miles north of Moab; Highway 211 leads to the Needles District and begins 40 miles south of Moab. All other roads in the park are a mixture of graded dirt and 4WD, and may be impassable when wet.
The districts are not linked by road. They may appear close to each other on maps but travel between the districts requires drives of 2 or more hours. The Island in the Sky is the most accessible district and the easiest to visit in a short period of time. All other destinations require some boating, hiking or four-wheel driving to see the area's attractions.
Lodging and Services
There are no lodging facilities in Canyonlands National Park. Lodging and visitor services are available in the nearby communities of Moab, Green River and Monticello.
Many companies provide tours and guided treks into the park via 4X4, raft, mountain bike, horse, airplane or helicopter.
For current information on lodging and guide services go to: www.utah.com
Camping and Permits
There are two developed campgrounds in the park: Squaw Flat in the Needles District offers water and toilets. Willow Flat in the Island in The Sky offers vault toilets but no water. Both are open year-round, with sites available on a first-come, first-serve basis. Three group sites in the Needles District, at Squaw Flat, Wooden Shoe and Spit Top, can be reserved in advance.
Permits are required for overnight sojourns in Canyonlands' backcountry. Permits are also required for day use by horses, bikes and vehicles in Salt Creek/Horse and Lavender Canyons in the Needles. Backpackers can stay up to seven consecutive nights in any one site. Designated vehicle camps can be occupied for three consecutive nights before having to relocate. Day hiking does not require a permit.