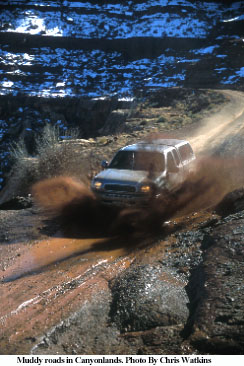 Auto tour: Drive to Dead Horse Point (Utah State Park), the visitor center and Grand View Point. Explore Buck or Shafer Canyon overlooks if time permits. The overlooks are perched 1,000 feet above the surrounding terrain and provide spectacular views.
Short Hikes: The trails to Mesa Arch, Upheaval Dome and Aztec Butte are short and scenic, and suitable for hikers of all ages and abilities.
Longer Hikes: Do any of the mesa-top trails or enjoy the Syncline or Murphy loops.
Serious 4X4: Challenge the 100-mile long, White Rim Trail. Or consider doing it on a mountain bike. (The Shafer Trail has been closed because of road damage. Check www.utah.com for current information.)
Auto Tour and Short Hikes: Stop at Newspaper Rock and Needles Visitor Center. Do any of the self-guided short hikes (Cave Spring, Pothole Point, Roadside Ruin and Slickrock Trail) as time allows.
Longer Hikes: Day-hike to Chesler Park, Druid Arch, the Confluence Overlook or other popular destinations.
Backpack: Spend more time in Chesler Park or pack to Lower Red Lake or Salt Creek Canyon.
Serious 4X4: This area is home to the legendary and technical Elephant Hill and popular 4X4 trails into Lavender and Horse Canyon/Peekaboo.
(The Maze is the most remote part of Canyonlands. It is extremely rugged, with deep, sheer-walled canyons, so access is possible in only a few spots. There are no opportunities for auto touring or casual hiking in this area.)
Longer hike: The Great Gallery rock art site in Horseshoe Canyon can be reached at the end of a short but moderately strenuous hike. The trailhead is in a remote location along a long, dusty but graded dirt road, so this outing will consume an entire day.
Backpacking: Multi-day hikes are popular to areas in the Orange Cliffs, The Maze, The Chocolate Drops, The Doll Hose and other areas. Permits are required and demand often exceeds supply, so reserve early.
Serious 4X4: Challenge the Flint Trail.