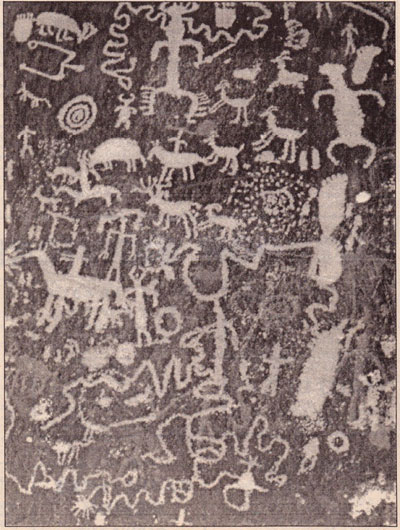 (Published Feb, 1992, Utah Fishing & Outdoors)
(See more photos of newspaper rock.)

Early spring is great time to hike Utah's redrock country
Hiking bonus: discover some ancient petroglyphs
If you observe carefully and cover enough territory, you just might discover some mysterious Native American rock art in this area. There is some fun hiking around Newspaper Rock, a priceless archaelogical treasure.
While the area is only 50 acres, the environs feature numerous canyons to explore and search for petroglyphs and ruins. There are other petroglyphs near the park, but you have to hike and look hard to
find them. The state park is a nice rest stop on the way to the much bigger Canyonlands National Park (Needles District).
"Newspaper Rock is a large and scientifically significant display of ancient petroglyphs on a 50-
foot high sheer rock wall in Indian Creek Canyon. The rock art mural features artwork from at least three distinct periods of Native American history. Access is via Highway 211, 12 miles west of US-191, and it is about 27 miles northwest of Monticello. The park features camping and picnic sites. While many experts have examined the rock art, no one has been able to interpret it and the meaning remains a mystery.
Remember to be careful stewards of the land. All antiquities, including petroglyphs, and other artifacts, are protected by state and federal law. They must not be defaced or damaged in any way.
The area features many gulches and canyons leading into the main Indian Creek Canyon. Many of smaller canyons make for excellent hikes with magnificent views.
And the exciting thig is you might just run across previously undiscovered ancient petroglyphs.
The snow and rain still come and go in Utah's canyon country, but the days are growing warmer and the snow generally melts rapidly. Now is a terrific time to beat the the crowds and see some wild country and spectacular sights.