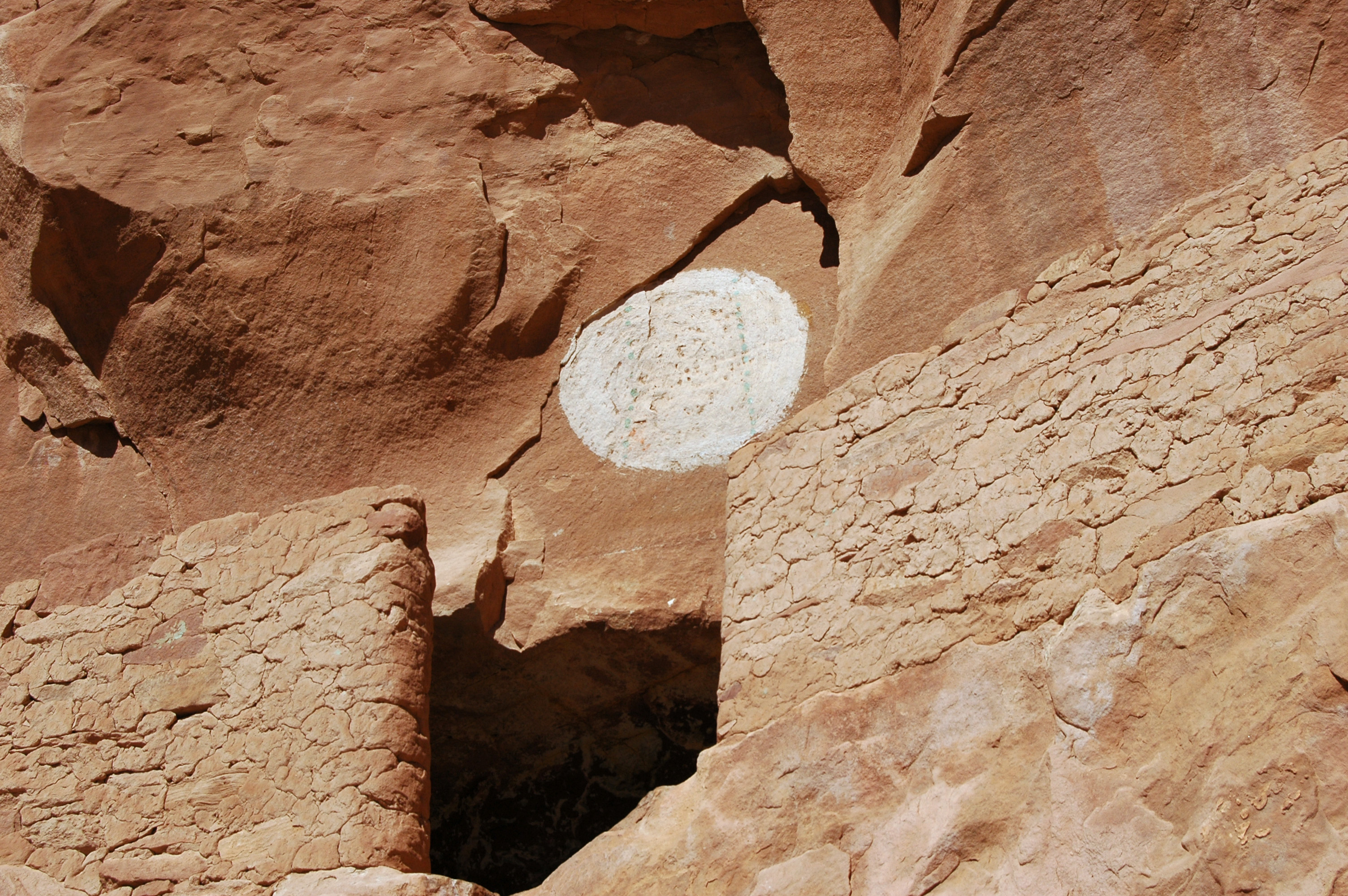 The large blank spot on the map caught my eye. The name sounded intriguing: Grand Gulch Primitive Area. In my copy of Canyon Country Rock Art I learned "Grand Gulch and its tributaries are a network of canyons and washes that rank as some of the roughest yet most beautiful in the Southwest. . . Grand Gulch contains some of the most unusual as well as some of the grandest rock art in Canyon Country. . . Some figures appear in Grand Gulch that do not appear anywhere else."
Grand Gulch sounded like the perfect place for my annual spring break to Utah. So far, my trips had taken me to Canyonlands and Arches. It was time to go some place more remote, more wild, further out there. Grand Gulch fit the bill.
Humans have only made brief appearances in the life of Grand Gulch. The Anasazi lived in the canyons between 3,000 and 1,000 years ago. Throughout the canyon, evidence of their lives still remain. After the Anasazi mysteriously disappeared, only a few Native Americans and some trappers walked the canyons. In 1880 the Mormons came. Grand Gulch stood in the way as they tried to get from Hite to Bluff. The Mormons were determined enough to find a way across the Grand Canyon, at Hole in the Rock. But they had to go around Grand Gulch. It was too rugged. Later ranchers rediscovered Grand Gulch and began taking artifacts and even skeletons out and selling them. Richard Weatherhill came in 1893. He had already been digging at Mesa Verde. At the 1893 World's Fair he met Talbot and Fred Hyde, heirs to a soap fortune. They financed his expedition to Grand Gulch. The trip was a success as he found a great many artifacts and developed his Basketmaker theory. People lived in the canyons before the cliff dwellers. Weatherhll named them the basketmakers because they had not yet discovered pottery.
In 1970, 32,847 acres was designated a primitive area to protect the unique archeological and scenic values. The area still has an important religious significance for the Hopi Indians.
I began my trip at the Kane Gulch trailhead. There is a parking area and ranger station. It is a good place to pick up the latest information on conditions in the Gulch. The rangers are often out in the field, so the station does not have regular hours. Weather and water condition are posted outside.
Quickly, I packed up and headed down the trail. Lesson number one: check the shopping list in the store. I forgot toilet paper. Luckily there was someone in the parking lot willing to share. My first night was spent at Junction Ruins two miles into the canyon. I may have been in the canyon physically but not mentally. The hassles of travel were still on my mind. After dinner, I climbed up to the ruins. There were pottery shards, corn cobs, twine, charred wood, and mud balls splattered on the ceiling of the overhand. There were thumb prints in the dried mud that held the bricks together. Suddenly I was back in time. It was easy to sit back, look out and imagine the Anasazi growing corn, getting water, and hunting deer. The sounds of their lives still echoed off the cliffs. My trip had truly begun.
The first day set the pattern, exploring side canyons watching for wildlife, searching for rock art, crossing and recrossing the stream. It was easier to walk through the stream than spend all my time looking for places narrow enough to jump. The problem was my only pair of shoes were constantly soaked. I walked around camp at night in my socks. Lesson two: bring extra shoes.
By trying to think like an Anasazi, I began to learn where ruins and rock art would be found. My system was not foolproof. There were many cliffs that looked like perfect spots but for some reason the Anasazi disagreed. I did see a variety of images: bighorns, deer, lizards, people of all shapes and sizes, cornstalks, swirls, zig-zags and more. At each site I sketched, took pictures and stared in awe. What did they mean. What were they saying? Why did they make them? And the biggest question: why did they throw mud balls at the cliffs? As usual there were more questions than answers. The number of artifacts still laying around was amazing, it was like hiking in an outdoor museum. The frustrating part was thinking about how much had been stolen from the canyon over the years. Hopefully everyone can resist the urge to take even one little pottery shard. No matter the rationalization, it is stealing a part of the canyon.
Everything was going smoothly. Progress was slow, but I had no set destination. By day three I ended up at the junction of Bullet Canyon, twenty miles into the canyon. That night I learned lesson three. It can snow in the desert, even in April. All night I huddled under a small overhang. When praying is your best hope to stay dry, you know you are in trouble. Somehow I got a couple of hours sleep. By morning snow blanketed the ground. The snow was gone quickly but a problem arose. The creek was now a raging river. The nice clear stream ran sandstone red.
Using surprisingly good judgment, I decided it wasn't a good idea to continue downstream. The other people camped at Bullet Canyon called it quits. I didn't want to leave so I explored Bullet Canyon. Hopefully by morning the water level would go down.
Bullet Canyon is a major access point for hikers interested in doing a 3-4 day loop from Kane Gulch. A thousand years ago it was a major route for the Anasazi. There are several large ruins with names like Perfect Kiva and Jailhouse Ruin. I explored, caught up on sleep and dried out.
By morning the water level was down. The country below Bullet Canyon is even more remote. The scenery is spectacular. Sheer walls and mounds of red rock piled on top of each other like a child's sand castle. I explored more side canyons, found more ruins and rock art. I was hoping to find an undiscovered rock art image, but every site had at least some footprint or sign of modern times. It is a blessing and a curse that the canyon holds onto all signs. The Anasazi artifacts remain but so do all our tracks and whatever else we leave behind. It is easy to see why it is important not to leave any garbage behind. If a corn cob lasts 1,000 years, I hate to think how long toilet paper will last. Being a low impact camper takes common sense and a little extra care.
High above the river I found Big Man Panel. Several almost life-like human figures watch over the canyon. There are many theories as to why the Anasazi chose the place they did for their rock art. My theory is they picked the places with the best views. From Big Man Panel I shared the same scene with the ancient artist. In the life of the canyon we just missed meeting each other.
I wasn't disappointed by the remoteness of the canyon. The people I did meet were true backpackers. One guy was hiking all the way to the San Juan River, then up Slickhorn Canyon. A couple I met had dropped off bikes at the end of Collins Springs and planned to ride back when they got there. Both good ideas. My plan next time is to get dropped off at Collins Spring, hike down to the San Juan and then up Slickhorn.
The oldest hiker I met was a fifty-something year old women with a broken wrist. She was calmly planning her route out. The youngest was a five month old who slept right through the snow storm. Now that I'm a father, that family is a true inspiration. I may be a wilderness snob but sharing the canyons with these people only added to the experience.
My last two nights in the canyon were spent in Step Canyon. I set up a base camp. It is much easier to explore without fifty pounds on your back. I made it as far as Polly's Island, half way to the San Juan River. The stream was clear again. I had lunch and watched the water slide over the rock. Only in Canyon Country can one get a sense of geologic time. A flash flood once or twice a year, plus some wind, slowly erodes the sandstone into a magical place. It is still happening, I was just a witness to one moment frozen in rock.
Cottonwoods sang in the breeze over my head. Those incredible pale green of the leaves, with the light shining through, is my absolute favorite color. Each curve of the canyon was like a voice calling: "Come just a little further." I wanted to keep going further but the rest of the canyon had to be saved for another time.
I backtracked to Bullet Canyon and headed out. It is amazing how much one misses the first time though. I saw even more rock art and tried to soak in as much scenery as possible. A single Kokopelli played his flute for me from high on a cliff. The climb out Bullet Canyon wasn't easy. The last few miles were very steep with lots of time spent hiking around and over boulders. At the top of Cedar Mesa I followed a wash and set up camp under a cedar tree, all set for an early start. In the morning I finished my hike, then it was on to Moab.
My trip to Grand Gulch will never really be over. I'll be stuck in traffic and in my mind I take a quick mental vacation to Grand Gulch. The only thing that keeps me sane living in the suburbs of New York City is knowing places like Grand Gulch and other wilderness areas still exist. Places where nature is still in charge, not struggling to grow through a crack in the pavement. I hope Grand Gulch never gets overcrowded. The answer is not keeping places secret but, in protecting more places.
Further Information:
San Juan Resource Area Headquarters, Box 7, Monticello, Utah 84535
Bureau of Land Management, Moab District, PO. Box 970, Moab, Utah 84532
Canyonlands Natural History Association, 125 West 200 South, Moab, Utah 84532