The prehistoric Puebloan Indian ruins on Grand Gulch/Cedar Mesa Plateau are fascinating and provide great opportunity for thoughtful adventure. They were built hundreds of years ago by hardy native people who have come to be called the Anasazi. Expert stonemasons, they built homes on cliff faces and in alcoves throughout the Four Corners area. They also created intricate pottery and detailed rock art.
Ruins and relics from the Anasazi culture survive in many areas. Some sites are close to roads and can be visited with little effort. Some of the most interesting sites are far from roads and can only be seen by those willing to day hike or backpack into the wilderness. Grand Gulch is the showcase of wilderness Anasazi areas. It contains dozens of well-preserved ruins, rock art sites and artifacts. The Gulch is renowned as a hiking destination. It is a big, rugged wilderness that can only be explored by backpacking for days at a time.
However, some of the Grand Gulch treasures can be viewed by making day hikes into the canyons. For example, Perfect Kiva, my all-time favorite Anasazi site, is about 4.5 miles from the road and can visited day hiking — if you are in decent physical condition. The trail is moderately difficult.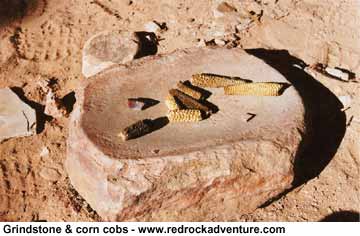 The photos illustrating this article were taken at Perfect Kiva and other nearby sites. I hope they whet your appetite and persuade you to explore this area. Grand Gulch would be worth hiking, even if it did not shelter ancient sites. It brings together a series of scenic canyons that provide unlimited opportunity for challenging hikes. But the ruins add an excitement that many people find addictive. I love them and feel a real compulsion to explore. . . to see more and more and more. Beware, this activity is contagious.
Grand Gulch is a testimony that hikers can enjoy Anasazi ruins without destroying them. The area is one of the most popular hiking destinations in Utah. These ruins are visited more frequently that most backcountry sites. But hikers in recent years have almost universally shown the respect the sites deserve. The ancient pottery shards and corncobs and grindstones are still there – waiting for your visit – despite having been viewed by scores of hikers. We hope you will do your part to preserve these sites. Look but don't touch. Take photos but nothing else.
Spring and fall are the best times to hike in Grand Gulch and many other southern Utah canyons. Daytime temperatures are mild and so hiking is enjoyable. Nights are crisp but not extreme. Summer temperatures can become very hot, but hikes can be enjoyed if you are careful. Some hiking is possible during warm, dry spells in winter, but extreme caution is needed.
Day hikers are required to register and pay a small fee. This can be accomplished at the Kan Gulch Ranger Station or at trailheads. Backpackers need to make reservations and must pay for a permit. Group size is limited to 12 individuals. Horsepackers are allowed in parts of Grand Gulch and must also make reservations in advance. The area is administered by BLM; that agency's website provides detailed information about permits and fees: www.blm.gov/utah/monticello/cedarmesa.htm.
A good map is essential, whether you are day hiking or backpacking. Maps focusing on this area are available on-line and at good map stores. Always stop at the Kane Gulch Ranger Station and get updates about conditions in the canyons. You need to know where you can expect to find reliable water sources, for example. Water is a major factor in this country. You can carry enough for a day hike, but if you are backpacking you will need to be able to locate, treat and carry water every day you are in the canyons.
Small streams flow in some areas, stop, then start again. Giardia is found in these streams, so treat or filter all water before drinking or using it for cooking. Storms can turn these small streams into raging torrents. Watch the weather.